Former Florida Gov. Jeb Bush, the very early favorite for the 2016 Republican nomination, struggled to get applause Wednesday during an town hall in New Hampshire.
During the Manchester event, Bush promised his audience that if he were president, he would not be as divisive as front-runner Donald Trump and that he would back-up his campaign promises.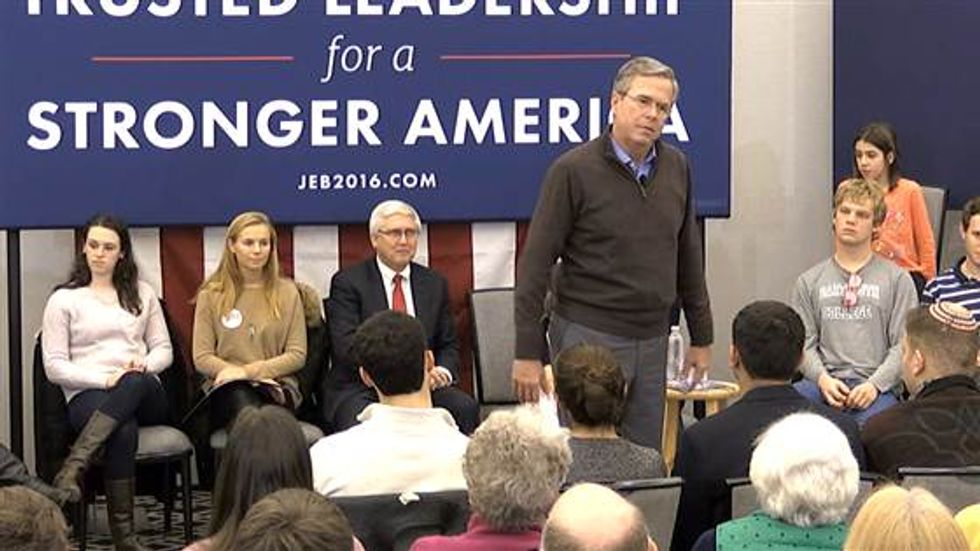 Image source: MSNBC/screenshot
"My pledge to you, I will be a commander in chief that will have the back of the military," Bush told the crowd. "I won't trash talk, I won't be a divider-in-chief or an agitator-in-chief. I won't be out there blowharding, talking a big game without backing it up."
"I think the next president needs to be a lot quieter but send a signal that we're prepared to act in the national security interest of this country," he added. "To get back in the business of creating a more peaceful world."
After that line, Bush paused, seemingly waiting for the crowd to applaud and cheer him — but they didn't.
"Please clap," Bush had to tell the crowd, sounding defeated.
The crowd then laughed and began to clap as Bush had requested.
Watch the moment below via MSNBC:
(H/T:
Mediaite
)
—
Follow the author of this story on Twitter and Facebook:
[facebook //www.facebook.com/plugins/like.php?href=