Gideon Robinson, age 5, was diagnosed with leukemia back in November 2015, but the long drives to the hospital and the draining process of chemotherapy have yet to drain his romantic spirit.
Gideon's mom, Sosy Robinson told the Daily News that her "super silly love bug" has an extraordinary heart that has enabled him to persevere for the past few months.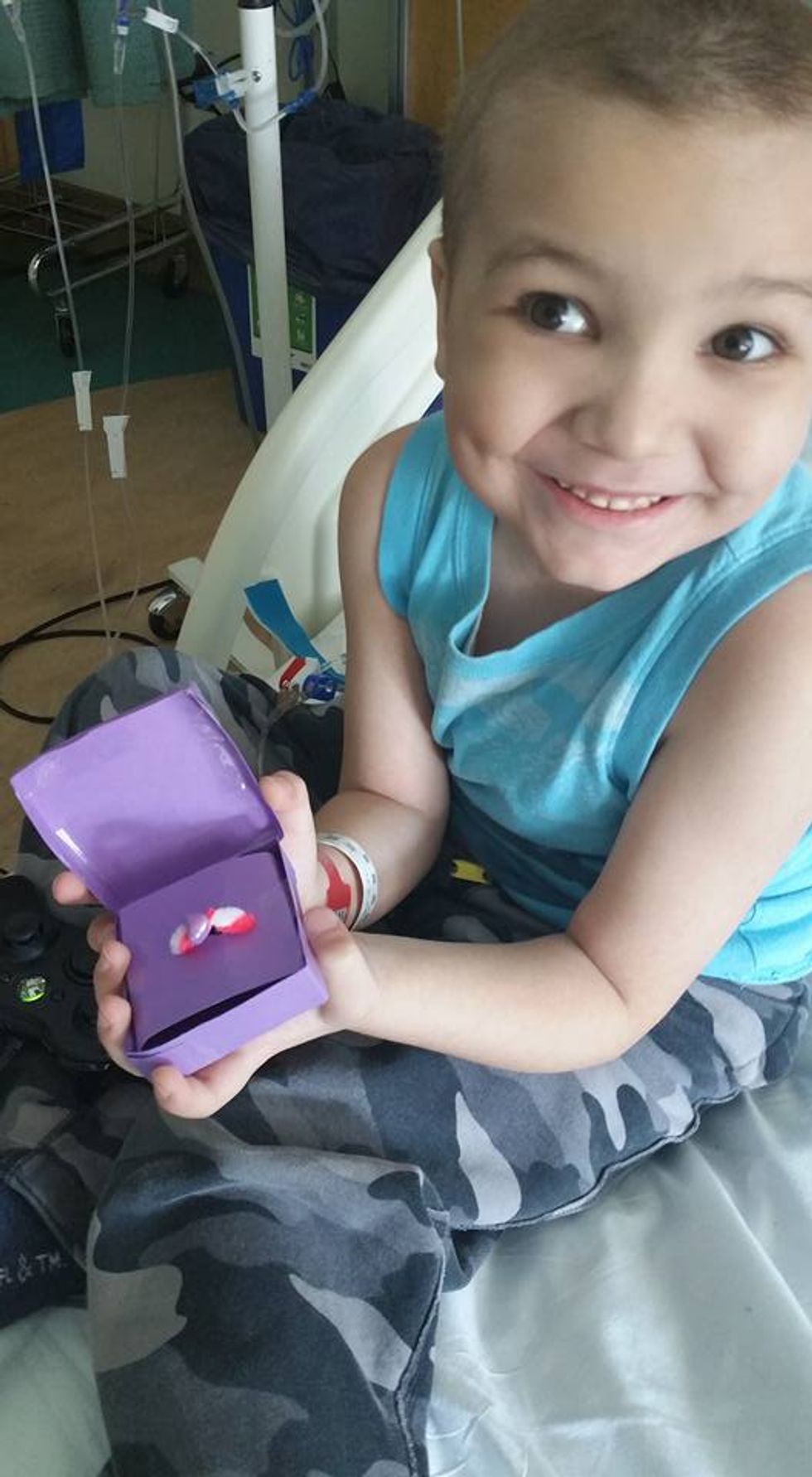 Image via Facebook/Sosy Robinson
And according to the staff at Rady Children's Hospital in San Diego, Gideon is quite the charmer.
"He really is all about giving to others and making them happy...He has a big brave heart," Robinson told the Daily News.
Gideon certainly made one nurse happy when he resolved to ask her to marry him.
It all began one day while Gideon was receiving treatment. One nurse was talking about how Gideon's favorite nurse, Sarah Richardson, wasn't married. She then turned to Gideon and asked if he would ever be so bold to pop the question.
"He said immediately, 'I'll marry her,' it was so cute. We planned it for 3 p.m. at the nurses station because we couldn't leave his room during chemotherapy," Robinson said.
Gideon and his mom then got to work on a ring for Sarah — a heart-shaped bead fastened to colorful pipe-cleaners. Next, they made a special box for the ring and planned the proposal.
"It didn't take much time to make the ring, and in the hospital you have to figure out creative ways to pass time. So I thought of making the box, Gideon picked the color and we made it together. We ran into the music therapist and asked for her to play the background music, and the song 'Happy' — if she said yes," Robinson told the Daily News.
Pretty soon, others got in on the action. Ryan, a 17-year-old cancer patient who receives treatment on the same floor as Gideon, organized another surprise to make the occasion extra special.
"The car pulling the cans was a total surprise to us — a plan that Gideon's 'big brother', Ryan, was working on while receiving his chemo that day," Robinson said.
When the moment arrived, the little guy doctors nicknamed "Iron Gideon" got down on one knee with his homemade ring and asked the woman he affectionately calls "tall Sarah" to marry him.
And…she said yes!
"Of course, you can be my hospital husband!" Richardson responded.
Gideon's mom said that maintaining positivity has been crucial during this trying time in her family's life.
"I believe it's our positive attitudes and Gideon's strength and the amazing staff at Rady that makes it easier," Robinson said.
Gideon's family created a Facebook page to document Gideon's adventures and a GoFundMe page to help ease medical costs. To donate, click here.
(H/T: Daily News)