After his disappointing second-place finish in the Iowa Republican caucus, Donald Trump came close to declaring victory in the next contest.
"We have a poll: We're 28 points ahead, New Hampshire," the real estate mogul said in his concession speech. "We love New Hampshire; we love South Carolina; and we're leaving tonight. And tomorrow afternoon we'll be in New Hampshire and that will be something special."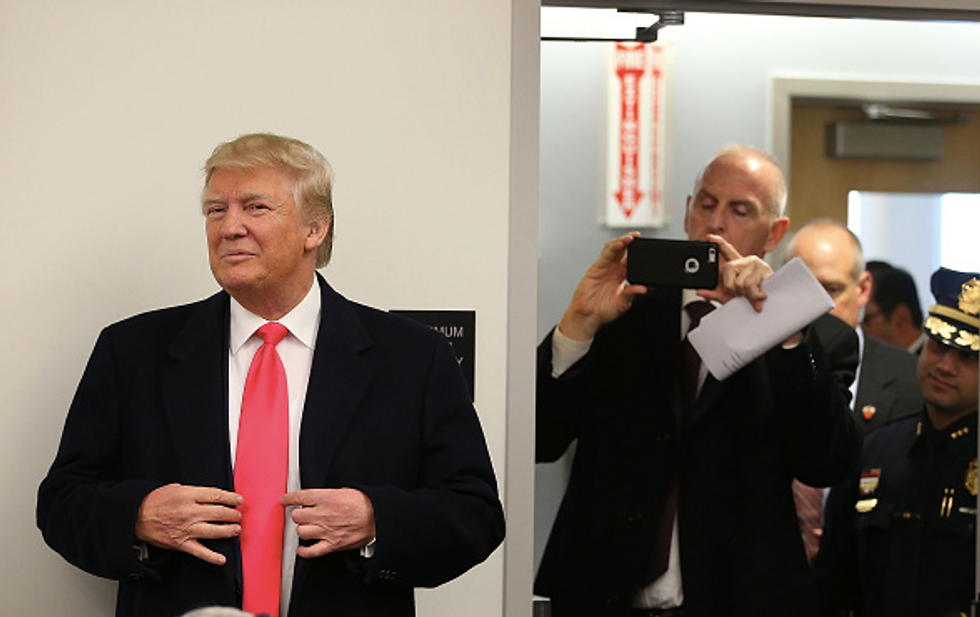 Republican presidential candidate Donald Trump visits the Manchester Police Department during a shift change Thursday in Manchester, New Hampshire. (Joe Raedle/Getty Images)
Just days away from the second big contest, the Granite State's first-in-the-nation primary, early polls made it appear that the only real race in New Hampshire is for who will be No. 2 behind Trump's seemingly insurmountable lead.
But the high expectations could present a problem for the Trump, said Grover Norquist, president of Americans for Tax Reform.
"When Trump keeps talking about how far ahead he is, he will almost have to win significantly," Norquist told TheBlaze. "The press could spin it and the competition will play it that he didn't meet expectations if you talk too much about being ahead by 28 points and win by 5 points. Then five would be seen as a losing number."
Expectations and perceptions play a big role in early primary states.
Trump's perception as a winner was wounded by the Iowa loss. The stroke of bad luck might have come when he surged ahead of Texas Sen. Ted Cruz just a week before the caucus, only to lose to Cruz on caucus night.
The most recent poll by the University of Massachusetts finds Trump with a commanding 21-point lead in New Hampshire. Meanwhile, the Real Clear Politics average of New Hampshire polls shows Trump at 32.8 percent, leading his nearest opponent, Florida Sen. Marco Rubio, by 20.3 percentage points.
The UMass poll shows Trump at 36 percent, while Florida Sen. Marco Rubio and Cruz, almost tied at 15 and 14 percent respectively.
It's quite likely another candidate will emerge from New Hampshire, Norquist said. He noted that former Florida Gov. Jeb Bush, New Jersey Gov. Chris Christie and Ohio Gov. John Kasich have each showed some strength in the state. Both Bush and Kasich have sat in the distant No. 2 spot in recent polls.
"Can somebody come up out of New Hampshire and make their case?" Norquist said. "It would have to be Christie, Bush or Kasich. There has to be a possibility for someone else to emerge in New Hampshire, just as Rubio emerged third in Iowa."
Norquist added it might well be the last chance for some candidates.
"Kasich or Christie have built the entire structure of their campaigns on New Hampshire. All their work has gone into the state," Norquist said.