Democrats on the House Benghazi committee who repeatedly complained about the cost of the probe awarded thousands of dollars in bonuses to staffers, public records examined by Fox News reveal.
According to the records, six Democratic staffers were given a grand total of $33,600 at the end of 2014 and 2015.
Democrats noted, in their defense, that they have less staffers than their Republican counterparts, Fox News reported. Moreover, the amount awarded in bonuses was dwarfed by the committee's overall spending.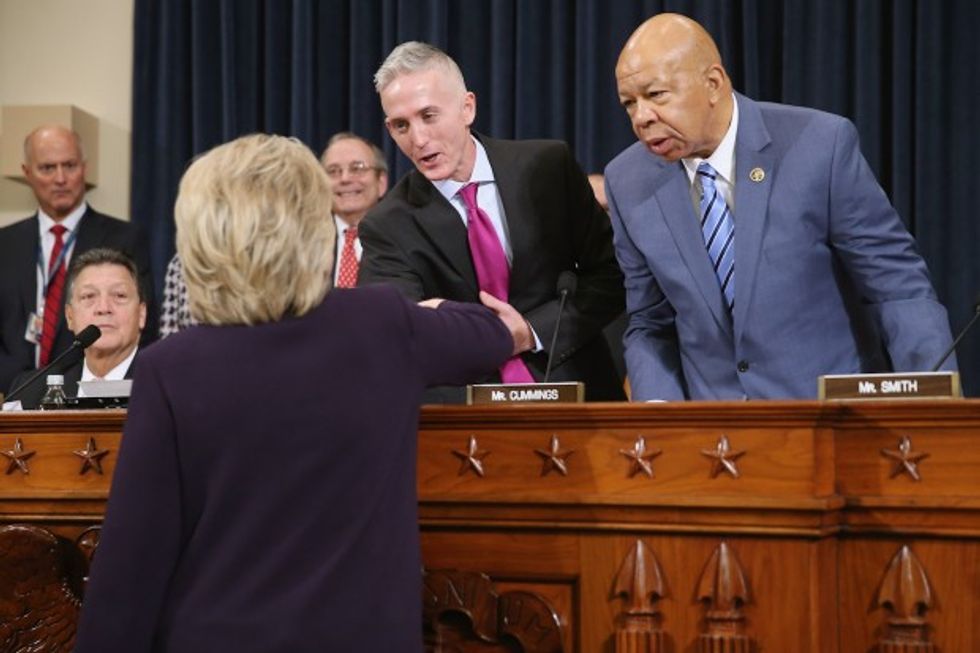 Chip Somodevilla/Getty Images
Nonetheless, the bonuses are now being used as political ammo against the Democrats.
"This is the height of hypocrisy," Republican strategist Lisa Boothe told Fox News.
[sharequote align="right"]"This is the height of hypocrisy."[/sharequote]
Democrats appointed to the House Select Committee on Benghazi had repeatedly accused their Republican colleagues of wasting taxpayer money to fund a politically-motivated witch-hunt.
"Republicans continue to drag out this political charade closer to the 2016 presidential election, and the American taxpayers continue to pay the price," ranking member Elijah Cummings (D-Md.) said in January.
Republicans recently fired back, making the same accusation against the Democrats. At the end of January, committee press secretary Matt Wolking accused them of wasting more than $2 million to obstruct the investigation.
"While Democrats on the Benghazi Committee have made a big show of pretending to care about the cost of this investigation, they've made zero meaningful contributions and spent virtually all of their time and effort on undermining and obstructing the committee's work, directly contributing to its length and cost," he said in a statement.
Wolking added, "Their incessant politicization of legitimate congressional oversight is appalling and grotesque, and only proves that the process could have been completed much faster if Democrats had helped with the work instead of delay it."
—
Follow the author of this story on Twitter and Facebook: