President Barack Obama said low gas prices offer the best opportunity to hike taxes on oil for the sake of funding green energy and mass transit, as he prepares to unveil his proposed $10 per barrel tax on oil, as part of his budget proposal.
"The basic proposition is, is that right now, gas is $1.80," the president told repoters at the White House Friday. "Gas prices are expected to be low for a while, for the foreseeable future. That, overall, can be a good thing for the economy, but what is also important is that we use this period where gas prices are low to accelerate a transition to a cleaner energy economy because we know that's not going to last. Every one of us have seen cycles where gas prices go down and then they pop back up."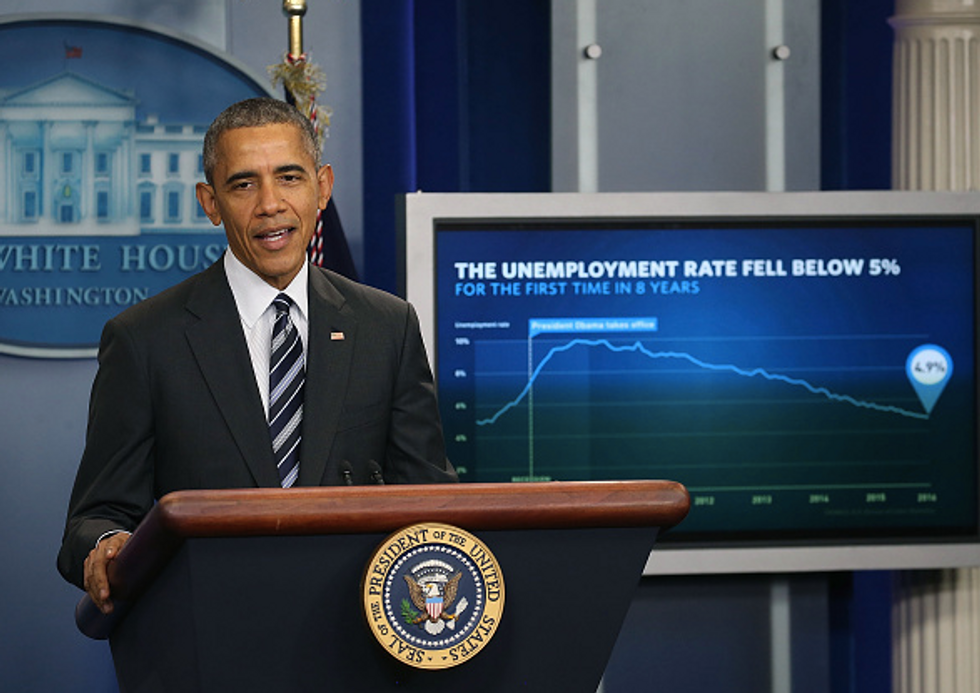 President Barack Obama discusses the latest unemployment rate within the U.S. economy in the Brady Press Briefing Room at the White House February 5, 2016 in Washington, DC. The Labor Department announced 151,000 jobs were added by U.S. employers in January, lowering the unemployment rate to 4.9 percent. (Mark Wilson/Getty Images)
The administration is touting this as a "21st century clean transportation system," which aims to spend more than $300 billion over the next 10 years in mass transit, high-speed rail and self-driving cars, funded by the new tax.
Though the tax will be imposed on oil companies, critics say those companies will pass it on to consumers, increasing gas prices and heating oil.
"We're going to impose a tax on a barrel of oil so that some of that revenue can be used for transportation, some of that revenue can be used for the investments in basic research and technology that's going to be needed for the energy sources of the future," Obama said. "Then 10 years from now, 15 years from now, 20 years from now, we're going to be in a much stronger position when oil starts getting tight again, prices start going up again. We will have further weaned our economy off of dirty fuels."
When a reporter asked about the Republican leadership saying the tax increase proposal is dead on arrival, Obama responded, "They say that about everything."
Obama asserted the tax will be good for the economy.
"We will have not just made environmental progress, but we'll also have a much stronger economy, a strong infrastructure," Obama continued. "We'll be creating the jobs of the future. And I think we'll look back and we'll say, that was a smart investment, that was a wise decision for us to make."