President Barack Obama will propose a $10 per barrel tax on oil in the last annual budget he submits to Congress.
Obama reportedly hopes the tax will reduce carbon emissions and plans to use the revenue for spending on public transportation.
If such a proposal passed, then oil companies would likely pass the cost of the new tax on to consumers, meaning gas prices would increase, Patrick DeHaan, senior petroleum analyst for GasBuddy.com, told USA Today.
"Something like this would trickle down and be a $10 per barrel tax on motorists," DeHaan said. "This is not something oil companies are going to absorb."
Economist Donald Marron of the Urban Institute believes the tax hike would more than the double the federal gas tax. The 18.4 cents per gallon federal gas tax is figured into the price at the pump; Marron estimates that the proposed oil tax would increase the price of a gallon of gas by 22 cents.
The administration is touting this as a "21st century clean transportation system," which aims to spend more than $300 billion over the next 10 years in mass transit, high-speed rail and self-driving cars, Politico reported.
White House economic adviser Jeff Zients insisted it would primarily hit the companies.
"This is a per-barrel fee on oil paid for by oil companies," Zients said. "So they're the ones paying the fee. We recognize that oil companies will likely pass on some of these costs."
House Speaker Paul Ryan (R-Wis.) blasted the plan as an election year gimmick with no chance of passing.
"Once again, the president expects hardworking consumers to pay for his out of touch climate agenda," Ryan said in a statement. "A $10 tax for every barrel of oil produced would raise energy prices, hurting poor Americans the most. ... The president should be proposing policies to grow our economy instead of sacrificing it to appease progressive climate activists."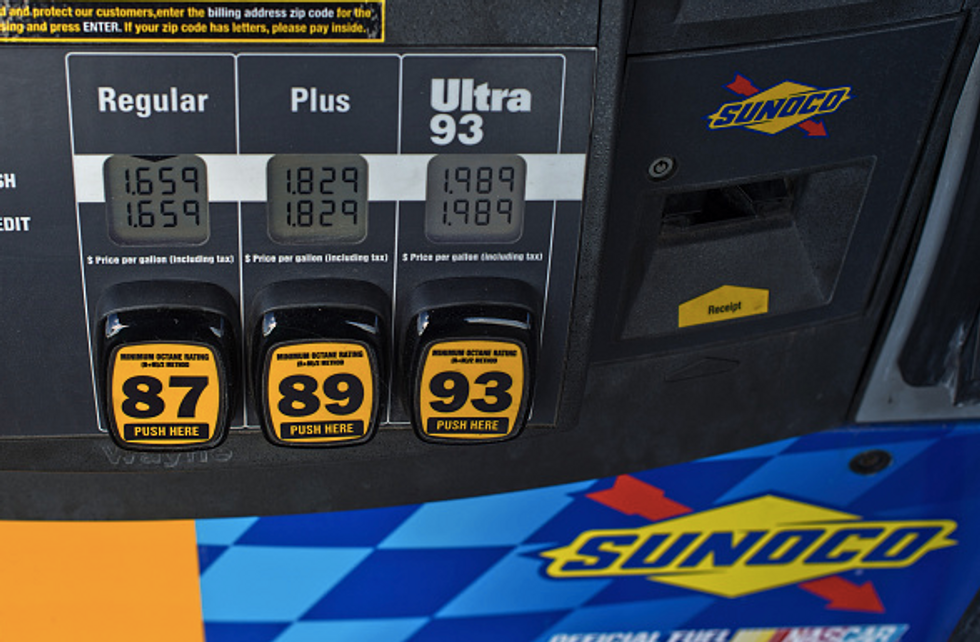 Sunoco gas prices are displayed on a pump at a Stripes convenience store in Corpus Christi, Texas, Jan. 7. (Eddie Seal/Bloomberg via Getty Images)
Obama budget proposals have been overwhelmingly rejected by Congress, so the chances that this oil tax will ever be enacted seem extremely slim.
The tax proposal comes when gas prices are at the lowest point in years, at a national average of $1.77 per gallon. So if such a tax ever could pass, now would be the time.
For a national average, a 15-gallon fill-up would cost at least $2.76 more per day, according to USA Today. The tax would further effect those using heating oil to warm their homes and diesel to fill their trucks.
Therefore, the Obama budget proposal increases funding for low income heating assistance.