Texas Sen. Ted Cruz may have had some trouble getting his daughter to hug him while on the campaign trail, but he didn't have any trouble becoming the butt of the "Saturday Night Live" cold open.
Portraying the GOP presidential candidate, Taran Killam said he won the Iowa Caucus thanks to endorsements from "strong conservatives" such as Glenn Beck and "God Almighty." 
"Now I'll admit; I'm an unconventional candidate," Killam said as Cruz. "I'm not like other politicians. I didn't get where I am today because I was born wealthy or handsome or charismatic or nice. I am not cool or likable or even fine. I'm not young and hip.  I am not off the chain. I'm not energetic and healthy. Physically, I'm not doing well at all. From the side, I look like a Far Side cartoon."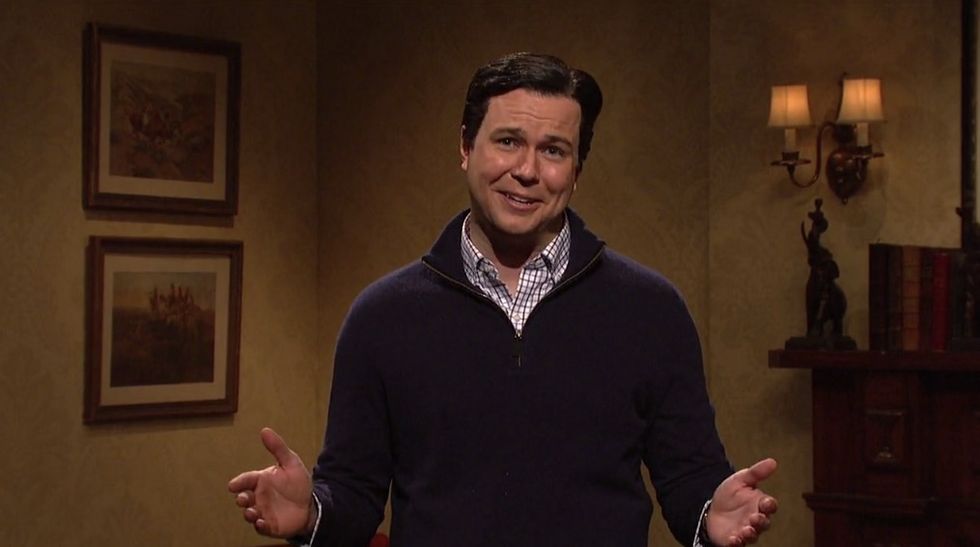 Image source: NBC
"In other words, I have overcome perhaps the greatest political liability of all time — being Ted Cruz," he continued. "Mine is a story of triumph over adversary, like FDR and his wheelchair. But instead of a wheelchair, it's my personality and face."
Cruz's character said his success stems from his family and sense of humor.
"What did Donald Trump do when he lost Iowa? He threw a 'Trumper-tantrum,'" he said.
He also said he's a "sneaky little stinker."