During a trip to San Francisco over the weekend, Glenn Beck encountered activists calling for an end to circumcision, which he described not only as "bizarre" but also "anti-semitic."
Though it was initially unclear to Beck what the group was protesting, it soon became abundantly obvious as he continued walking down Fisherman's Wharf along the San Francisco coast.
"[The sign] said, 'It's a man's body. It's a man's choice.' And I'm like, 'It's a man's body. It's a man's choice.  What could that possibly be?'" Beck recounted Monday on The Glenn Beck Radio Program. "And the woman turns around and [the sign's] got a little rainbow on it. And I'm confused by the rainbow, and it says, 'Circumcision must end.'"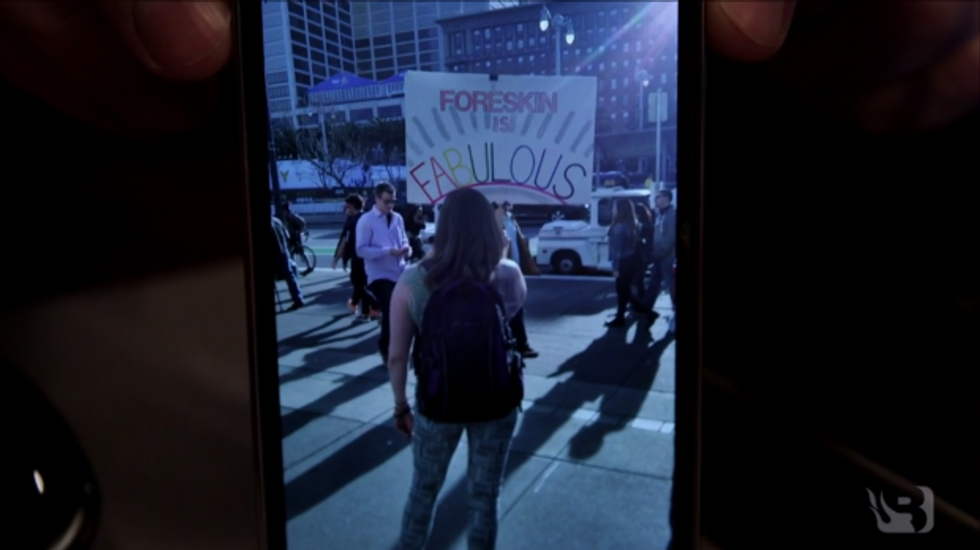 The Glenn Beck Radio Program co-host Jeff Fisher shares photos of San Francisco protesters Feb. 8. (Image source: TheBlaze TV)
Ultimately, Beck and his co-hosts Pat Gray and Jeff Fisher, who were accompanying him in California, said that they saw around 50 protesters hoisting signs against circumcision.
Beck said some were wearing clothes that were splattered in blood and many of the signs read, "Foreskin is fabulous" and "Foreskin is my skin."
The radio show host said the California protests reminded him of the activism he said he saw in Europe a few years ago also calling for an end to circumcision, a cause which he chalks up to anti-Jewish sentiment.
"I mean, it was bizarre. ... I think it's anti-Semitism," Beck said. "[I]t's just another attack on Jews."
Complimentary Clip from TheBlaze TV The full episode of The Glenn Beck Program, along with many other live-streaming shows and thousands of hours of on-demand content, is available on just about any digital device. Click here to watch every Glenn Beck episode from the past 30 days for just $1!
—
Follow the author of this story on Twitter: