The Obama administration announced Monday that it is coordinated well enough now that it will not need a "Zika czar" to combat the mosquito-based virus that has been spreading recently in the United States.
"We are clearly better prepared for an outbreak like Zika than we were a year or so ago. We have responded very, very rapidly to this," National Institutes of Health Director Dr. Anthony Fauci said from the White House.
"The idea of waiting until something bad happens before you do anything, that's not the case. As you know, Ebola just lingered on. The first case was in December 2013. By March, when there were a lot of cases, people started to realize it," Fauci continued. "Right now the coordination, at least from someone who has been through these kinds of outbreaks, I think is quite good. I don't really see the need for having another czar. If the situation evolves, I'm sure the president would be very open to making that decision."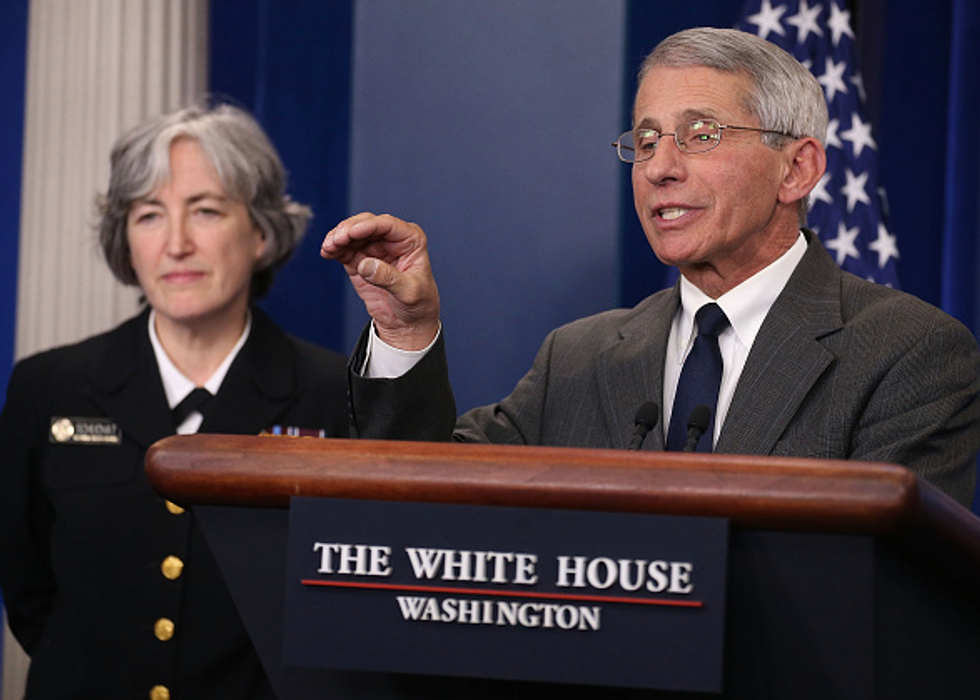 Dr. Anthony Fauci, right, director of NIH/NIAID, and Dr. Anne Schuchat, principal deputy director of the CDC, speak to the media about the Zika virus during a briefing at the White House Monday. (Mark Wilson/Getty Images)
President Barack Obama has asked Congress for $1.8 billion in funding to respond to the Zika virus, which primarily poses a risk to pregnant women and can cause severe birth defects.
The United Nations reportedly called for countries to provide more funding for abortions to deal with the Zika virus. But White House press secretary Josh Earnest that that he is not aware whether abortion would be included in the funding request.
"Congress will have to consider that as a policy question that would go along with that funding," Earnest said. "Obviously there is a ban on the use of federal funds for abortion without the sort of exceptions that are commonly discussed. Obviously, there will be some policy implications with a lot of these questions. Hopefully, resolving questions like that will not impede Congress' ability to act quickly in a way that will ensure that we have the resources we need to protect the American people."
The entire U.S. government is taking the virus seriously, but it's not a cause for panic, said Dr. Anne Schuchat, principal deputy director of the Centers for Disease Control and Prevention.
"For the average American, this is not something that will change your day-to-day life. But if you are pregnant, we are taking the unusual step of recommending you avoid travel to areas where Zia is spreading," Schuchat said. "This will not be easy. The mosquito that spreads the Zika virus is an aggressive daytime fighter. It lives outside and inside the home, and it can be really hard to control it. This is one of those mosquitos that is very hard to control."
Some good news is that the government is moving ahead on approving a vaccine, Fauci said.
"We have already started to develop the vaccines in early stages and predict we will likely be involved in the phase 1 trial just to determine if its safe and if it produces the response probably by the end of the summer and get that going by the end of this year and if it looks like it's safe, we'll go to the next stage," Fauci said. "We are unlikely to have a vaccine that is widely available for a few years. But we certainly can get the initial step."