A prominent Palestinian politician unwittingly reminded the world of the Palestinians' claim to fame in the 1970s and 1980s, threatening the West that his people could go back to hijacking planes and shooting up airports "to make you care about our cause."
Nabil Shaath — once the top negotiator for the Palestinians who spent countless hours with Clinton administration officials during the Oslo peace negotiations — lambasted the West for focusing on the Syria crisis while apparently forgetting about the Palestinians.
"Do we have to hijack your planes and destroy your airports again to make you care about our cause?" said Shaath, who has also served as foreign minister for the Palestinian Authority.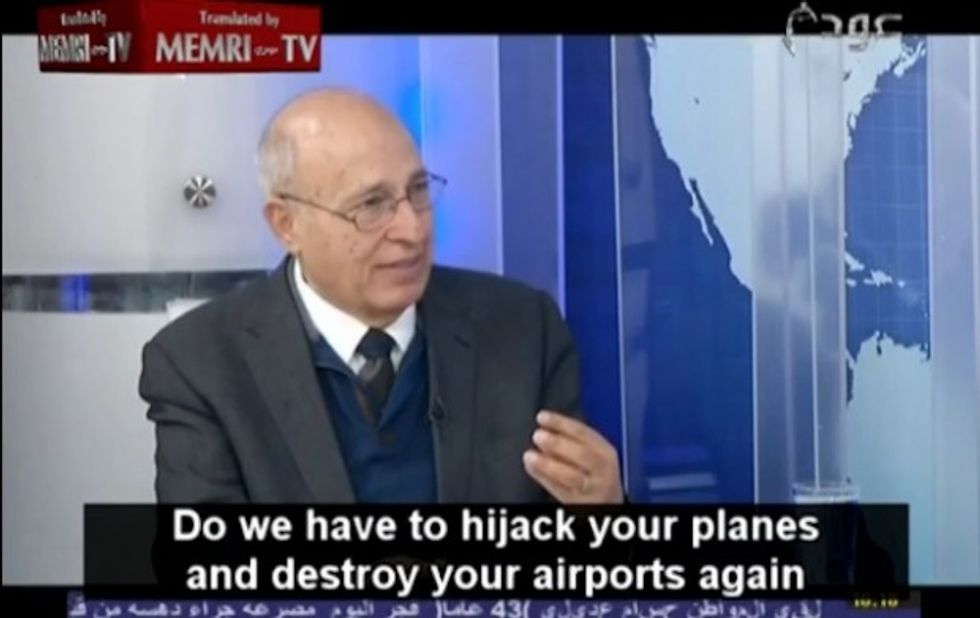 Prominent Palestinian politician Nabil Shaath complained that the Syrian plight gets a lot more attention than Palestinian issues and suggested one remedy might be a renewal of airline hijackings that once made Palestinian terrorist groups famous. (Image source: YouTube/MEMRI)
Shaath, who sits on the Central Committee of Palestinian President Mahmoud Abbas' Fatah Party, shared his thoughts with Awdha TV earlier this month during which he lamented the attention the Syrian crisis has received seemingly at the expense of Palestinians. Excerpts from his interview were translated by the Middle East Media Research Institute.
He pointed to the influx of millions of Syrians to Europe — 1.2 of them to Germany alone last year — at the same time that the Islamic State group launched its deadly attack in Paris in November.
"All these countries began to fear that ISIS might have infiltrated through the refugees and this started a debate about racial transformation in Europe with the entrance of non-white, non-European, non-Anglo-Saxon races, like the Syrian refugees, the Africans and others. This is what made the Syrian problem the most pressing from their perspective," Shaath explained.
"I always say to these people, after I tell them about Syria and ISIS: 'Do we have to hijack your planes and destroy your airports again to make you care about our cause? Are you waiting for us to cut off your oil supply? You always wait for things to reach a boiling point and explode, causing you harm, before you intervene to end the crimes and violations,'" he warned.
The most notorious Palestinian terrorist attacks included the Rome and Vienna airport attacks in 1985, which killed 19; the 1972 Munich Olympics massacre in which 11 Israeli athletes were taken hostage then killed: and the 1976 hijacking and diverting of an Air France plane to Entebbe, Uganda and taking passengers and crew hostage.
The Israel Defense Forces' Entebbe operation to rescue the Air France hostages was headed by Israeli Prime Minister Benjamin Netanyahu's brother Yonatan who was the only Israeli officer killed in the successful rescue mission.
Besides those attacks, Israel has currently been facing a wave of nearly daily Palestinian stabbing attacks that began in September.
Shaath was also asked about the idea of an international peace conference recently proposed by France to solve the Israeli-Palestinian conflict.
"Well, anything is better than American control of the negotiations. Anything," said the former top negotiator. "The U.S. has never been a reliable honest broker. It is the strategic ally of Israel. Period. Therefore, any discussion of a different formula is a positive thing."