Carolina lost. Denver won. But a new study released last week found that an estimated 16.5 million Americans across the country would call in "sick" Monday, the day after the Super Bowl.
That number equates to about 10 percent of the American workforce. Of those who will call in sick, the study found that Panthers and Broncos fans were the most likely to skip work.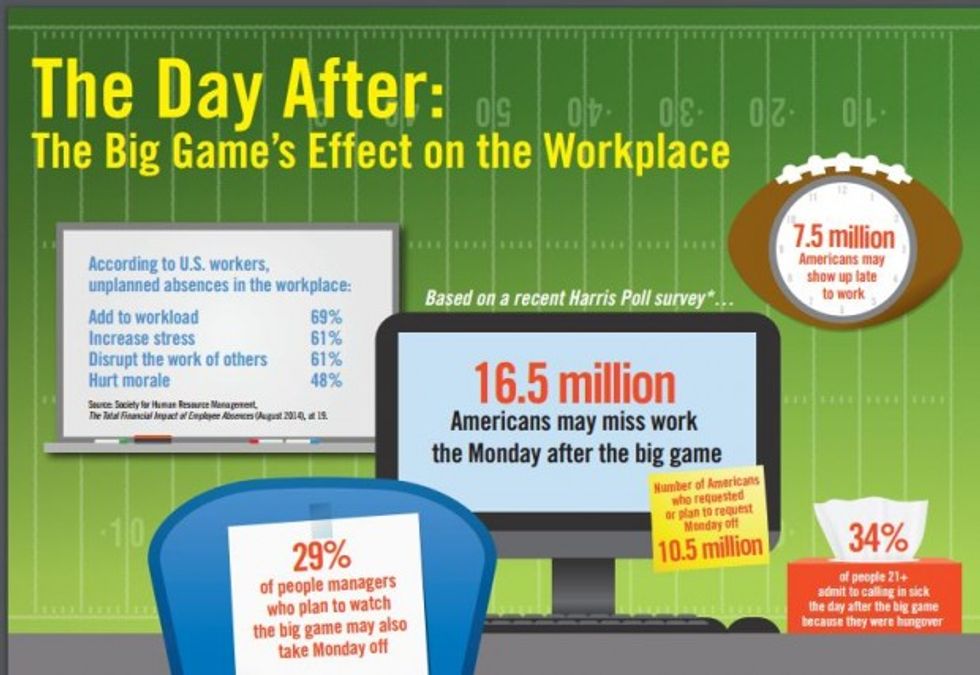 Image source: Workforce Institute at Kronos
In addition to the 16.5 million who planned to take a sick day, the survey found that nearly 10.5 million Americans already scheduled Monday as a vacation day. The study also found that approximately 7.5 million Americans would show up late to work the day following the big game.
Those most likely to be guilty of "Super Bowl fever"? Men between the ages of 18-44.
However, the survey did uncover a silver lining for all of the workplace absences.
According to the survey, 74 percent of full-time/part-time employees said they would be honest with their boss about their absence.
The survey was conducted by Kronos, an organization that studies workplace management. It was conducted online between Jan. 27-29. It calculated the answers of 2,042 American adults, aged 18 and older.
—
Follow the author of this story on Twitter and Facebook:
[facebook //www.facebook.com/plugins/like.php?href=