Republican frontrunner Donald Trump suggested today that he'd support the assassination of North Korean dictator Kim Jong Un.
"I would get China to make that guy disappear — in one form or another — very quickly," Trump reportedly said Wednesday on "CBS This Morning."
When asked if he'd support assassinating the world leader, Trump "shrugged," according to CBS.
"Well, you know, I've heard of worse things, frankly," said Trump, fresh off his decisive victory Tuesday in New Hampshire. "I mean this guy's a bad dude -- and don't underestimate him."
Trump added that he planned to force China to deal with Kim "economically," a key tenet of his foreign policy strategy according to his stump speeches.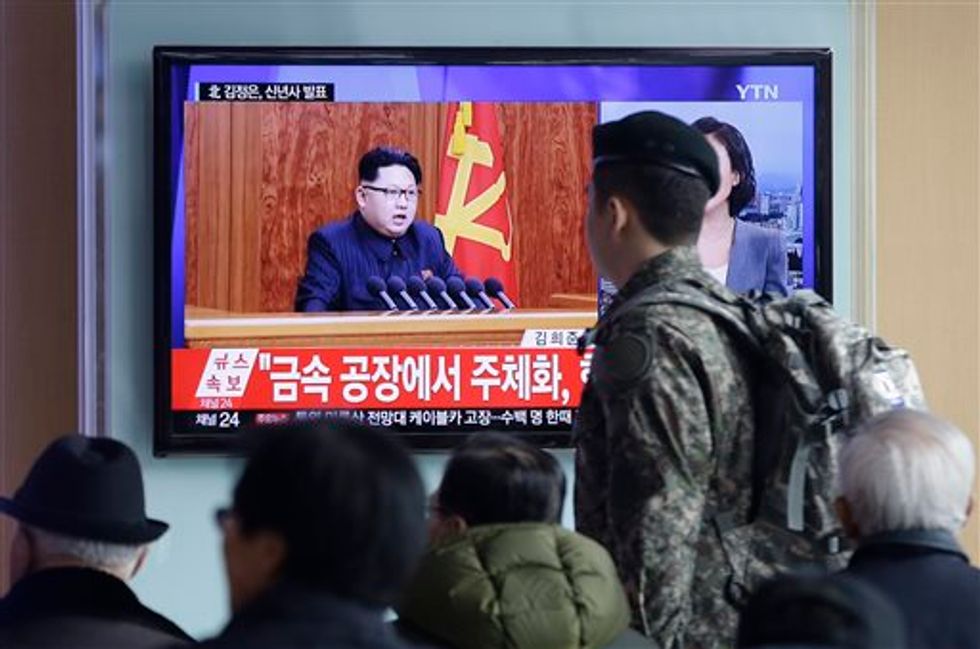 A South Korean army soldier passes by a TV showing North Korean leader Kim Jong Un on Friday. (AP/Ahn Young-joon)
North Korea is one of the most oppressive countries in the world, with no independent media or religious freedom.
According to Human Rights Watch: "A 2014 UN Commission of Inquiry found that abuses in North Korea were without parallel in the contemporary world. They include extermination, murder, enslavement, torture, imprisonment, rape, forced abortions, and other sexual violence. North Korea operates secretive prison camps where perceived opponents of the government are sent to face torture and abuse, starvation rations, and forced labor. Fear of collective punishment is used to silence dissent."
Kim has grown increasingly aggressive in recent days, drawing concern for testing ballistic missiles.
Still, this may be the first time a U.S. presidential candidate publicly suggested that they would put pressure on another nation to carry out an assassination of a head of state.
—
Follow the author of this story on Twitter and Facebook:
[facebook //www.facebook.com/plugins/like.php?href=