Even after winning by a commanding 22-point margin in New Hampshire Tuesday, Democratic presidential hopeful Bernie Sanders is still virtually equal in delegate count to rival Hillary Clinton thanks to the Democratic superdelegates. CNN reporter Jake Tapper challenged Democratic National Committee chairwoman Debbie Wasserman Schultz on the issue, but she seemed to avoid actually answering his inquiries.
"What do you tell voters who are new to the process who says this makes them feel like it's all rigged?" Tapper asked Wasserman Schultz.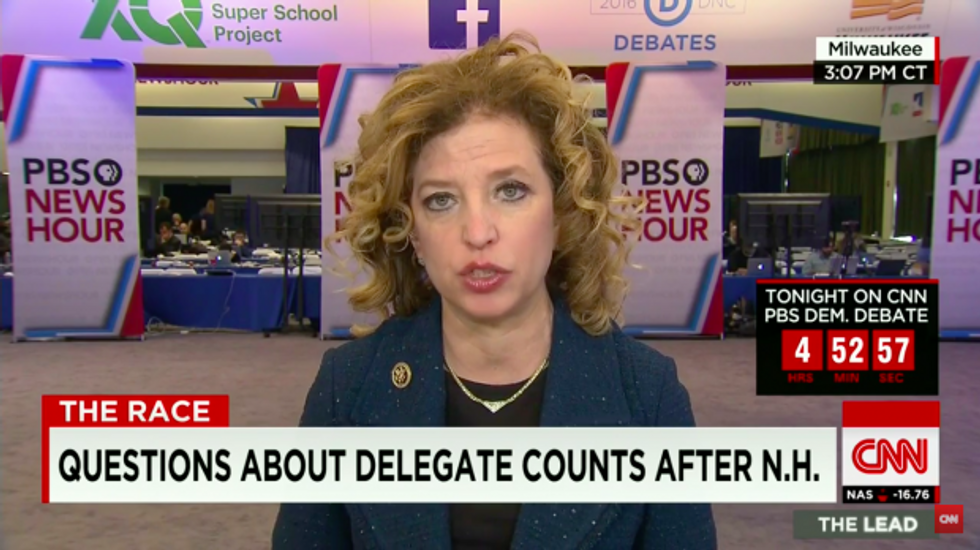 Democratic National Committee chairwoman Debbie Wasserman Schultz discusses the Democratic Primary on CNN Thursday, Feb. 11. (Image source: CNN/YouTube)
The DNC chairwoman explained to Tapper that the unpledged delegates, or the superdelegates, are a completely separate category from the pledged delegates, which Clinton and Sanders were competing for in the Granite State.
"Unpledged delegates exist, really, to make sure that party leaders and elected officials don't have to be in a position where they are running against grassroots activists," Wasserman Shultz said, adding that the Democratic Party "highlights inclusiveness and diversity at our convention" and wants to give activists "every opportunity" to participate, which she says it what the superdelegates are for.
Tapper simply responded by saying, "I'm not sure that answer would satisfy an anxious young voter, but let's move on."
The conversation then shifted toward electability when Tapper asked Wasserman Schultz if Sanders is capable of winning a general election.
"I've said repeatedly that I think either one of our two candidates will ultimately be elected the 45th president of the United States," she responded.
Watch the exchange:
—
Follow the author of this story on Twitter: