A Tennessee mother says she will take legal action against a hospital after they performed an unnecessary medical procedure on her newborn son instead of another baby.
"With a newborn, you're excited and you just want to make sure everything is in order, and they're nursing and feeding well. And he was," Jennifer Melton, 31, told NBC. "Everything was great."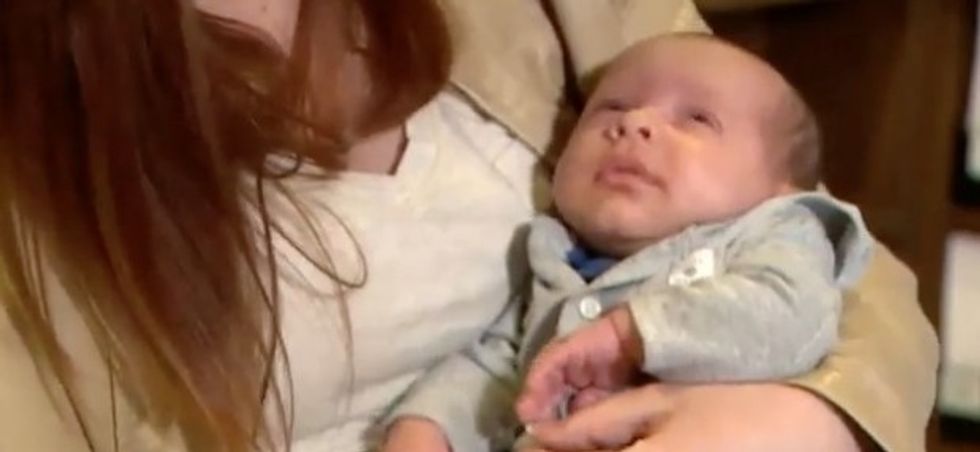 Jennifer Melton and Nate. Image source: YouTube.
Melton said that the day after she had given birth to her son Nate at University Medical Center in Lebanon, Tennessee, she believed that staff was taking him to the nursery so she could get some rest, as well as receive a routine physical. Instead, they performed a frenulectomy – a procedure to separate the tissue that connects the tongue to the floor of the mouth and used to treat babies with a condition known as a "tongue tie."
But Melton said her son was not suffering from tongue tie.
"The nurse brought our son back into the room, and she began to explain the care process for the procedure that he had done while he was away," Melton told NBC News. "I was, like, what are you talking about? What procedure? She called it 'tongue clipping.' I had never heard of it."
Melton called her son "perfectly healthy," and began to examine him to make sure that hospital staff had brought back the right infant.
"I grab my baby and I begin to examine him," she said. "I opened his mouth with my fingers and I can see bruising of some sort."
Melton said that she sought out hospital staff for an explanation.
"The in-room phone rings, and it's the pediatrician explaining to me that he did in fact perform this procedure, and that he had made a mistake, that he asked for our baby in error, and that he was sorry," Melton said.
Melton said the pediatrician also told her, "Don't worry, he barely cried."
"I just sat there and I cried and cried," she said. "They were completely reckless in what they did. They took my innocent newborn. He doesn't have a voice for himself to say, 'What are you guys doing? Not me, not me.'"
Melton said that although she has taken her elder son to the same pediatrician for five years, he confused the name of her son with that of another infant who did need the procedure.
Melton said her family will sue the hospital.
"I don't want anyone to ever have to leave a hospital with a newborn feeling the way that I felt on that day," Melton said.
At press time, University Medical Center had yet to comment on the case.