Televangelist Pat Robertson, known for his off-the-wall, brash commentary, has opined once more. And this time, it is about women joining the military and training for combat positions.
The "700 Club" anchor responded Thursday to a conversation taking place across the U.S. about women's place in the military. Though Defense Secretary Ash Carter announced months ago that women can join the military in combat roles, a debate about whether or not they should be included in the draft has recently sprung up.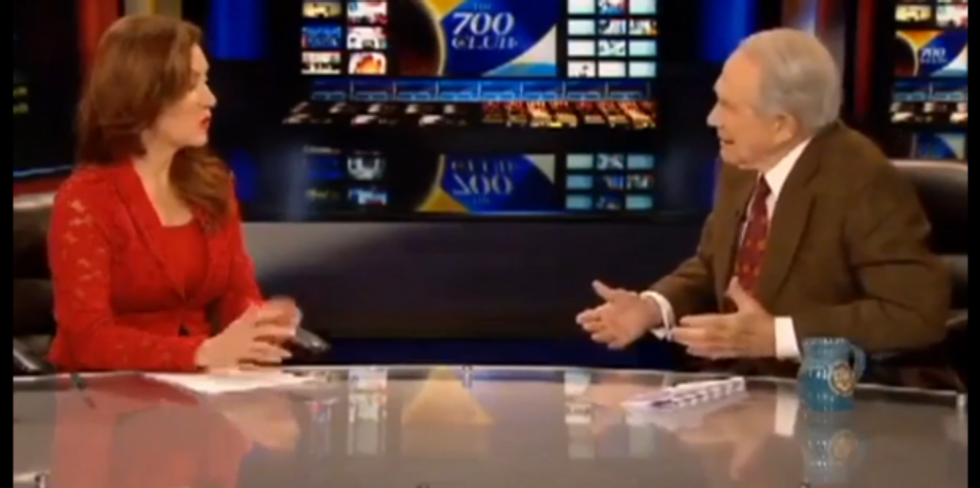 Pat Robertson and Wendy Griffith discuss women in combat on the 700 Club Feb. 11. (Image source: CBN News screenshot)
According to Robertson, 85, women should neither be drafted nor in combat positions. And, by his estimation, feminists are to blame for the recent discussion about including women in the military draft.
"The feminists have gotten to a point where women are going to be drafted and put into combat units. Why would any woman in her right mind want that?" Robertson asked show co-anchor Wendy Griffith.
Griffith, seeming to take a more tempered tone, suggested to Robertson that "there are women warriors," later adding, "I'm not a good candidate, but I think there are some women that feel that call."
But Robertson wasn't buying it. He simply said the idea of women in combat zones is "crazy."
"A lot of these women are going to wake up and say, 'Our feminist sisters haven't done us any favors.' I mean going into primary training and boot training in the infantry is tough, it is hard duty," Robertson said. "Why would anybody want that?"
The conversation went downhill from there. Ultimately, Robertson said women's desire to be in combat zones might be the result of a "masochistic," "bondage" desire.
"Maybe it's a masochistic thing, you know, they want. That's, that's, uh, that's bondage. That's, that's, that's '50 Shades of Grey' squared," Robertson concluded.
Watch the exchange:
—
Follow the author of this story on Twitter: