Ahead of the Democratic presidential caucus in Nevada, which has a heavy Hispanic population, Vermont Sen. Bernie Sanders moved decidedly to President Barack Obama's left on immigration.
Sanders, a Democratic presidential candidate fresh off a big win in the New Hampshire primary, co-wrote a letter with Rep. Raúl Grijalva (D-Ariz.), criticizing the Obama administration for allowing federal and local law officials to partner on immigration enforcement, Politico reported.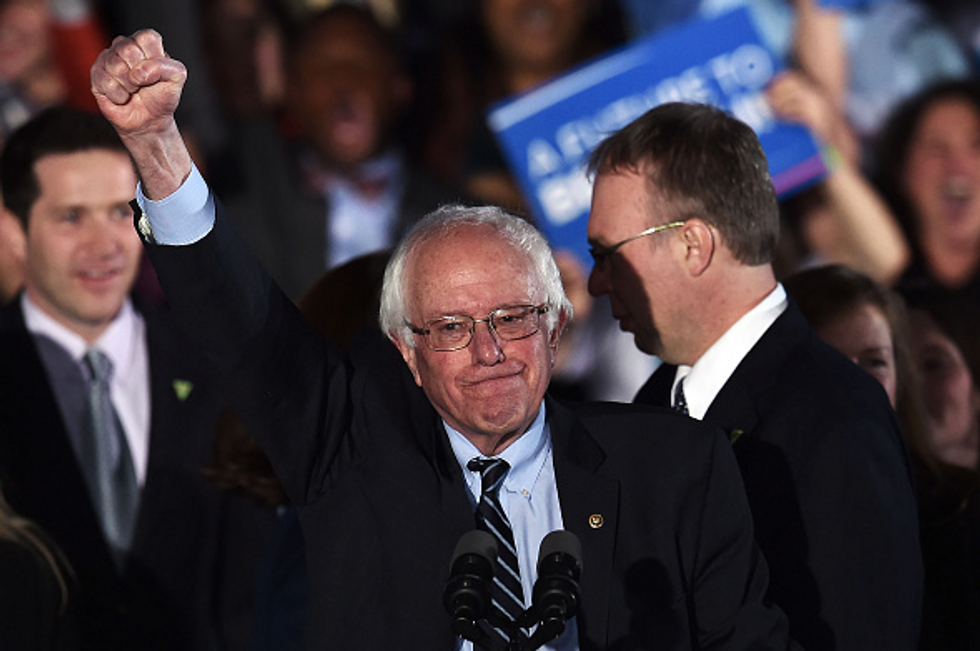 Democratic presidential candidate Bernie Sanders celebrates his victory during the primary night rally in Concord, New Hampshire, on February 9, 2016. (JEWEL SAMAD/AFP/Getty Images)
Part of Obama's November 2014 executive actions established the Priority Enforcement Program to replace the Secure Communities (SCOMM) program. But the two members of Congress complained in a letter to Homeland Security Secretary Jeh Johnson that too little has changed.
"It seems that DHS has merely made minor stylistic changes to detainer requests and implemented those stylistic changes in jurisdictions that sought to limit their involvement with SCOMM," the letter from Sanders and Grijalva to Johnson said. "In remaining jurisdictions, it is our understanding that DHS continues the failed SCOMM program, albeit with a new name. There is little evidence that ICE is following the directives and priorities laid out in your memoranda, or that there is any oversight or accountability within the agency to follow the policies you established."
A Department of Homeland Security spokesperson did not immediately respond to inquiries from TheBlaze for this story.
Secure Communities, put in place under the George W. Bush administration, required local law enforcement to hold certain illegal immigrants until Immigration and Customs Enforcement could take custody to deport them. Under Obama's direction in November 2014, the Priority Enforcement Program only asks local law enforcement to notify federal immigration officials, but not detain the illegal immigrants.
The most prominent part of Obama's executive action, which was temporarily halted by federal courts, was built to shield about 5 million illegal immigrants from deportation through the controversial Deferred Action program.
Grijalva is a co-chairman of the Congressional Progressive Caucus. The other co-chairman is Rep. Keith Ellison (D-Minn.). They are the only two members of Congress to support Sanders for president. Most Democrats in Congress are backing former Secretary of State Hillary Clinton.
Read the full letter below: