Among the Republican field, businessman Donald Trump has the most diverse following on Twitter, according to a new analysis conducted by a social media firm.
Demographics Pro, a business that helps publishers understand and grow their social audiences, examined the demographics of the five leading Republican presidential candidates, along with Hillary Clinton and Bernie Sanders.
What the group found might surprise some.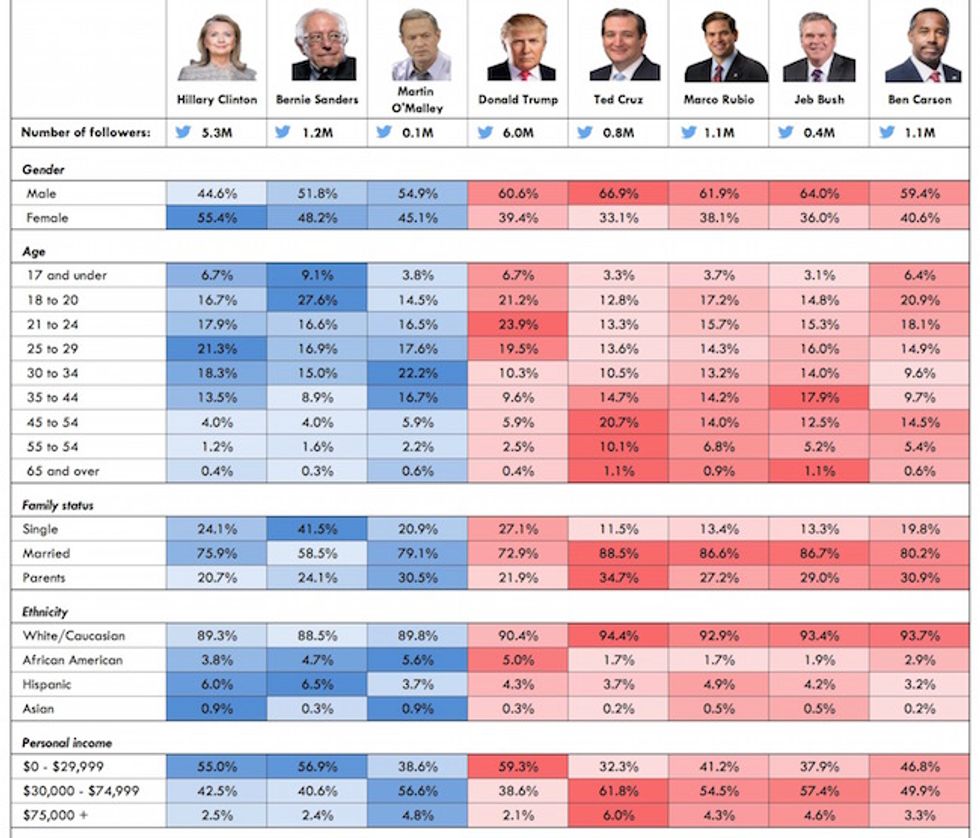 Image source: Demographics Pro
Despite his brash rhetoric, which has been called sexist, racist and politically incorrect, Trump had the most diverse following on Twitter.
Of his 6 million followers, Trump had the lowest percentage of caucasian followers in the GOP field (90.4 percent). The real estate mogul also had the highest percentage of black followers (5 percent) and was only narrowly defeated by Marco Rubio in the race for Hispanic followers (4.3 percent to 4.9 percent). The only group Trump didn't fare the best with was Asian-Americans, with 0.3 percent of his followers on Twitter being made up of the ethnicity (compared to 0.5 percent for Rubio and 0.5 percent for Jeb Bush).
Trump also did well with three other groups.
The billionaire's followers were made up largely of young people, dominating the four youngest age groups. On Twitter, 6.7 percent of his followers came from those 17 and under, 21.2 percent from those 18 to 20, 23.9 percent from those 21 to 24 and 19.5 percent from 25 to 29.
Trump also outperformed most of his rivals when it came to attracting women. 39.4 percent of his followers were female, which was only second in the GOP field to Carson's 40.6 percent.
Moreover, despite being the wealthiest individual in the race for the White House, Trump had the highest percentage of followers of any candidate in the $0 - 29,999 income bracket and smallest percentage of followers in the $75,000+ income bracket.
Demographics Pro planned to release its full findings on President's Day.
—
Follow the author of this story on Twitter and Facebook: