After being accused of mistreating a Princeton University professor this past weekend, the Princeton, N.J., police department released dashcam video of their arrest, which purports to show very polite and friendly treatment by the law enforcement officers.
Imani Perry, a professor of African American Studies at the university, wrote on social media earlier this week that she was arrested for failing to pay a 3-year-old parking ticket. She was pulled over for speeding and the police did confirm that she was arrested Saturday.
"The police treated me inappropriately and disproportionately," Perry wrote in a lengthy Facebook post, which she has since taken down over fears of hacking and harassment. "The fact of my blackness is not incidental to this matter."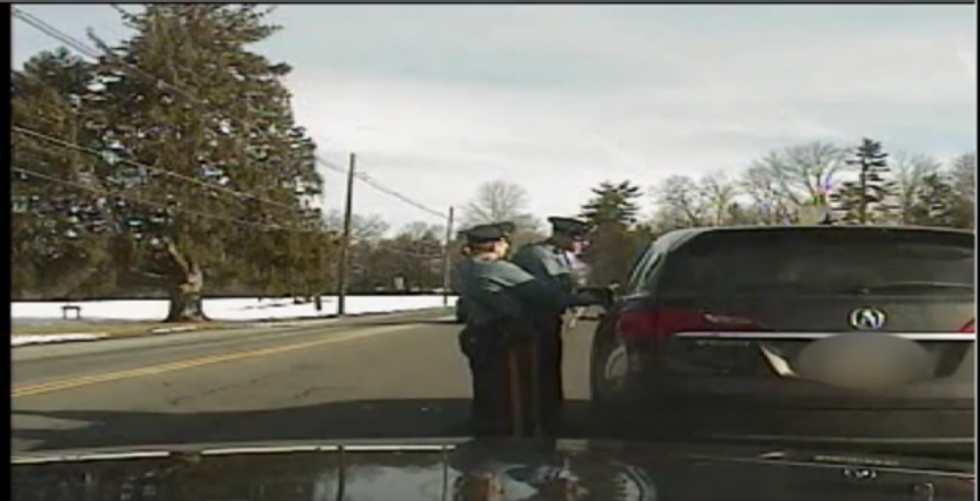 Image source: Princeton Police Department
Police determined Perry was also driving on a suspended license and a warrant had been issued for her arrest, for failing to pay the past-due parking ticket, according to police Lt. John Bucchere. After hearing that Perry said police mistreated her, the department released the 30-minute footage of her arrest.
In the dashcam footage, an officer, who Princeton Police haven't identified, is in a police cruiser as Perry drives by in her Acura SUV. The officer proceeds to stop the professor around 9:30 a.m. and is seen talking with Perry, who is still in her vehicle.
At that point, the officer returns to his squad car, calls dispatch, and learns that Perry's license is suspended. He then returns to her vehicle and questions her. Perry said she was unaware of the suspension and was also unaware of the outstanding warrant.
A second female officer then joins the first officer and they are then seen, seemingly politely, telling Perry that they will have to handcuff her. The male officer can be heard saying, "Unfortunately, ... because of the warrant, we have to put you in handcuffs."
Perry and the two officers then move to the side of the police car and out of the camera's view. The male officer then performs a pat down, as he can be heard giving search explanations. The female officer is present.
The police have denied that Perry was mistreated. However, university officials remain unmoved.
Perry received the "unequivocal support" of Princeton's African American Studies department on Wednesday.
"We were outraged to hear of her treatment at the hands of the Princeton police: that a male officer subjected her to a pat-down in the presence of a female officer and that she was handcuffed to a table after her arrest for an unpaid parking ticket," the statement from the college reads.
In addition, Princeton President Christopher Eisgruber pledged his support on Tuesday, expressing concern over Perry's arrest, describing her as a "respected scholar and beloved teacher." Eisgruber doubled down Thursday, issuing another statement.
The case is currently being reviewed by the Mercer County Prosecutor's Office, according to NJ.com
Watch the police footage:
—
Follow the author of this story on Twitter: