GREENVILLE, S.C. — GOP presidential contender Ben Carson continued to tout his six-month plan for undocumented immigrants while campaigning in South Carolina Friday.
Speaking at the Faith And Family Presidential Forum Friday, Carson advocated allowing undocumented immigrants to stay in the country for a specified time period as "guest workers."
"We do have an illegal immigration problem, and I don't believe our federal government has addressed it at all," Carson said.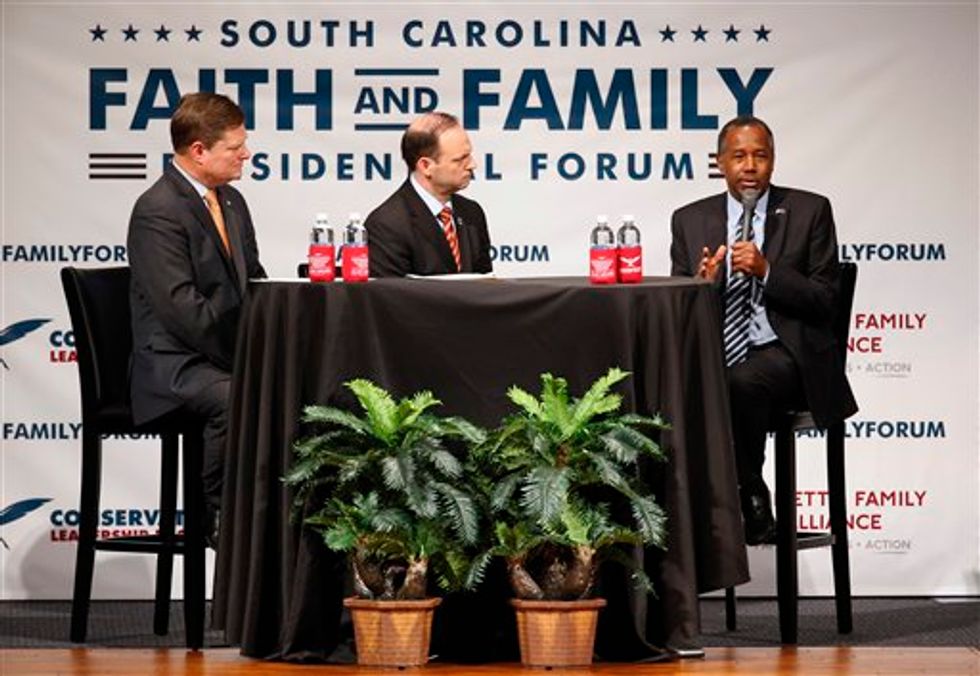 Republican presidential candidate, Dr. Ben Carson, right, speaks as South Carolina Attorney General Alan Wilson, left, and Dr. Oran Smith, of Palmetto Family Council listen, Friday, Feb. 12, 2016, during a Faith and Family Presidential Forum at Bob Jones University in Greenville, S.C. (AP Photo/Paul Sancya)
The GOP presidential hopeful advocated for a "guest worker" plan for the people who are already in the country illegally instead of requiring them to face immediate deportation as he spoke to the conservative crowd gathered at Bob Jones University on an unusually snowy day for South Carolina — just one day before a decisive debate in the Palmetto State.  
"I think what we have to do is give them a six-month period in which they have to get registered if they have a clean, acceptable record," Carson said.
He continued to say that those with "clean, acceptable records" could continue to stay in the country as "guest workers" — not American citizens — and would be required to work and pay taxes.
"If they want to become an American citizen, they would have to go through the same thing that any other person would have to go through to become a citizen," he said to applause.
Carson, who was once referred to as "arguably the most liberal in the GOP race on immigration," asserted that it would be possible to eradicate the flow of people entering the country illegally through the southern border — especially with the use of drones. He also said that the U.S. needs to "shut off the goodies" in order to stop people from wanting to immigrate illegally. 
Speaking to those gathered at the private Christian school, Carson decried the flow of drugs across the border, specifically heroin and marijuana. He said that as a neurosurgeon, he saw firsthand the effects marijuana has on the brain. 
"You can buy a pack of heroin for less than you can buy a pack of cigarettes," Carson said.
Carson was the first of four Republican presidential hopefuls who spoke at the event Friday afternoon ahead of Saturday's debate and the state's primary.
According to Real Clear Politics' aggregated polling data, Carson is polling fifth among Republicans in South Carolina at just 7.3 percent.
—
Follow Kaitlyn Schallhorn (@K_Schallhorn) on Twitter