Speaking to a crowd of 11,000 people in Baton Rouge, Louisiana, Thursday night, GOP frontrunner Donald Trump promised to stop cursing on the campaign trail.
Perhaps Trump's pledge was in response to the recent outcry from voters and other candidates who consider his coarse language to be beneath the office he seeks. According to a Blaze poll, almost 60% of our readers believe Trump's cursing is not "presidential":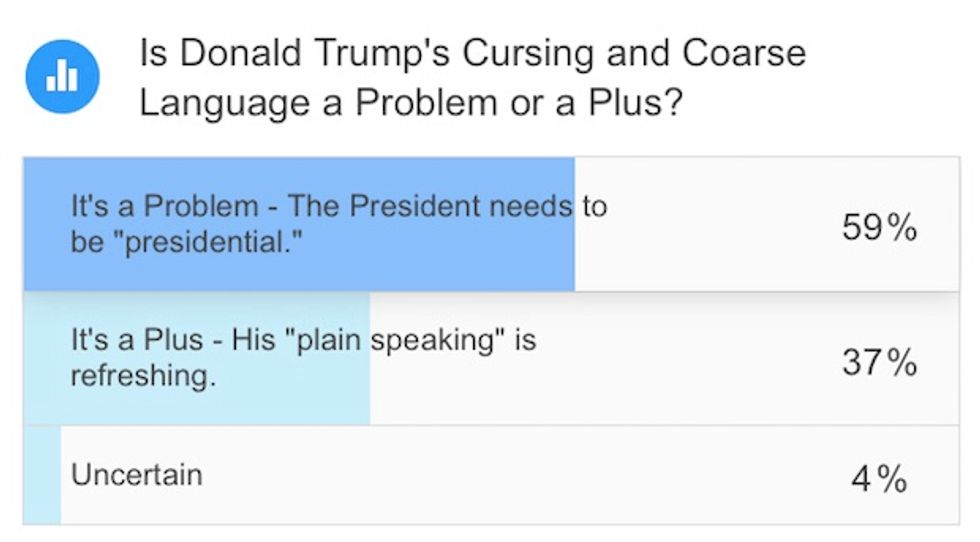 Image source: TheBlaze
While talking to his supporters, Trump appeared to stop himself from swearing. Some members of his audience can be heard encouraging the billionaire to unleash his typical list of invectives. However, Trump seemed to change his mind after a woman in the crowd told him not to curse.
Watch Trump make the pledge:
Thirty minutes later, Trump backtracked on his pledge, using a word some people consider to be objectionable. "I just hope you don't believe their crap! Because it's all crap!" said Trump.
The candidate again fell off the "curse-free" wagon as he shared a story about his displeasure with the 2012 election and the performance by Mitt Romney, the candidate he endorsed. After watching the GOP and Romney fail, Trump told the audience, "I said, Dammit, I'm going to do it myself."
Watch Trump flip on his promise:
__
Follow the author of this story on Twitter and Facebook: