GREENVILLE, S.C. — While GOP presidential contender Sen. Marco Rubio (Fla.) doesn't think there will ever be a draft again, he unequivocally said he does not support drafting women into combat positions.
Speaking at the Faith And Family Presidential Forum Friday, Rubio said he doesn't believe the U.S. will ever institute a draft again due to modern weaponry and warfare. He also went one step further and said the U.S. doesn't need a Selective Service system anymore.
Rubio told the crowd gathered at Bob Jones University in Greenville, South Carolina that he does not agree with the drafting of women.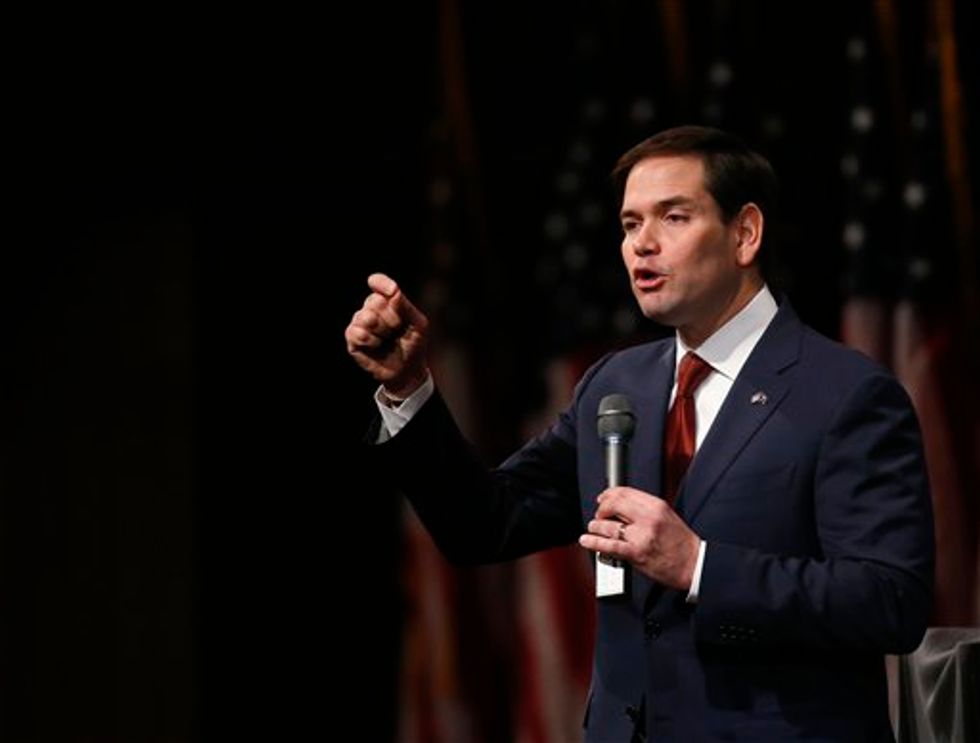 Republican presidential candidate, Sen. Marco Rubio, R-Fla. speaks during a Faith and Family Presidential Forum at Bob Jones University, Friday, Feb. 12, 2016, in Greenville, S.C. (AP Photo/Paul Sancya)
"I don't support drafting women and forcing them to be combat soldiers," Rubio said. "We should never lower our combat standards in order to achieve some sort of societal messaging. You have to be physically qualified — that's true for both genders in order to do the work."
"We need to recognize today that there are women in the military that may not be directly in combat but are serving basically combat-like roles that put their lives in danger," Rubio said.
A spokesperson for Rubio told National Review earlier this week that the senator supported legislation from Sen. Mike Lee (R-Utah) that would give Congress the ability to decide if women should be eligible for the draft — not the Supreme Court or the president.
Rubio said his views on veterans' issues were impacted by his brother who served as a Green Beret for several years. Actions are better than words when it comes to the treatment of those in uniform, he added.
"You have a record number of veterans today unemployed, homeless and waiting in long lines to get their treatment at the VA, treatment they earned, " Rubio said. "When I'm president of the United States, if you're not doing a good job at the VA, you're going to be fired. When I'm president, veterans will be able to take their VA benefits to any doctor or any hospital they want."
Rubio was one of four GOP candidates to speak at the forum in South Carolina Friday ahead of a Republican debate on Saturday and the state's primary on Feb. 20.
—
Follow Kaitlyn Schallhorn (@K_Schallhorn) on Twitter