WASHINGTON (TheBlaze/AP) — Supreme Court Justice Antonin Scalia's death has quickly sparked a heated debate over whether President Barack Obama should nominate a replacement.
Antonin Scalia (Image source: AP)
The leader of the Senate, Republican Mitch McConnell, said the nomination should fall to the next president. The Republican-led Senate would confirm any nominee by Obama.
Republican presidential candidates Ted Cruz and Marco Rubio also said Obama should hold off on a nomination.
Democrats immediately raised objections. The Senate's top Democrat, Harry Reid, said it would be "unprecedented in recent history" for the Supreme Court to go a year with a vacancy and urged Obama to send the Senate a nominee right away.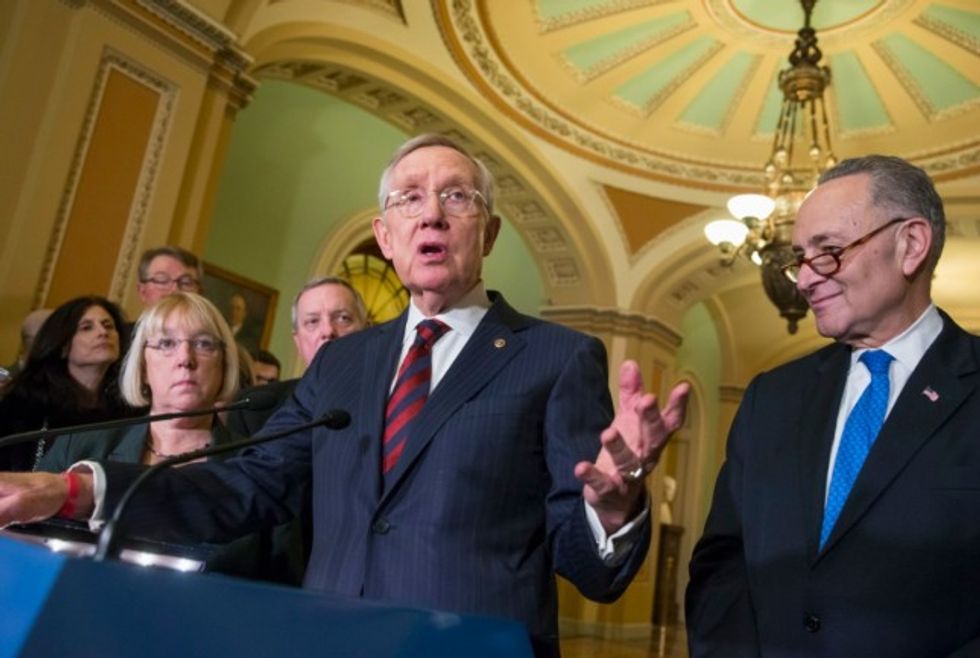 Senate Minority Leader Harry Reid of Nev., center, accompanied by, from left, Sen. Patty Murray, D-Wash., Senate Minority Whip Richard Durbin of Ill. and Sen. Charles Schumer, D-N.Y., talk to reporters on Capitol Hill in Washington, Tuesday, Feb. 2, 2016, following a closed-door policy meeting. (AP Photo/J. Scott Applewhite)
Leaders in both parties are likely to use the vacancy to implore voters to nominate presidential candidates with the best chance of winning in November's general election.
In a statement Saturday, McConnell mourned Scalia, calling him an "unwavering champion of a timeless document that unites each of us as Americans" — the Constitution. He offered condolences to the Scalia family.
The leader of the Senate sent a clear message to Obama that if he nominates a successor to Scalia, that individual is unlikely to win Senate confirmation.
McConnell said the American people should have a voice in the selection of the next justice, and the vacancy should not be filled until after a new president takes office in January 2017.