EASLEY, S.C. — Less than 15 minutes after officials opened Easley High School's doors to the burgeoning crowd of South Carolinian voters, school resource officers were already closing them.
It was Sunday after church, Valentine's Day, a frigid 30 degrees and less than 24 hours after the CBS News GOP debate that was held 15 miles away. Still, a record number of people flocked to the recently built high school to hear Florida Sen. Marco Rubio deliver his stump speech, praise South Carolina Gov. Nikki Haley and take answers from the crowd.
A school police officer estimated to TheBlaze that more than 2,000 people flocked to Easley High School, with 900 in the auditorium to see Rubio in person and almost double that number listening in overflow seating in the school's cafeteria.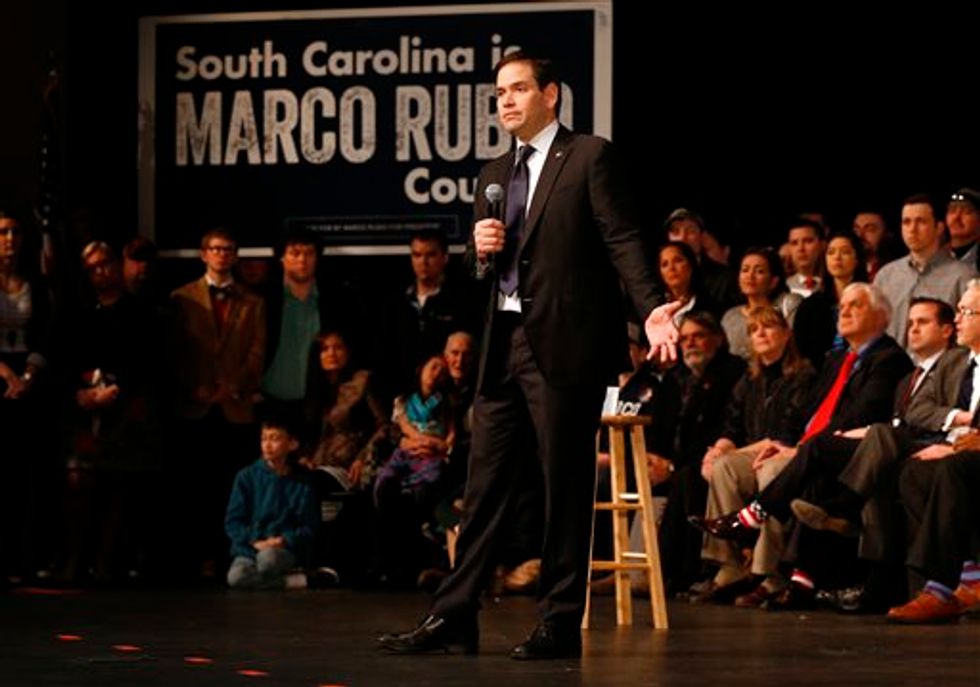 Republican presidential candidate Sen. Marco Rubio, R-Fla., speaks during a campaign stop, Sunday, Feb. 14, 2016, in Easley, S.C. (AP Photo/Paul Sancya)
The town hall set a record for the number of people attending a Rubio event thus far, Jordan Russell, a Rubio spokesperson in South Carolina, told TheBlaze. Another campaign source told TheBlaze that the previous record was 1,300 people at a North Carolina event.
"We have a great team on the ground in South Carolina and are very encouraged by the growing momentum and excitement behind our campaign as we approach Saturday's primary," Russell said, adding that RSVPs for the event doubled after Saturday's debate.
Even Rubio began his town hall by remarking on the size of the audience, saying he's used to a crowd of only 200 or 300 people.
But not everyone there was an ardent Rubio supporter. Aside from a handful of immigration protesters who interrupted Rubio twice with shouts of "Marco Rubio wants to deport families," several attendees said they were still undecided regarding who would get their primary vote.
David and Roxanne Jones said they've narrowed down their choice to three candidates — Rubio, Texas Sen. Ted Cruz and Dr. Ben Carson. The couple have attended multiple events throughout the Upstate but wanted to hear Rubio again Sunday.
"I really think he's got the ability to inspire in a way that most of the other candidates don't which is what continues to draw me back to him every time I think about what I want to do," David Jones told TheBlaze after the town hall. Roxanne Jones added that she's looking for a candidate who "means what he says" and has integrity.
"I don't look at a specific issue, but I look at three things: what are a candidate's values, what is a candidate's track record and what is their vision for the future," David Jones said, adding that candidates' visions can be believed "based on their values and their track record."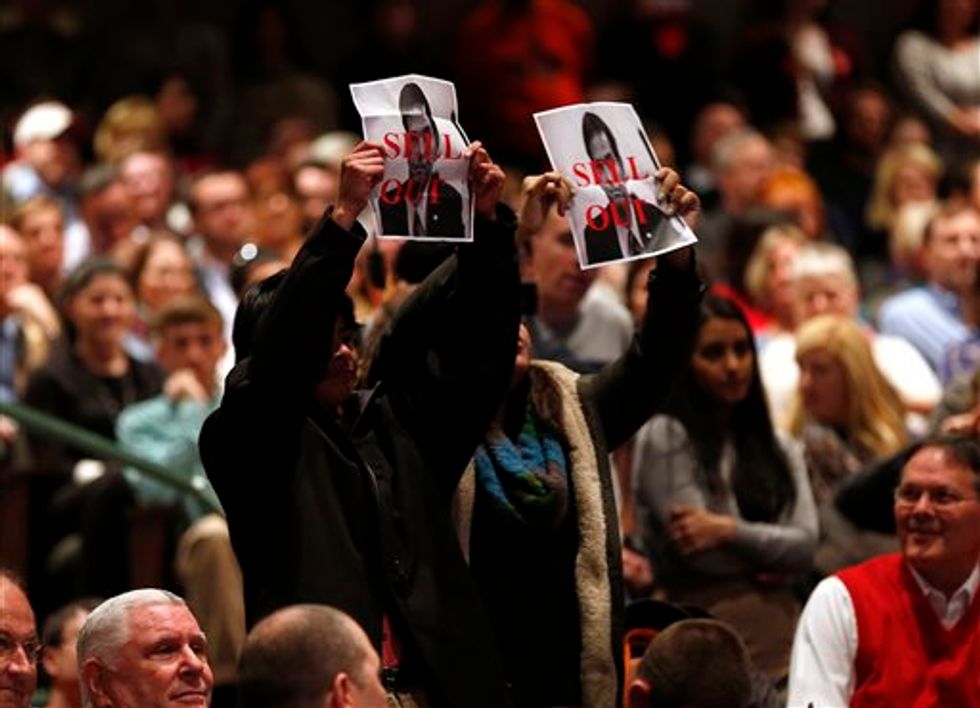 Protesters hold up signs while Republican presidential candidate, Sen. Marco Rubio, R-Fla., speaks during a campaign stop, Sunday, Feb. 14, 2016, in Easley, S.C. (AP Photo/Paul Sancya)
Ben Tucker, a 23-year-old student at Bob Jones University, only recently threw his support behind Rubio. The social studies education major said he planned to vote for former Florida Gov. Jeb Bush until he said Rubio offered better ideas about national security.
"I feel like he is the best candidate for all of America," Tucker said. "Right now most of the candidates are trying to prove who is the most conservative and trying to win the base of the Republican Party, but Marco looks like he is a candidate that can really unite the country."
Like many other South Carolinians at the town hall, Tucker praised Rubio for coming to former President George W. Bush's defense during Saturday night's debate after fellow presidential hopeful Donald Trump suggested that the 43rd president lied about weapons of mass destruction in order to lead the country into war with Iraq.
Another Easley couple, who came to the rally immediately after church, said they switched their support to Rubio from Trump after those remarks about Bush during the debate. The husband and wife, hand-in-hand, told TheBlaze they had only just purchased their matching Rubio buttons prior to walking into the high school.
According to South Carolinians polled by CBS News following their debate, Rubio walked away the winner — a stark contrast to his performance a few weeks ago in New Hampshire — with 32 percent giving him the victory. Trump came in second with 24 percent, and Ohio Gov. John Kasich followed with 19 percent.
Between his debate performance and town hall Sunday, Rubio did earn the support of Easley Mayor Larry Bagwell who said he liked the candidate's "enthusiasm."
Still, Rubio is polling only third among South Carolinians ahead of Saturday's primary, according to Real Clear Politics' aggregated polling data. Trump leads with 37 percent and is followed by Cruz with 17 percent and Rubio with 14.3 percent. 
Sen. Tim Scott and Rep. Trey Gowdy — both South Carolina Republicans — also made appearances at the town hall, speaking briefly on Rubio's behalf. Sunday's event was organized by state Rep. Neal Collins.
—
Follow Kaitlyn Schallhorn (@K_Schallhorn) on Twitter