Former Vice President Dick Cheney, who served alongside former President George W. Bush, issued a bold criticism of Republican presidential contender Donald Trump Monday, saying the billionaire "sounds like a liberal Democrat" when it comes to the Iraq war and 9/11.
"You heard at the debate Saturday Donald Trump accuse President Bush and his team of purposefully lying the country into war in Iraq, saying, 'I will tell you they lied, they said there were weapons of mass destruction, there were none. They knew there were none.' Your response?" Fox News anchor Bret Baier asked.
The former vice president was quick to voice his feelings, telling the "Special Report" host that not only does he believe the billionaire businessman is wrong, but he also said he "sounds like a liberal Democrat."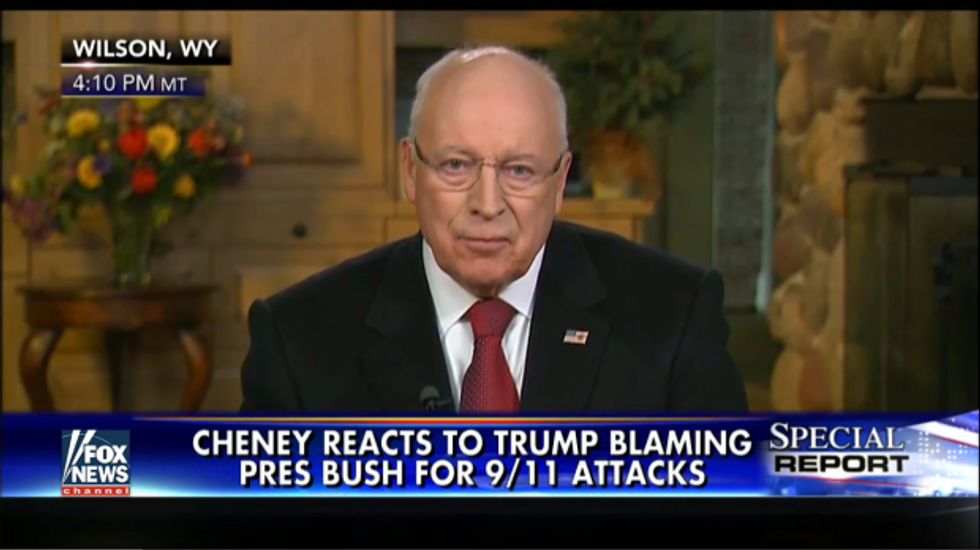 Image source: Fox News screenshot
"He sounds like a liberal Democrat to me, Bret. He's wrong and I think he's deliberately promoting those views in order to advance his political interests," Cheney said.
Regarding Trump's claim that the Bush administration "lied" about having weapons of mass destruction, Cheney cited the investigation by the Robb-Silberman Commission, telling Baier that "they found no evidence whatsoever" to support the GOP hopeful's assertions.
As for Trump's comments during Saturday's debate that Bush did not keep the U.S. safe because "the World Trade Center came down during [his] reign," Cheney argued there was "nothing" that could be done.
"On the notion, for example, that the president failed to act before 9/11 to stop it, we had no actionable intelligence at that point. It simply wasn't available. There was nothing we could have done and we didn't have intelligence at that point to suggest other than there's a general kind of a threat," Cheney said.
The former vice president went on to defend the polices he and Bush instituted, saying that the Bush White House did "keep the nation safe for 7 1/2 years.
"The president put in place important programs, the terrorist surveillance program, enhanced terrorist techniques, all of those things gave us the information we needed to be able to act, and we had the tremendous support of the American military, they did a superb job," Cheney added.
Cheney added that Iraq was in "great shape" when he left Washington, D.C. As for what has happened since, the former vice president placed the blame on President Barack Obama's policies.
"What happened then was that Barack Obama came to town, withdrew presence from that part of the world, and ISIS emerged after that. You've got to tell the whole story if you want to focus on those events. And, of course, Mr. Trump never does," Cheney said.
Cheney told Baier is it "hard to tell" if Trump is a Republican, but ultimately said he would support the GOP presidential nominee. However, he says Trump won't be selected if he continues to act the way he is.
"If he continues operating the way he's operating, as a liberal Democrat, I don't think he'll get the nomination," he said.
Watch the interview:
—
Follow the author of this story on Twitter: