NORTH CHARLESTON, South Carolina – Former President George W. Bush hit the campaign trail for his struggling younger brother Jeb Bush on Monday, taking several shots at Republican frontrunner Donald Trump.
"Strength is not empty rhetoric. It is not bluster. It is not theatrics," George W. Bush said. "Real strength, strength of purpose, comes from integrity and character. In my experience the strongest person usually isn't the loudest person in the room."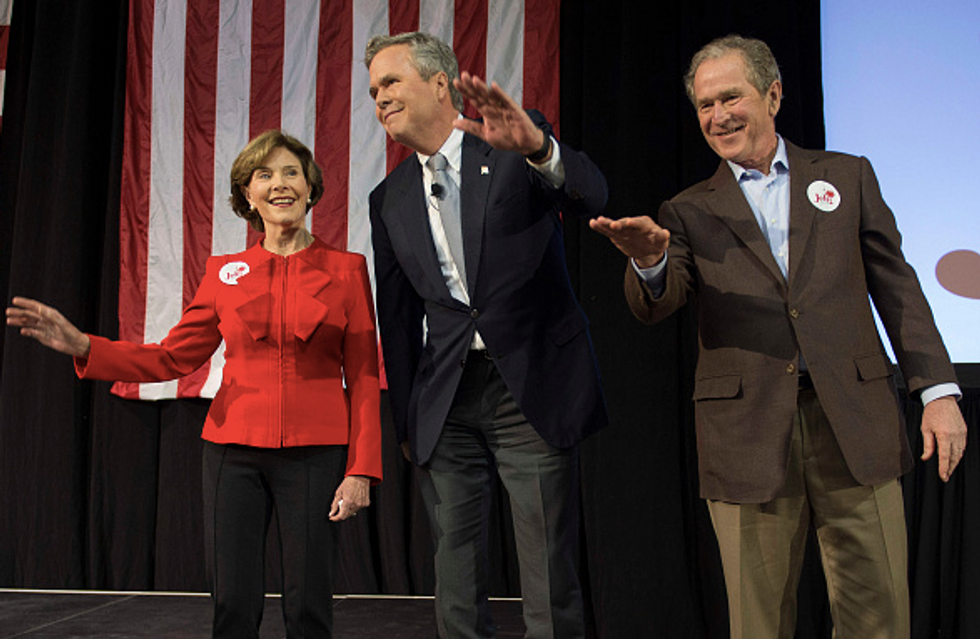 Former US President George W. Bush (R) waves with his wife Laura (L) as he stands with his brother and Republican presidential candidate Jeb Bush during a campaign rally in Charleston, South Carolina, February 15, 2016.  ( JIM WATSON/AFP/Getty Images)
Though the former president never mentioned  Trump by name, it was clear to the audience who he was referring to. Bush was warmly received by the audience.
Jeb Bush, a former Florida governor, who once sought to distance himself from his family, celebrated his brother's accomplishments as president for keeping America safe. Just days earlier in a presidential debate, Trump accused President George W. Bush of intentionally lying about the weapons of mass destruction in Iraq and allowing 9/11 to happen on his watch.
"The dialogue back and forth made me wonder if it was Michael Moore I was talking to," Jeb Bush told audience.
Charleston resident Jonathan Borrow, 36, who attended the event is undecided, but thought the Trump comment during the weekend debate was over the top on 9/11. However, he didn't feel as strong about the Trump comments on Iraq and the second President Bush.
"Bush was in office just nine months when 9/11 happened. It was a total intelligence failure, but there's blame to go around," Borrow told TheBlaze. "Iraq is an open question to bring up. That's fair game. I don't know how that connects to Jeb, but it has merit."
Several in the audience identified themselves as undecided, but said they came to see a former president speak. Though Bush left office unpopular, most in the crowd at the North Charleston Performing Arts Center gave him a warm reception.
The former president said he understood that much of the country was frustrated and angry.
"Americans are angry and frustrated, but we do not need someone in the Oval Office who mirrors and inflames our frustration," George W. Bush said. "We need someone who can fix our frustrations and that is Jeb Bush."
In a state heavy with Christian conservatives, the former president drew a contrast between his brother and the frontrunner.
"Jeb has a deep faith that reveals itself in good works not loud words," the former president. "...Jeb will rise above the petty name calling."
Roy Croo, 18, of Charleston, just recently registered to vote and isn't sure who he'll vote for in Saturday's primary.
"This is the first political rally I've been to," he told TheBlaze. "I'm not sure who I'm voting for, but the fact that he brought me out to hear what he has to say is a sign that it helps."
During his introduction, South Carolina Republican Sen. Lindsey Graham, who endorsed Jeb Bush after dropping out of the presidential race, said to the former president, "South Carolina misses you. The country misses you," he then added, "This is Bush country."
South Carolina has been a big state for the Bush family in the past.
George W. Bush saved his campaign in 2000 after taking a pounding by John McCain in New Hampshire, then trouncing his opponent in the first-in-the-south contest.
George H.W. Bush lost the state's primary to Ronald Reagan in 1980, but won South Carolina twice, fending off Bob Dole in 1988 and as an incumbent president defeated Pat Buchanan in 1992.
So is it still Bush country?
Jason Pluchinsky, a Charleston local and a Jeb Bush supporter, thinks the support from former the president helps. But he doesn't think it will be enough to lift him to victory.
"I think it helps 100 percent," Pluchisky told TheBlaze. "George W. is 60 percent of the reason we are here. I think he'll get a lot of people to at least hear what Jeb has to say. He won't win, but I think it will be Cruz or Trump then Jeb."