A pro-choice employee at Purdue University who allegedly posted an "offer to rape" a pro-lifer's female relatives in a social media post has resigned.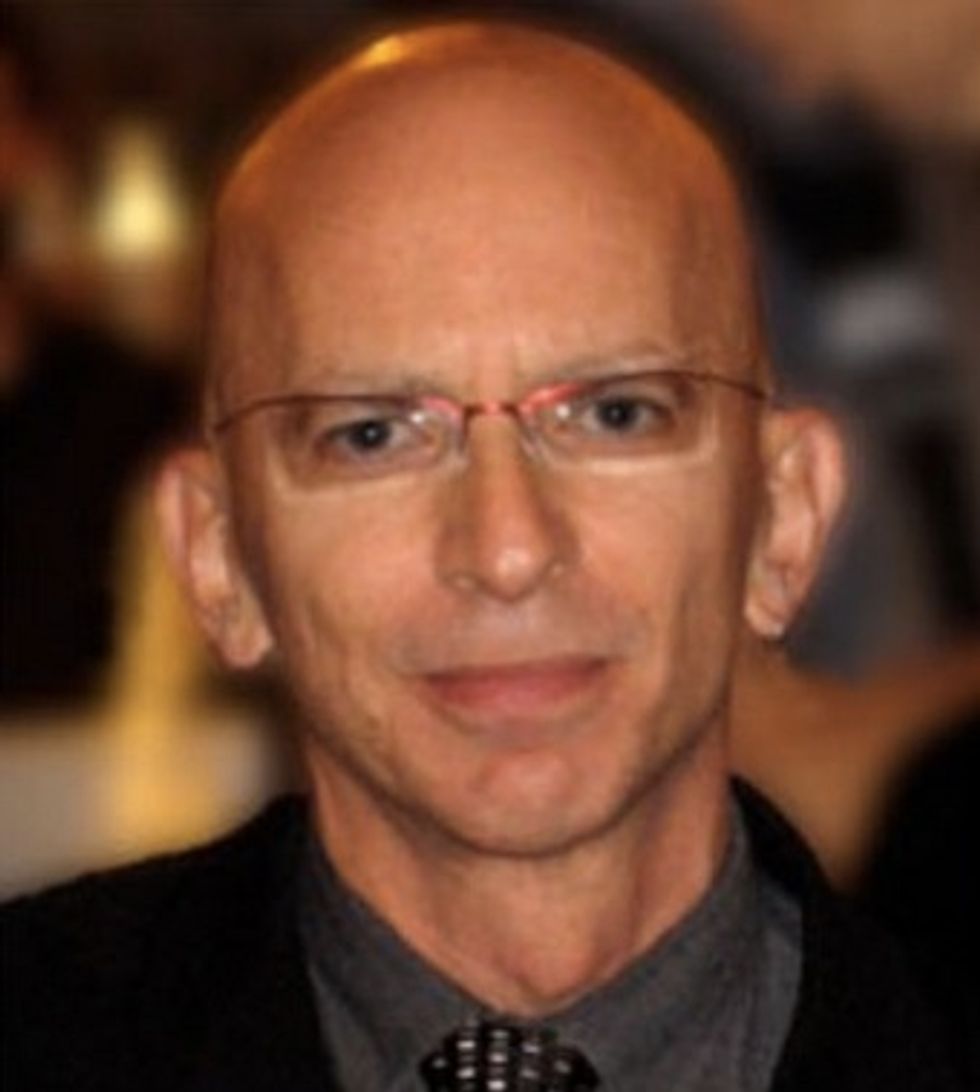 Jamie Newman (image source: Purdue University website)
"Yeah, I just quit," Jamie Newman told the Lafayette Journal & Courier. "Tell the world."
Purdue confirmed the resignation and said it was effective immediately.
"The University has accepted the resignation and believes this is the appropriate outcome," Brian Zink, senior director of news and information for Purdue University, said in a statement.
TheBlaze previously reported on the controversial post allegedly made by Newman, a dance accompanist and composer at Purdue's Patti & Rusty Rueff School of Visual and Performing Arts.
During a heated discussion on the Facebook page of Purdue Students for Life, a user said that Newman had made a rape threat on another site, Live Action News.
The since-removed post by "jamiegnewman" read:
Oh, I'm sorry. So, let me make my intentions quite explicit: I did in fact offer to rape Tom's wife/daughter/great grandmother. Free of charge, even. I'm generous that way.

Here's the number for the West Lafayette Police Department: 765-775-5500. Here's the number for the local FBI office: 765-435-5619. Drop that dime! I could strike at any minute.

*giggles* (like a girl).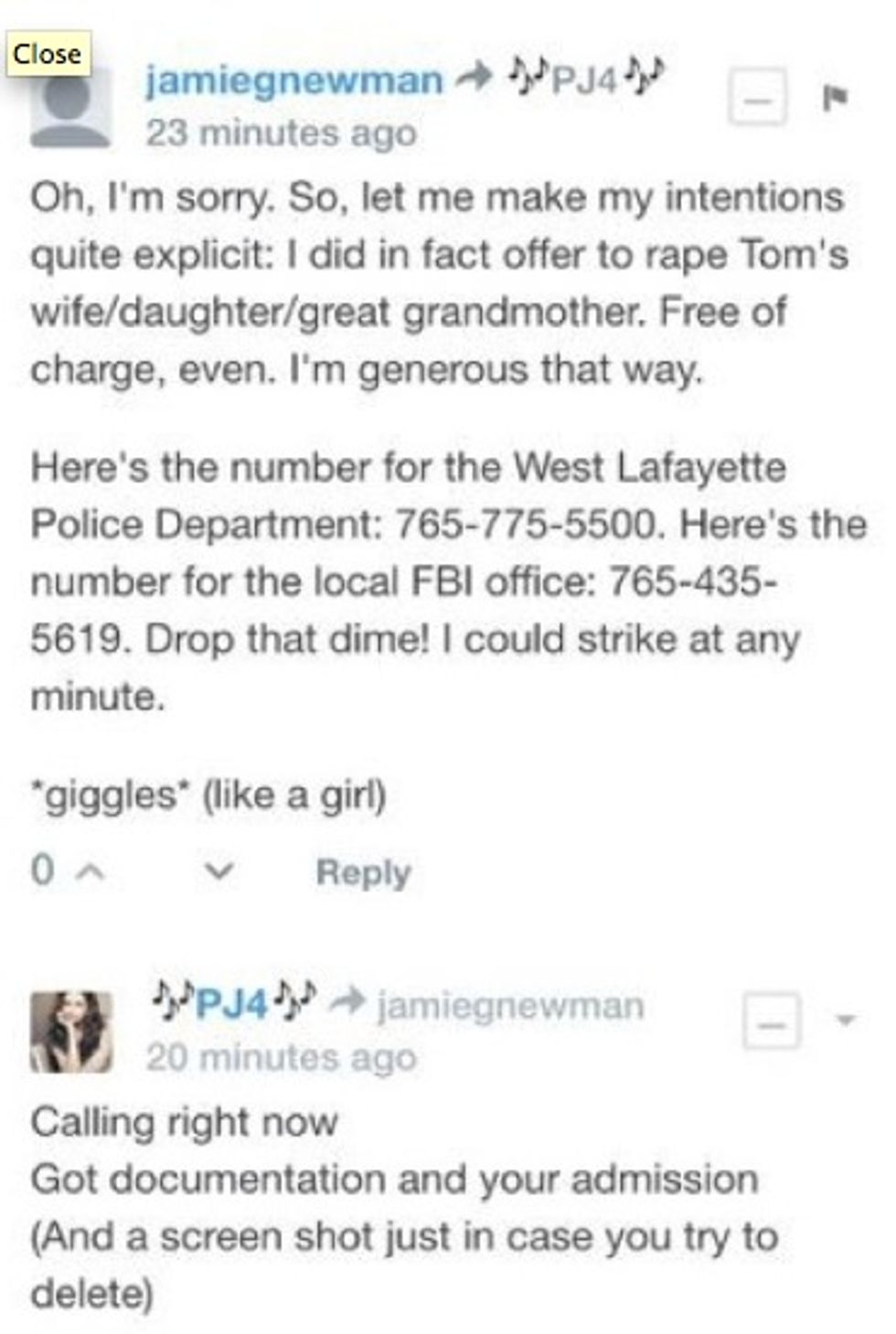 Image source: WLFI-TV
The post was removed by Live Action News, who told TheBlaze that it violated their community standards.
The school initially declined to fire Newman because a Purdue University Police Department investigation found no criminal intent. School officials, however, called for Newman to apologize to the community for the posts.
Purdue attorney Steve Schultz said that the school's free speech policy was the only reason Newman was still employed.
"The disruption we've endured as a community is entirely due to Mr. Newman's online posts," told the Journal & Courier. "Anything other than a full apology and explanation from him about the intent of his statement will be insufficient to cure the harm he's done."
But Newman claimed that, "if anything, you owe me an apology."
"Indeed, you should probably be begging my forgiveness for facilitating the dissemination of fabricated and defamatory statements about me, and for failing to vehemently denounce the effort made of Students for Life to destroy my life and career," Newman wrote in a letter to Schultz.
In another Facebook post, Newman condemned the "slimy worms" at Live Action for removing the post, and thus its context.
In a lengthy Facebook post prior to his resignation on an event page for a protest organized by students against him, Newman accused the student pro-life group of being "pathologically dishonest and manipulative" and "persistently, brazenly, and shamelessly lying about me."
"Because I criticized [Purdue Students for Life], [Students for Life] fabricated and disseminated the allegation that my wife and I had conspired to rape Purdue students," Newman wrote. "My wife is a professor at Purdue, and we have to small children. We've lived in West Lafayette for nearly 14 years. I'd like you to think about that as you prepare for your demonstration. I'd like you to think about what sort of a person, or organization, would do such a thing."
Mike Young, the president of Purdue Student Government, told told the Journal & Courier that the student government had been planning on considering a resolution calling for an apology and sanctions against Newman on Wednesday, but his resignation means that the matter is settled.
"My only disappointment is that I won't get to sign the PSG resolution asking him to be fired with a big, fat Sharpie," Young said.
In a statement, Kristan Hawkins, the president of Students for Life of America, said, "This was a sad situation for all involved."
"As a group who has experienced threats of violence ourselves, we condemn all threats of violence against anyone for any reason," Hawkins said.
TheBlaze's Dave Urbanski contributed to this report. 
—
Follow Kate Scanlon (@kgscanlon) on Twitter