A conversation Monday about Republican presidential contender Donald Trump came with a shocking twist when a supporter of the billionaire businessman responded to comments from a Fox Business contributor by invoking her "big boobs."
The discussion, which was lead by Fox Business host Maria Bartiromo, centered on Trump's criticism of President George W. Bush' handling of the 9/11 attacks and the Iraq War. The talk took an awkward turn when Fox panelist Tamara Holder said Trump was invoking 9/11 frequently with the aim of politicizing it.
The breakdown came when Bartiromo sought to get Omarosa Manigault, a Trump supporter, to respond to Holder's comments, but she did not pronounce her name correctly.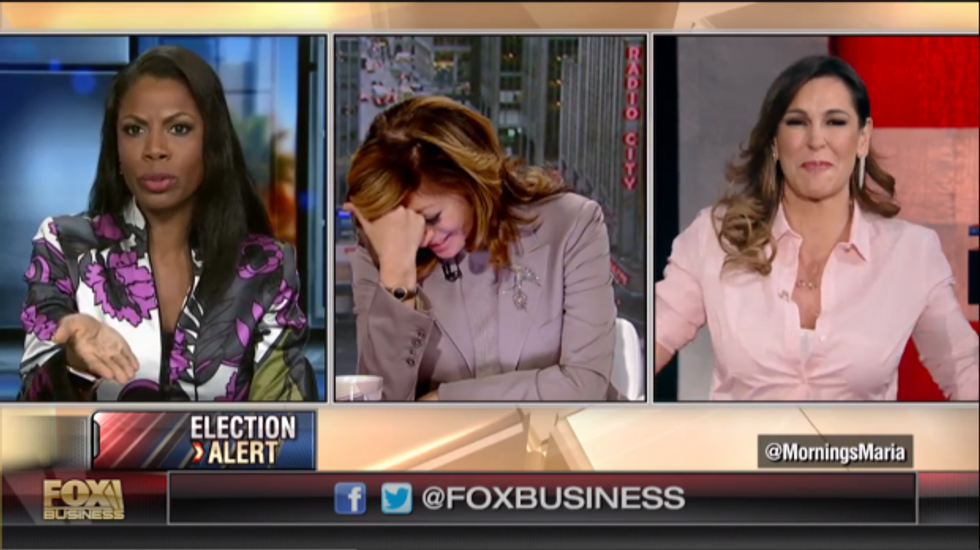 Image source: Fox Business screenshot
"Let's face it Ah-marosa, nobody thinks that George W. Bush is at fault —," Bartiromo said before Manigault cut her off.
"My name is Oh-marosa. Oh-marosa," Manigault shot back.
Bartiromo corrected her mistake, and Manigault started to address Holder's claims about Trump politicizing 9/11.
"Yes, so let's talk about Iraq and let's talk about Donald Trump's position. When Ta-mah-ra says that Donald Trump's–," Manigault started to say before Holder cut her off, also correcting the way her name was pronounced
"Tah-mara. It's Tah-mara," Holder told Manigault.
Then things started to get weird.
"It's the same difference. You want to come on with big boobs, then you deal with the pronunciation of your name," Manigault remarked. "Look. Donald Trump stands firm on what his position is about us going into Iraq —"
"Wait a second! Why are you bringing up Tamara's boobs? I don't understand why you brought up Tamara's boobs," Bartiromo said, seemingly shocked.
According to Manigault, she delivered the "personal" attack because she said Holder criticized her personally for being a Democrat and supporting Hillary Clinton in the past.
"Wait, how does who you support have to do with the size of my boobs, considering that this is how I was born? I'm sorry I was born with big —," Holder responded.
Ultimately, Manigault said she was sorry, telling the Fox panelist she should have called her a "boob."
"But let's focus back on Donald Trump," she concluded.
Watch the exchange:
—
Follow the author of this story on Twitter: