With the South Carolina Republican primary only a few days away, the state's governor has yet to throw her support behind any Republican presidential candidate. But it's clear GOP hopeful Donald Trump is not one of her considerations.
When asked if she has a candidate in mind, Gov. Nikki Haley (R) said she doesn't know yet who she will be supporting, or even if her endorsement matters.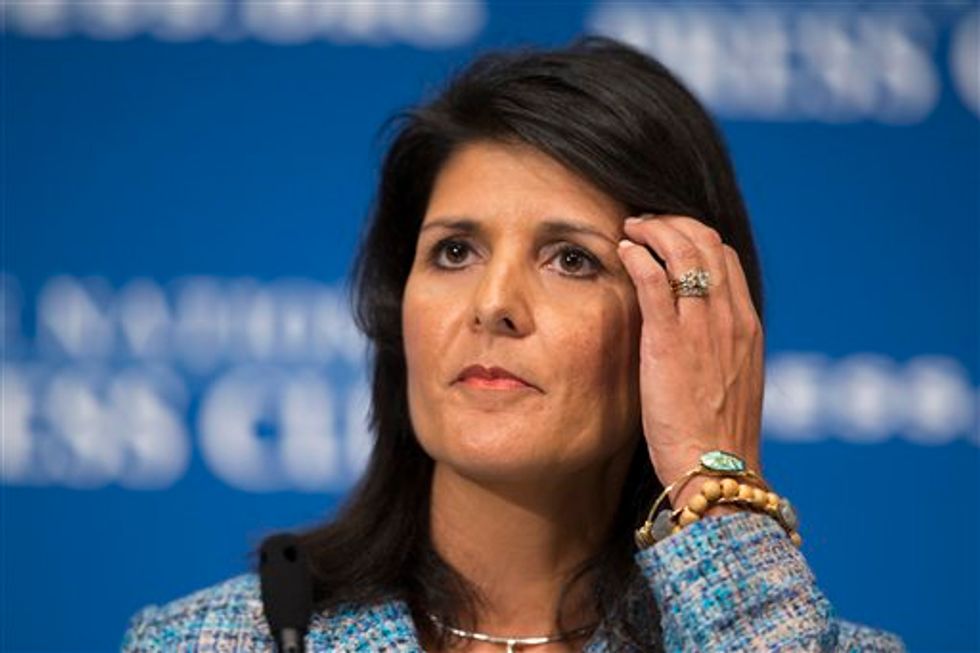 (AP Photo/Evan Vucci)
"I'm doing what a lot of people in South Carolina are doing, which is I watch the debate, been trying to go through all the different situations, I'm looking at all the different candidates and trying to figure out who that person would be, so I'm not at a point yet," Haley told reporters.
The South Carolina governor went on to say that she wants "a fighter at the end of the day."
"I want someone who's going to hold Republicans accountable and I want someone who's going to make a difference not just for our party, but for every person who they represent in the country," she said.
And Haley made it clear that, in her mind, Trump is not that candidate, later saying that it is "safe to say" she won't be endorsing the Republican frontrunner. She then slammed the billionaire for not "understanding South Carolina's issues."
"I think it's unfortunate when a candidate comes into South Carolina and doesn't know South Carolina's issues," Haley said, noting Trump's comments that she has been weak on issues related to Guantanamo Bay and Syrian refugees.
"All of you guys know exactly how hard we fought against Syrian refugees, exactly how hard we fought against Guantanamo Bay, exactly how we've done it directly with the president and the administration and trying to tell them that we don't want these things," Haley added.
Haley said that when candidates come into a state and "go against governors," it is "everything governors don't want in a president."
"We don't want a president who is going to come and just bash and sit there and tell us what we're not doing right. We want a president that's going to help us fight and help us win and help us explain why we don't want Syrian refugees, why Guantanamo Bay prisoners don't need to come to South Carolina."
The governor concluded that Trump's actions are "quite Obama-like."
Watch the video:
wistv.com - Columbia, South Carolina
—
Follow the author of this story on Twitter: