SUMTER, South Carolina – With a big lead in South Carolina, real estate billionaire Donald Trump seemed to look ahead to the general election, in alleging that President Barack Obama's administration was running interference for Hillary Clinton in the FBI's email investigation.
"This country has such incredible potential but another four years of Hillary, an Obama clone, we'll never be coming back," Trump told about 5,000 enthusiastic backers, where he frequently interacted directly with individual audience members. "With emails, she's being totally protected. Notice how she's acting about Obama? She doesn't want to get indicted. I've never seen her like this. Everything he does is right. She's got a big problem. She is in his hands right now."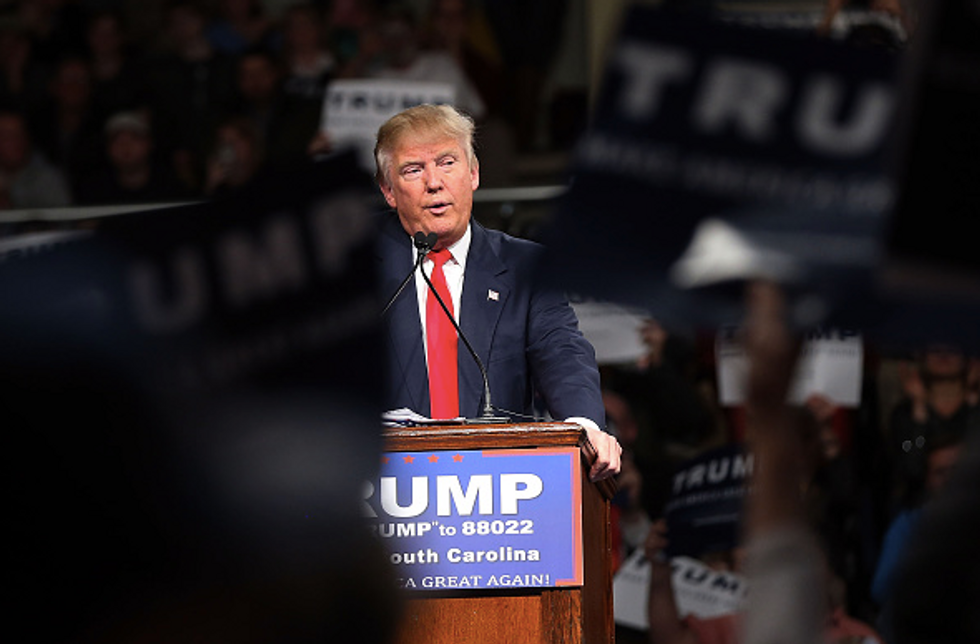 Republican presidential candidate Donald Trump speaks on February 17, 2016 in Sumter, South Carolina. Despite attacks from his fellow candidates about his shifting positions, Trump is still ahead in South Carolina polls only days away from the primary. (Spencer Platt/Getty Images)
He added, "Wouldn't they have done something if they were going to do it, instead of just let her keep running for president?"
Trump didn't have a lot of new material, but it didn't tamper the rowdy crowd eager to hear him speak.
His speech was frequently interrupted by chants of "Build the Wall!" referring to Trump's signature campaign issue of a border wall to stop illegal immigrants from crossing the U.S.-Mexico border.
Trump asked the crowd, "Who's going to pay for the wall?" The crowd responded, "Mexico!"
Trump had been in the state for weeks and joked he knew it better than those in the audience. Still, more than two hours before the rally was set to start, the cars were parking in the grass as a massive line stretched around the Sumter County Civic Center.
Some audience members were there to see the attraction. Others were undecided and still candidate shopping. Still others were not at all ambivalent, like Sumter resident Becky Hurst.
"I already voted for Trump absentee," Hurst, wearing a "Make America Great Again" t-shirt adorned with Trump buttons, told TheBlaze. "He has the business sense to make America competitive in the world market. We give too much away to other countries. We lose too many American jobs overseas. He's going to be a president who is for America."
Hurst added that she isn't worried about a conservative litmus test.
"I've voted Republican most of my life, except when I voted for Jimmy Carter, but I think Trump is very practical," Hurst said.
Trump at one point asked, "Who already voted? You voted for Trump, I assume. Otherwise I'd tell you get the hell out of here."
He wasn't looking entirely past the primary, and mocked former Florida Gov. Jeb Bush and Texas Sen. Ted Cruz.
"The polls come out and they're so strong, but you have to assume we're tied because on Saturday you have to get out and vote," Trump said.
Just days after calling for continued federal funding of Planned Parenthood, the nation's largest abortion provider, Trump told the crowd, "I am pro-life." And though he previously denounced the National Rifle Association, he asserted, "Nobody is stronger on the Second Amendment than me."
But he objected to his nearest opponent, Cruz noting his past positions.
"I never saw a man lie like Cruz," Trump said.
An audience member stood up to say, "Cruz is a fraud." Trump turned around. "What did you say?" When the man repeated it, Trump said, "That's right. I love this guy."
Another audience member shouted, "Water board Cruz." Trump declined to respond.
After one side of the sign waving audience shouted "Donald," the other side of the auditorium shouted, "Trump." For a consistent, "Donald" and "Trump," "Donald" and "Trump."
Ray Moore, a Sumter local, put himself in the candidate-shopping category.
"It's between Trump and Cruz," Moore said. "I came tonight because wanted to get a feel of all the hype. I like the conservatism of Cruz, but Trump has definitely touched a nerve in America. He says exactly what most Americans are thinking. I sort of like Ben Carson too, but I think he's out of it."
Lucy Wilson, of Sumter, also said she's still undecided, but has narrowed her choice to two outsiders, Trump and Carson.
"I don't agree with Donald Trump on everything and I don't like the way he talks, but I like the fact that he doesn't care what other people think," Wilson said. "He's going to do what he thinks is right. He's not out to please people."
Sumter resident Keith Charpentier asserted that Trump is "more forthcoming" than all of the other candidates. He thinks Trump will win big in South Carolina on Saturday and roll to the nomination.
"I like the fact that he funds his own campaign," Charpentier told TheBlaze. "Once he leaves here with a big win, it will set the stage for the rest of the country. We are an important state. People are looking for a choice without bureaucracy and without special interest ties."
—