One day after Adele performed on the 58th Grammy Awards show, the online commentary magazine Slate published an article discussing the star's March Vogue interview, published earlier this month.
In the interview, the award-winning singer-songwriter discussed her relationship with longtime boyfriend Simon Konecki and their 3-year-old son, Angelo.
Angelo, she said, "makes me very proud of myself. When I became a parent, I felt like I was truly living. I had a purpose, where before I didn't."
Uh oh: Adele tells Vogue motherhood gave her "purpose": https://t.co/Ckb47SHZ1e pic.twitter.com/BvCrLQB0O6

— Slate (@Slate) February 17, 2016
It was this statement and others like it that prompted the Slate piece, which attempts to qualify the singer's statements in an effort to reconcile them with the views of modern feminism.
"This is a bold, potentially controversial, statement for a celebrity mom," Slate's Elissa Strauss wrote. "Adele, ADELE, didn't feel like she was truly living before she became a mom?! She, the universally adored force of nature behind, at the time, one of the bestselling albums of all time, felt like she didn't have a purpose?"
Strauss goes on to discuss how claims like these have "backfired" before on female celebrities who presumably over-stated the level of fulfillment to be found in motherhood. She mentions actress Natalie Portman, who received a lot of heat for her 2011 Oscar acceptance speech in which she said that motherhood might be "the most important role of [her] life."
"Is reproduction automatically the greatest thing Natalie Portman will do with her life?" Salon's Mary Elizabeth Williams asked at the time.
In her piece, an apparently incredulous Strauss asks, "Is that actually what Adele is saying?"
She assures readers that it is not.
"As the rest of the interview reveals, she doesn't seem to buy into the idea of looking at work and life, or love of one's child and one's work, as a zero-sum game," Strauss writes. In other words, Adele doesn't sacrifice her professional ambitions as a result of this new "revelation."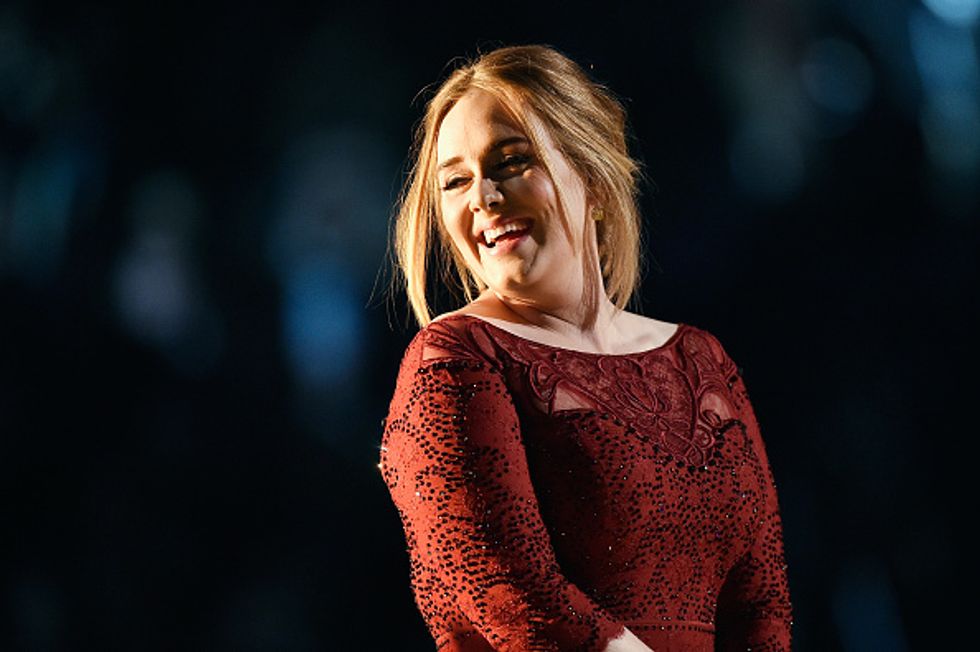 Singer Adele performs onstage during The 58th Grammy Awards on February 15, 2016 in Los Angeles, California. (Photo by Kevork Djansezian/Getty Images)
"Adele isn't selling us on an idealized version of motherhood, nor is she using motherhood to undermine her own artistic career — as Natalie Portman's critics accused her of doing," Strauss writes. "Instead, she's saying that motherhood can be a singularly powerful experience in a woman's life, even as that woman continues to pursue achievements outside of motherhood."
The fact that Adele found purpose in motherhood does not seem to be the issue for Strauss, though the implications of the singer's statements, she argues, could pose a threat to feminism.
"A major goal of feminism has been for women to be able to seek lives and identities that exist outside their traditional roles as mothers and caretakers," she writes.
But, she acknowledges, Adele doesn't seem to regret or feel oppressed by her decision to become a mother.
Though no less successful or motivated, it would appear that Adele has undergone a shift in priorities, something that modern feminists might find hard to stomach.
"My main thing is Mum, then it's me, then it's work," Adele told Vogue. She also shared that "the whole tour" of her third album "is revolving around my baby."
Strauss concludes her piece by noting that it is "lovely" for someone like Adele "to be so high on motherhood without fearing that she might lose herself in it."