The State Department released more than 500 emails from Hillary Clinton's personal server over President's Day weekend. Of the 551 emails, 84 were marked "classified."
One of the classified chains discovered on the server discussed an Afghan national's connections to the CIA and a report that he was on the agency's payroll, a U.S. government official with knowledge of the document told Fox News.
The email chain raises obvious security concerns. An executive order signed by President Obama warned that unauthorized disclosures are "presumed to cause damage to the national security."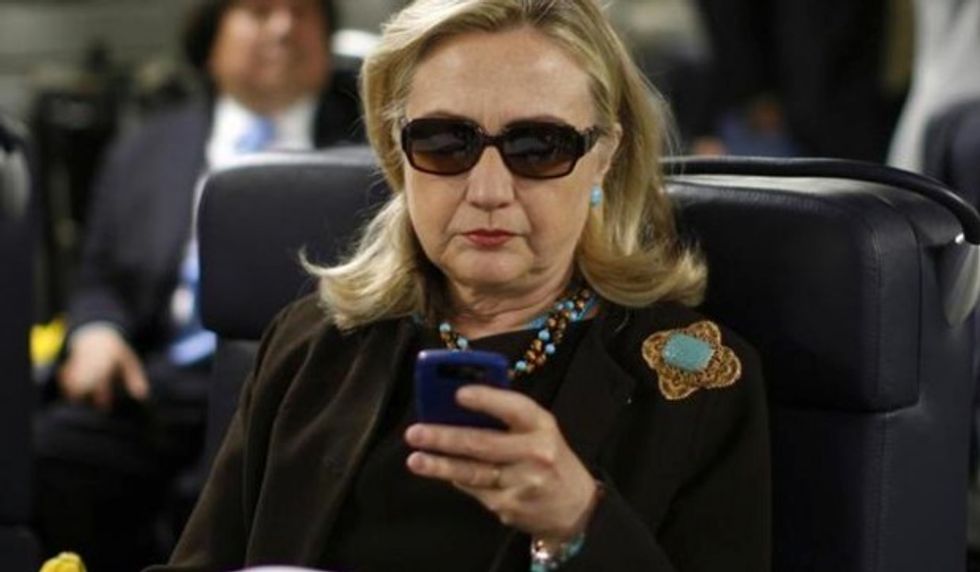 AP Photo/Kevin Lamarque, Pool, File
The official told Fox that a Clinton email exchange referring to a New York Times report was among 29 classified emails recently handed over to congressional committees for review. Out of that batch, 22 were labeled "top secret" and ruled too damaging to national security to release.
Based on the timing and other details given in the email chains, the discussion likely refers to either an October 2009 Times article that identified Afghan national Ahmed Wali Karzai, the half-brother of then-Afghan President Hamid Karzai as someone who received "regular payments from the Central Intelligence Agency," or an August 2010 Times story that identified Karzai aide Mohammed Zia Salehi as being on the CIA's payroll, according to Fox.
Fox reported that the email chain involved an exchange between then-Secretary of State Clinton and Special Envoy to Afghanistan and Pakistan Richard Holbrooke, and possibly others. Holbrooke died in December 2010, during his overseas service.
It's unclear who initiated the exchange — Clinton, Holbrooke or a subordinate — or whether the CIA's ties with the Afghan national were confirmed, as the classified documents cannot be made public.
Fox reached out to a CIA spokesperson and a spokeswoman for the Office of the Intelligence Community Inspector General. Neither offered comment on the matter.
The latest email dump comes shortly after a Feb. 3 segment on Fox News' "America's News Room," during which Utah Republican Rep. Chris Stewart, a member of the House Intelligence Committee told Fox, "I have never read anything more sensitive than what these emails contain. They do reveal classified methods. They do reveal classified sources, and they do reveal human assets."
He added, "I can't imagine how anyone could be familiar with these emails, whether they're sending them or receiving them, and not realize that these are highly classified."
Executive Order 13526, in a section called "classification standards," notes, "the unauthorized disclosure of foreign government information is presumed to cause damage to the national security."
"The rules of handling classified information dictate if something is reported in open source [news reports] you don't confirm it because it's still classified information," Dan Maguire, who spent more than four decades handling highly classified programs and specialized in human intelligence operations, told Fox.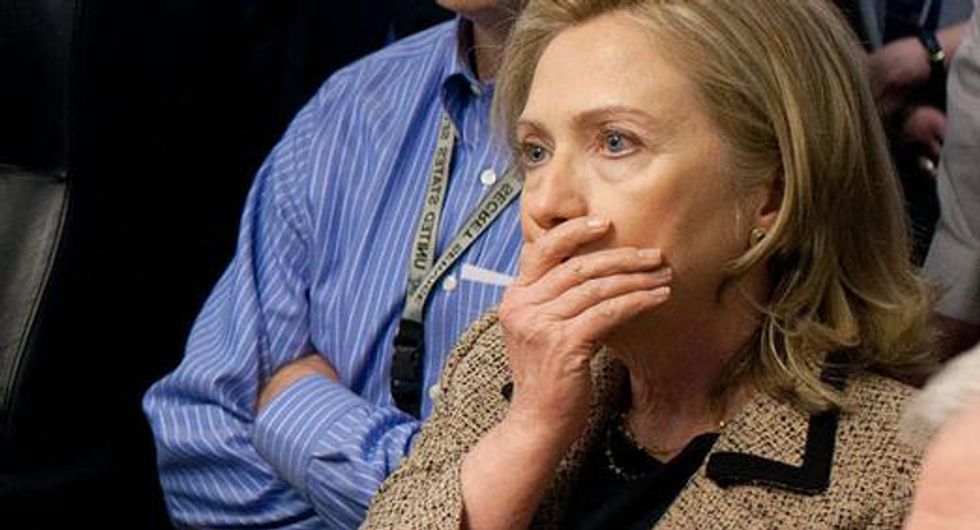 AP Photo/Politico
Clinton signed at least two non-disclosure agreements as secretary of state and received a briefing from a security officer whose identity was redacted.
As part of an NDA for "sensitive compartmented information," Clinton affirmed that any "breach" could result in "termination of my access to SCI and removal from a position of special confidence and trust requiring such access as well as the termination of my employment or any other relationships with any Department or Agency that provides me with access to SCI."
It remains unclear how classified materials reached her personal server from a classified system.
On Feb. 12, Clinton national press secretary Brian Fallon assured the media that classified information would have been marked as such. "I think when this review plays itself out, at the end they'll find that what we have said is true," he told CNN. "Nothing was marked classified at the time it was sent."
Fallon also attacked State Department Inspector General Steve Linick for what Fallon deemed "fishing expedition-style investigations" that have taken place since Clinton announced her presidential bid. "There is no basis. It is intended to create headwinds for her campaign, but it is not going to work," Fallon said.
He had similar complaints about Intelligence Community Inspector General I. Charles McCullough III after his office warned Congress that the emails contained information that was beyond top secret.
The weekend email dump was part of a federal court-imposed timetable, originally scheduled to conclude Jan. 29. All of the remaining emails that can be made public are now scheduled to be released by the State Department Feb. 29.