Unafraid to use every resource to his advantage, one Louisiana police captain took to social media Wednesday evening to call out members of a local gang called the Gremlins — and his message is intense.
St. Landry Parish Sheriff's Department Capt. Clay Higgins, who was wearing large rifle and surrounded by dozens of fellow officers and community leaders, went after the gang directly in the video posted by KATC-TV. He told the gang members that, should any force be used against the police or civilians, their efforts would be met with an overwhelming counterpunch.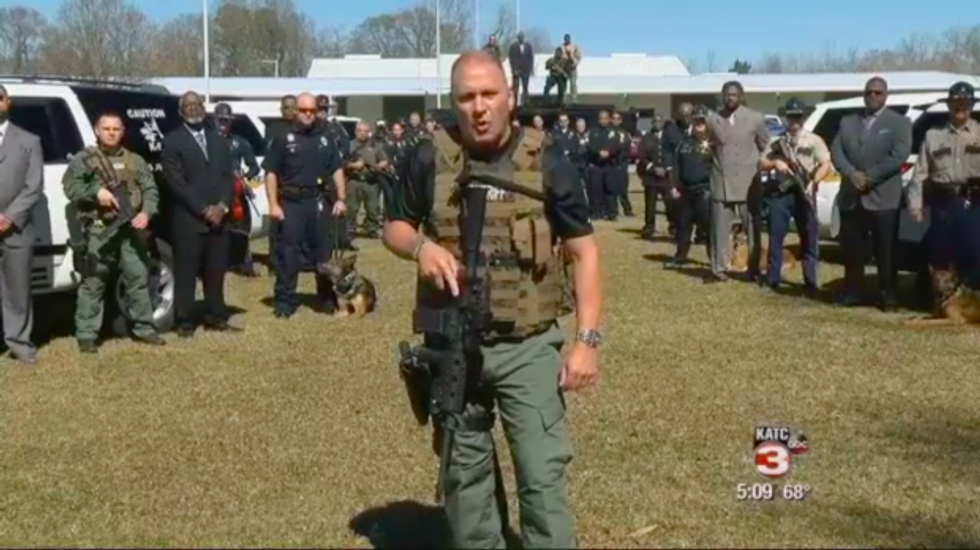 Image source: KATC-TV/Facebook
"The Gremlins street gang is responsible for hundreds of violent crimes: murders, armed robberies, witness intimidation, burglaries, drug trafficking, extortion, and brutal beatings," Higgins said. "We've arrested ten of these thugs and have warrants on seven more. Every one of these animals is most definitely armed and dangerous."
The police captain then listed the names of each member who has outstanding felony warrants.
"You will be hunted, you will be trapped, and if you raise your weapon to a man like me we will return fire with superior fire. Darren Carter, you think men like these are afraid of an uneducated 125-pound punk like you that's never won a fair fight in your life and holds your gun sideways?" Higgins said, calling out one of the gang members by name.
"Young man, I'll meet you on solid ground anytime, anywhere, light or heavy. Makes no difference to me. You won't walk away. Look at you. Men like us, son, we do dumbbell presses with weights bigger than you," he added.
Higgins said that most convicts in jail are "good people who just found themselves crossed with the law," telling the fugitives that those in prison won't respect them but, instead, will "toss you around like a rag doll."
He then implored any citizen with information to come forward and share that knowledge with the police.
"I implore you to listen to this message and stand up. Take back your streets. Take back your country," Higgins said, drawing attention to the fact that next to each officer was a leader of the black community. "Come forward with information about these heathens who've terrorized your community."
Toward the end of the message, the officer issued one last challenge to the Gremlins: "You don't like the things I've told you tonight? I've got one thing to say: I'm easy to find."
"I'm Capt. Clay Higgins asking every patriot to stand up, share this video, and send a message to the world: We're Americans. We'd rather die on our feet than live on our knees," he concluded.
Watch the video:
—
Follow the author of this story on Twitter: