EASLEY, S.C. — The battle between GOP presidential contenders Florida Sen. Marco Rubio and Texas Sen. Ted Cruz may be heating up on the campaign trail, but fellow Sen. Mike Lee doesn't show any sign of discontent.
Unlike some of his colleagues in the Senate, Lee isn't in South Carolina on behalf of just one candidate; he's in South Carolina on behalf of both Cruz and Rubio. Calling the pair "friends and allies" since he met them in 2010 as he began his tenure in the Senate, Lee praised the two for offering a "conservative alternative to the status quo" during the 2016 campaign cycle.
"Both of them have disrupted assumptions that have been built into our party for a long time and have promised to challenge the Washington status quo in a way that I think would be helpful and that would reinvigorate the conservative message and restore limitations imposed on government by the Constitution," Lee told TheBlaze in an interview Thursday afternoon.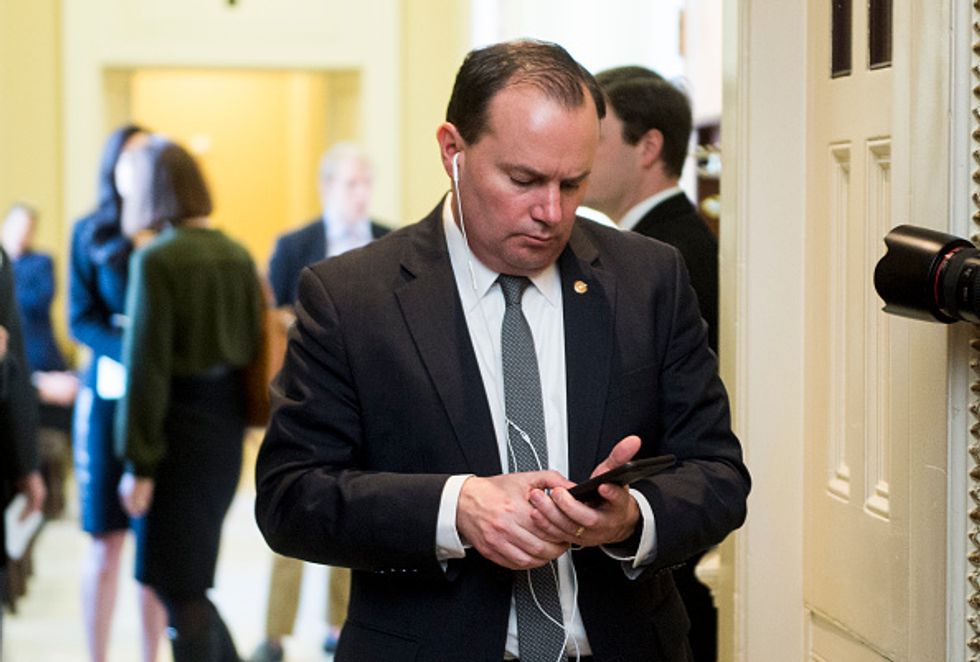 Sen. Mike Lee, R-Utah. (Photo By Bill Clark/CQ Roll Call)
However, as the Utah senator travels with the two, he isn't immune to the attacks both campaigns have rendered on each other. 
"It's sad to see that happening," Lee said. "I understood that at some point that might happen, and it has. It's not pleasant, but I am still very good friends with both of them."
Lee added that the squabbles between the two campaigns is "not a problem" for him.
And he appears to be right. Thursday morning Lee appeared at a rally for Rubio at a CrossFit gym near downtown Greenville and said the Florida senator had become "one of my best friends in Washington."
"A friend in Washington is a hard thing to come by," Lee said, adding that he and Rubio speak Spanish amongst each other in the Senate as well as attend a weekly Bible study class together.
Later in the day, at Mutts BBQ in Easley, South Carolina, Lee told the crowd that he was "pitching" Cruz to be their "chief executive."
"What I love about Ted Cruz is that he's not about politics, he's about principle," Lee said. "He's not about spin, he's about substance."
Like Lee, Gwendolyn Sims, a Cruz supporter, said she wasn't phased by the fighting between her candidate of choice and Rubio.
"To me, that's okay," Sims said of the back-and-forth between Cruz and Rubio. "It's part of the process. To me, they're two totally different candidates even though the media tries to lump them as conservative. For me, the amnesty, being from California, is a big no. We can't have amnesty at all in any form because the jobs are gone."
Sims, a California resident, told TheBlaze that she was in South Carolina with her 17-year-old son to tour colleges in the area and decided to attend political events in the Upstate as well — such as Cruz's rally and the Conservative Review forum in downtown Greenville later Thursday evening.
Sims said Cruz's stance on defense, veterans and the national debt some of the issues that drew her to him.
Cruz leads Rubio in South Carolina a few days ahead of the Palmetto State's primary — but only just barely. Businessman Donald Trump still holds onto a sizable lead as the GOP presidential frontrunner in the state at 33.4 percent.
"There is a lot of anxiety understandably among voters, and he has done an exceptional job of challenging that," Lee said of Trump's success among voters thus far. "He's gotten a lot of people involved who in the past might not have been as heavily involved, and that's an admirable thing for any candidate to do."
—
Follow Kaitlyn Schallhorn (@K_Schallhorn) on Twitter