Carolina Panthers defensive end Jared Allen announced his retirement from the NFL Thursday in a creative video.
In the video, Allen, sitting on a horse, said, "Everyone, I just want to say thank you for an amazing 12-year career."
"This was the part where I was going to ride off into the sunset," he said. "But seeing how there is no sunset, I'm just going to ride off."
Allen then waves to the camera and rides away.
In a statement to Fox Sports, Allen said, "I want to take this time to thank my family, friends fans and teammates who have given their continued support throughout my 12-year career. It's been a great ride for me, and I couldn't be more grateful for the memories."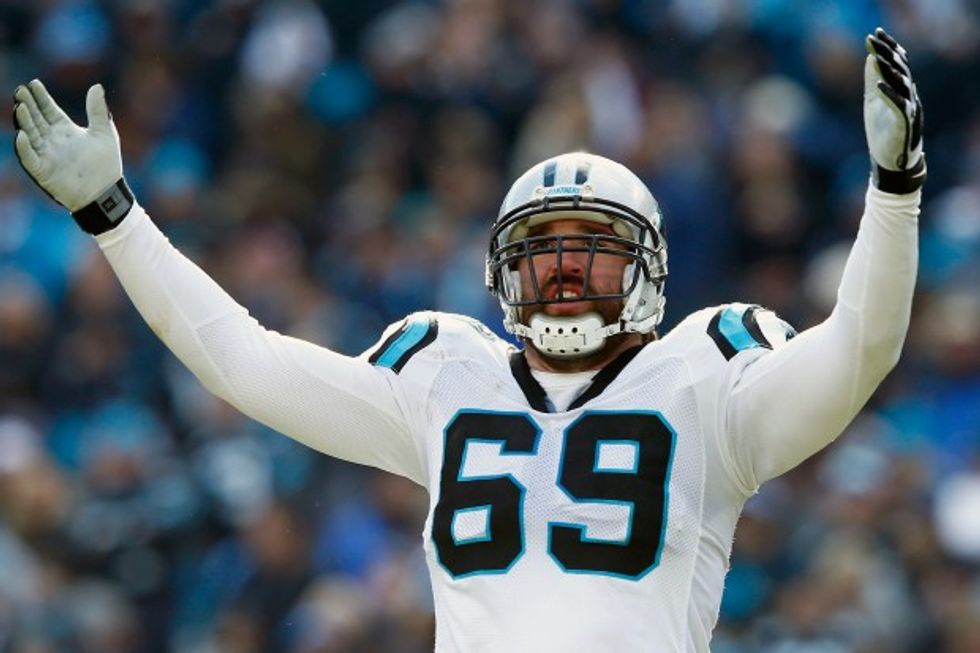 Jared Allen of the Carolina Panthers celebrates during the second quarter of the NFC Divisional Playoff Game against the Seattle Seahawks at Bank of America Stadium Jan. 17 in Charlotte, North Carolina. (Jamie Squire/Getty Images)
"It is with a great deal of thought and consideration that I have decided that I will not return to football next year," he continued. "I want to thank the Carolina Panthers, Chicago Bears, Minnesota Vikings and the Kansas City Chiefs organizations, who provided me with an opportunity to live out my dream and to be a part of their wonderful communities. Thanks for the lifelong memories."
The Panthers confirmed Allen's retirement on Twitter.
What a career. We were honored to have you in #PantherNation, @JaredAllen69. #KeepPounding https://t.co/5swKatqAla

— Carolina Panthers (@Carolina Panthers) 1455811654.0
#ThankYouJaredAllen https://t.co/ZFvJRnNPj8

— Carolina Panthers (@Carolina Panthers) 1455811916.0