One Missouri police officer was placed on unpaid administrative leave after appearing in a rap video, in uniform, holding a sign that read, "Cop Lives Matter."
St. Joseph police officer Zackary Craft appeared in the J. Smitty music video for his song "Before This Bomb Blows Up (Racism Goes Both Ways)," in which the law enforcement officer can be seen reaching for his firearm.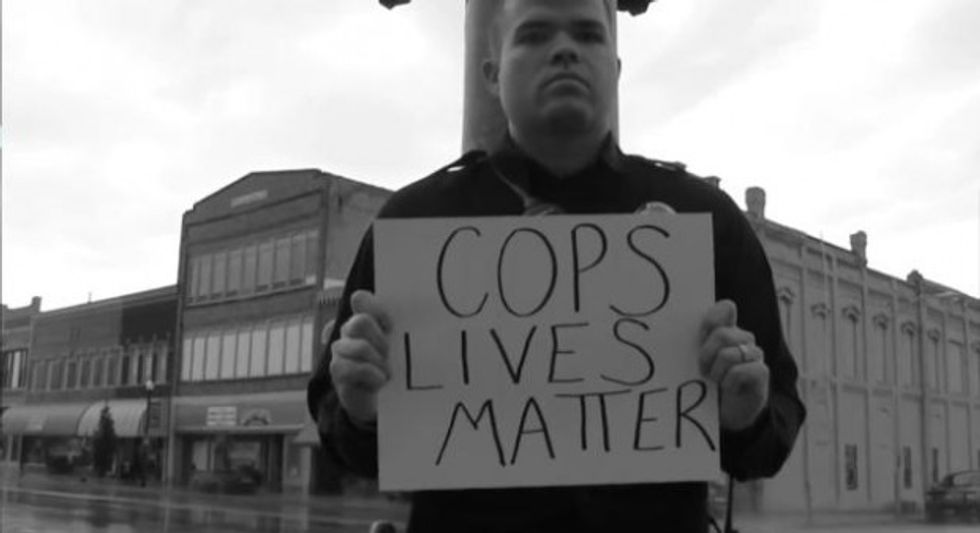 Image source: J. Smitty/YouTube
J. Smitty, also known as Josh Smith, is a white rapper from Kansas City, Missouri. Craft is also white. In the video, Smith, using obscene language, is critical of President Barack Obama and Rev. Jesse Jackson.
The music video shows the artist rapping that "racism goes both ways," as he spits on a photo of Al Sharpton and breaks pictures of Jackson, Obama and hooded Klu Klux Klan members before burning all of the images.
Later in the video, Smith is seen holding a sign that reads "a proud white man is a racist" and "a proud black man is courageous." Others are seen holding signs that read "I can't take a s*** without offending someone."
Craft is seen holding his sign approximately two minutes into the music video.
The St. Joseph police department "in no way condones the video,"  a spokesperson said. Capt. Jeff Wilson did not say when a hearing would take place or how the video came to the attention of the department.
Smith said he took the video down briefly after hearing about Craft's suspension, according to the New York Daily News. The rapper reposted the video Thursday with the officer's face blurred out.
"I feel really bad for him," Smith said. "I hope this all ends well for him and that he is able to keep his job and move on."
Craft's lawyer Morgan Roach said the officer allowed himself to be filmed "without knowing the words, content, or context," adding that he was "appalled" when he saw the music video.
"He whole-heartedly rejects the song, the music video, and the misguided message in its entirety," Roach said.
Watch the video:
—
Follow the author of this story on Twitter: