GREENVILLE, S.C. – Without supporting American police officers, "chaos" would ensue, according to GOP presidential hopeful former Florida Gov. Jeb Bush.
"The great majority of crimes committed are black-on-black crimes that don't relate to the police. And the police that do their jobs well, that lessens crimes for people in high-crime areas," Bush told a crowd gathered at Krocs Community Center in Greenville Thursday. "We need to make sure we have the back of law enforcement so that they don't pull back. If they are afraid that their political leaders won't have their back, then community policing becomes obsolete. Crime rates rise. That should not be the ultimate objective of this."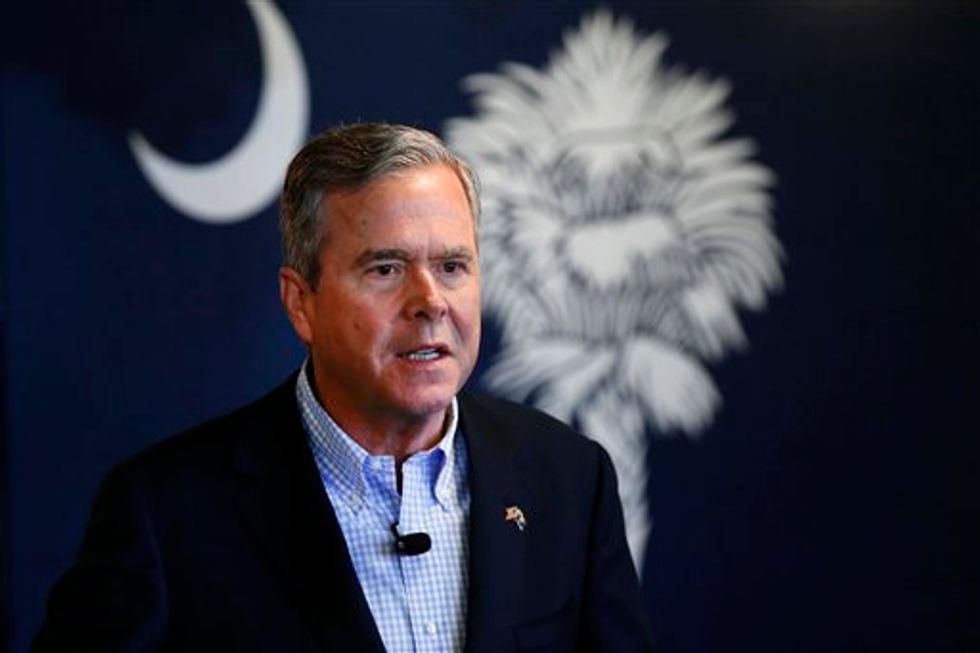 Republican presidential candidate former Florida Gov. Jeb Bush speaks during a campaign stop at Wade's Restaurant on Friday in Spartanburg, South Carolina. (AP Photo/Paul Sancya)
"Ultimately we need to make sure that we support law enforcement to keep us safe, because if you don't, you're going to have chaos," he continued.
Bush was asked by a voter at the town hall near downtown Greenville what he would do as president to ensure the safety and protection of law enforcement officers as the public perception of police officers decline due in part to high-profile officer-involved shootings and the rise of the Black Lives Matter group. While Sen. Tim Scott (R-S.C.) has already endorsed Florida Sen. Marco Rubio for president, Bush drew on the ideas of the popular South Carolinian to drive home his point.
"Tim Scott's got a bill that would allow for match funding for cameras to be able to provide some transparency and some confidence for citizens," Bush said, adding that without any strings attached to Scott's legislations, "providing those cameras could be helpful."
Scott's bill, which was introduced in August, would require the Justice Department to grant $100 million to annual programs that would allow for police departments to apply for help purchasing body cameras. Local, state and tribal departments would be required to match 25 percent of those grant funds and would need to supplement with a comprehensive education and communication campaign, according to WHNS-TV.
The former Florida governor also criticized the Department of Justice's handling of high-profile officer-involved shootings, especially between white officers and unarmed black men.
"I think the Justice Department should be balanced in how they deal with all these issues. It seems to me that they're pretty public when they go after police in a way that discourages police from continuing to do their job," Bush told South Carolinians. "That's anecdotal, that's not heavy evidence other than what I watch on TV, and I think the attorney general needs to be totally supportive of law enforcement."
Bush also asserted that in some areas, police officers have ceased to properly police communities as they feel as though they are "not as supported and not as engaged in the communities." According to Bush, some communities "have been double-digit increases in murders, in gun violence."
Just one day before South Carolina's primary, Bush is polling in fourth place among the other Republican presidential candidates. Businessman Donald Trump, Texas Sen. Ted Cruz, and Rubio all lead Bush.
—
Follow Kaitlyn Schallhorn (@K_Schallhorn) on Twitter