Conservative radio show host Joe Walsh took to the airwaves Thursday to explain his thoughts behind why President Barack Obama is skipping U.S. Supreme Court Justice Antonin Scalia's funeral — and it has to do with race.
Walsh's reasoning, though plagued with multiple insults for Obama, ultimately hinged on one bold question for the president: "Is it because Scalia was white?"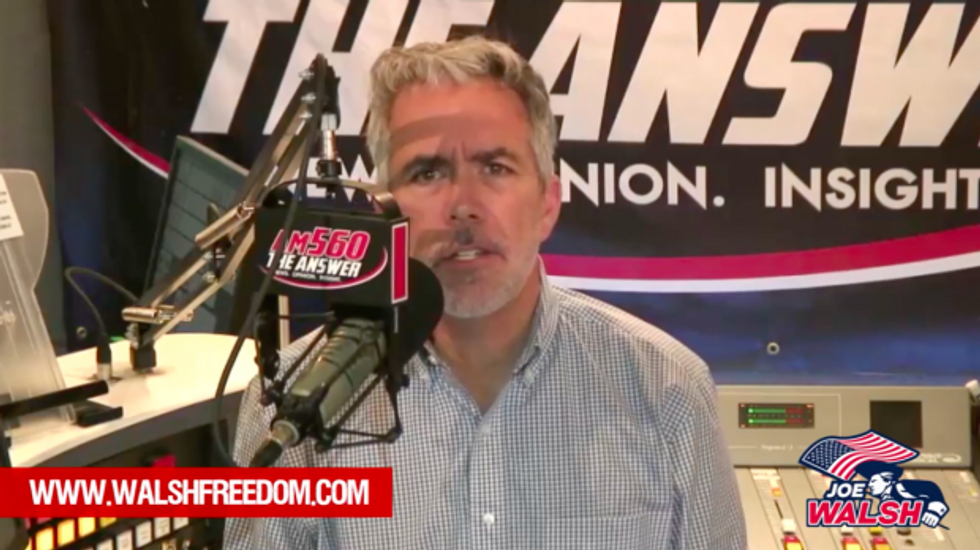 Image source: Joe Walsh/YouTube
The conservative firebrand continued to challenge the president, frequently referring to him as an "ass," on the issue.
"Is it because Scalia was Italian-American? Is it because Antonin Scalia so adored, so loved that Constitution that you abhor?" Walsh asked. "You know, it makes me sick every day to wake up in a country with a president who dislikes, who so dislikes America."
Walsh went on to say that Obama is "not my president," a point he said the commander in chief "proved once again" by announcing that he would not attend Scalia's funeral. The president will instead pay his respects while Scalia's body lies in repose in the Great Hall.
"All it would take is an hour, one hour, to represent all of us. To pay all of our respects to this giant of a Supreme Court justice that you're not even qualified to run errands for," Walsh asserted.
"You make me, and so much of this country, ashamed that you're our president," Walsh concluded.
Watch the video:
—
Follow the author of this story on Twitter: