GREENVILLE, S.C. — The line at the buffet seemed almost neverending, drinks flowed and laughter resonated throughout the conference hall.
A celebration was underway at the Embassy Suites in Greenville as South Carolinians — the majority in some form of red, white, and blue garb — mingled and carried signs that read: heal, inspire and revive. They were there, undeterred by poll numbers or intense security, for Republican presidential hopeful Ben Carson.
Carson did not take away a much-needed win in South Carolina's crucial primary Saturday night; in fact, he finished dead last, according to the Associated Press, with 99 percent reporting. Yet he received a hero's welcome as he took the stage and made an unexpected promise to those in the room: he's not out.
"There are news people here who think I'm going to make a concession speech," Carson said as he walked on stage. "Now, this is a just the beginning speech."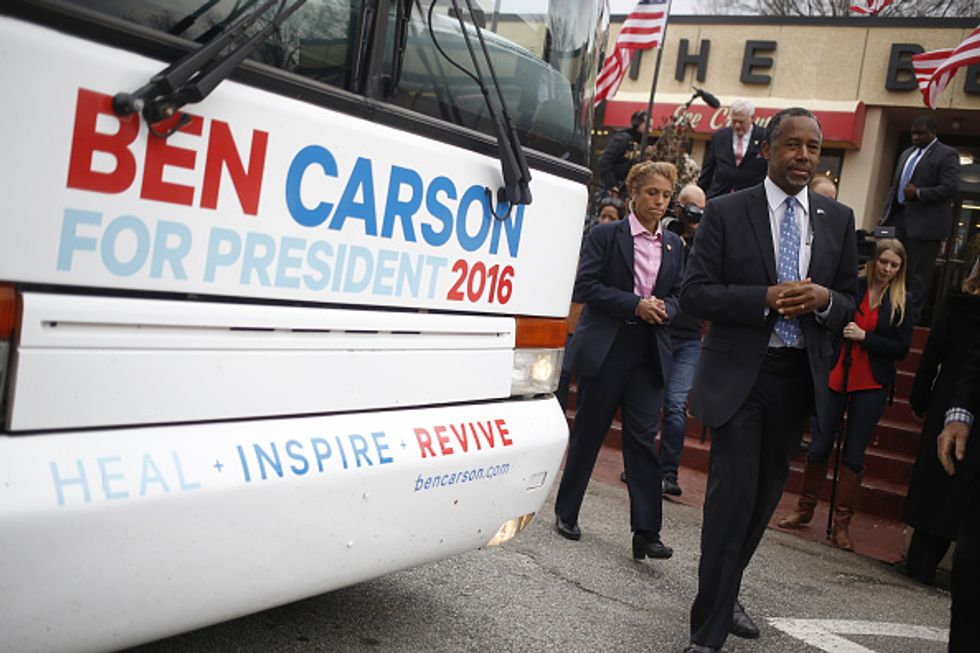 Ben Carson, retired neurosurgeon and 2016 Republican presidential candidate, walks back to campaign bus after greeting voters during a campaign stop on primary election day at The Beacon Drive-In in Spartanburg, South Carolina, U.S., on Saturday, Feb. 20, 2016. (Getty Images/Luke Sharrett/Bloomberg)
"It's interesting, but when this thing started, there was 17 candidates. There are only six now, and I'm still one of them," Carson told the crowd just a few moments prior to former Florida Gov. Jeb Bush's announcement of the end of his own campaign.
The retired neurosurgeon was all smiles as he gave his stump speech to his supporters who energetically cheered and applauded when necessary — especially when Carson implored his faith.
"We must not allow the secular progressives to remove God from our lives," Carson said to thunderous applause. "That is a war that I am very willing to fight until the last breath in my body because I believe that the reason that this nation rose to the pinnacle of the world in record time is because we paid homage to God."
Candy Carson, the candidate's wife, also addressed supporters with a huge smile on her face, saying, "We've been working hard to get our country back, so thank you so much."
A Carson campaign official told TheBlaze that the primary party hit the maximum capacity allowed — 500 people — as a fire marshall ordered other supporters to stay outside where they anxiously waited for a glimpse of their candidate. He added that some campaign staffers left the conference area to give their spaces to voters.
"I personally think that Dr. Ben Carson is a problem-solver, and our political system has a lot of problems," Shannon Buchner of Spartanburg told TheBlaze. "I just appreciate a man with integrity and honesty and his Christian values."
She added that Carson's finish in South Carolina "breaks [her] heart" but she still has "faith that as we move forward, he'll keep the ball rolling."
Mary Burkett of West Columbia told the crowd that her family spent a few years at Johns Hopkins Hospital as her 1-year-old son was critically ill. It was then, she said, that MRI scanning became prominent in the medical field. While radiologists could not figure out how to read the scans, they suggested "taking it in to Ben."
"I didn't know who Ben was, and about an hour later I got a call saying, 'well Ben says there's a problem, Ben says he needs to operate on Ian and Ben says he's going to call you.' And another hour later, my new best friend Ben called me," Burkett said.
She added that her first conversation with Carson occurred on a Friday and on Monday he operated on her son — who is still alive today. Burkett told TheBlaze that her son is now 29 years old.
"I really want you to know what Dr. Carson said to me as we concluded our conversation that afternoon," she continued. "He said, 'Mrs. Burkett, my best piece of advice to you is we'll both pray, and I'll do my best, and we'll leave the rest up to God.' Well, my best advice to all of you tonight is that we'll all pray, and he'll do his best, and we'll leave the rest up to God."
The feeling of celebration was so strong that even after Carson's remarks, a few dozen supporters slipped out into the hotel's common area as they sipped champagne — the sounds of an NBA game replacing that of Fox News inside the event hall.
One supporter with a Carson button had this to say to his friends over beers: "He could still really win this."
—
Follow Kaitlyn Schallhorn (@K_Schallhorn) on Twitter