Charlie Cook, a World War II veteran, was found lying in the road by his neighbor's home in Chesterfield, Virginia Saturday morning with a thin layer of snow collecting on him.
Ray Kunze and his 15-year-old son Logan rescued the veteran after he had collapsed during the height of a blizzard.
"I'm the luckiest guy in the world," Cook said.
The Kunze family moved just up the block from Cook about seven months ago, but their first hellos came during the blizzard.
Cook said he was down "for at least ten minutes."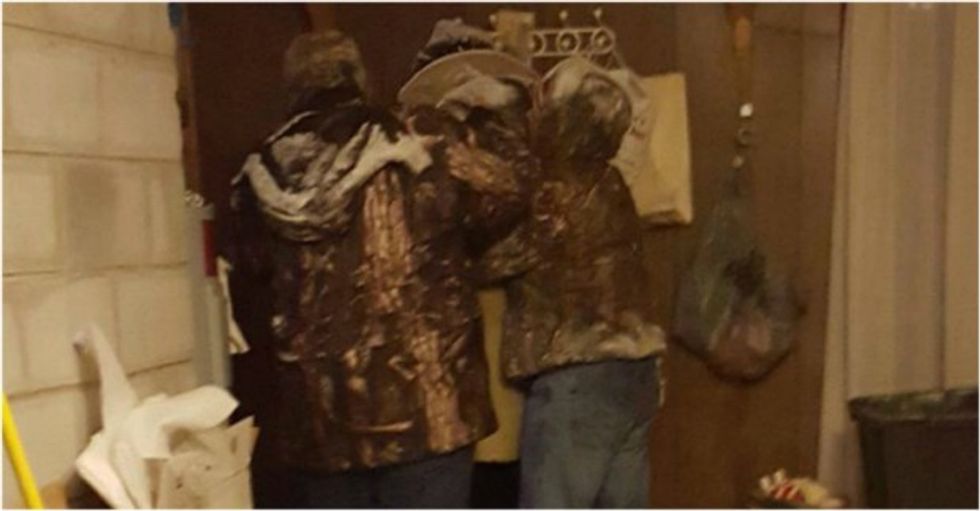 Ray Kunze and Logan Kunze help Charlie Cook to his home after finding him hurt and covered in snow
Ray, a retired Navy medic was out enjoying the snow with him family when he heard a faint "Help me." He said it's scary to think that his neighbor could have frozen to death, or gotten run over.
"He told us he had been laying there and he asked God to send help, then we rounded the corner," Kunze said.
Just minutes earlier, Kunze said he and his family were about to walk in the opposite direction, but instead he listened to his wife Rachel, who suggested they walk the circle near their home.
That's when they came across Cook, covered in snow on the ground near a mailbox.
Cook said his prayers were answered when Kunze and his family walked up. Kunze called it a "Divine Appointment."