The disturbing streak of slashings in Manhattan has many New Yorkers on edge. Authorities have yet to apprehend all of the suspects responsible for the series of attacks, most of which occurred on subways when the victims were dozing off.
One musician was so struck by the violent events that he wrote a song about them titled, "Slashing Is The New Fashion Bottomlulz NYC Blues."
"There's a new fashion in New York town…" the song begins.
"The fashion is slashin', we got the slashin' blues," the man sings as he strumms his acoustic guitar.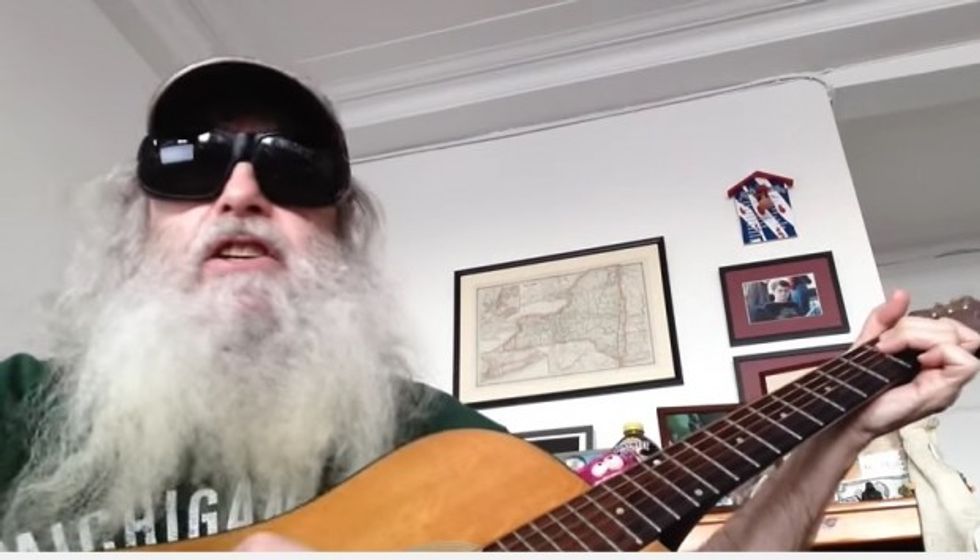 Image via YouTube
The New York Daily News identified the musician as Dennis Gronim, 65, who regularly posts videos to his YouTube page under the name "messiahsez."
Gronim's account description reads, "Blues Guitar Mania and other craziness designed to make you smile."
Who would have thought that a song about slashing could achieve that? The video has received almost 2,000 views since Gronim uploaded it Friday.
Last week, New York City was hit with three slashing attacks and a stabbing in less than three days, WCBS-TV reported.
The first incident involved a livery cab driver, who was slashed Tuesday morning after getting into an argument with a testy passenger.
A Greenwich Village restaurant worker was slashed in the face Wednesday night after asking a teen to leave the Silver Spurs restaurant on LaGuardia Place.
And Thursday afternoon, just blocks away from Silver Spurs, another slashing occurred. The attack took place in Manhattan's SoHo neighborhood in front of a Supreme skateboard and clothing store.
Later that day, on the Upper West Side, a fourth attack occurred just after 5 p.m. – this time, it was a stabbing.
The victim, 33, was walking along West 88th Street near Columbus Avenue when a male suspect pressed a sharp object to his back and demanded the he empty his pockets, WCBS-TV reported. The suspect then stabbed the man in the upper back and took off with his Kindle and headphones.
The NYPD told TheBlaze that as of Feb. 21, more than 560 slashings or stabbings have been reported across the city compared to 470 at the same time last year — a 20 percent increase.
Though some might say Gronim's catchy new video makes light of a horrific trend, it also provides some much-needed comic relief.
Watch:
(H/T: WCBS-TV)