A Harvard University professor penned a column in the Washington Post Sunday in which she urged journalists to cease acting as Donald Trump's "megaphone" and demanded that Republicans and Democrats alike unite in destroying Trump's campaign to become the GOP 2016 presidential nominee.
In the wake of Trump's victory in the South Carolina primary over the weekend, Dr. Danielle Allen, a political theorist at Harvard, urged both parties to join forces to prevent Trump from getting the Republican nod. Although she admitted that she'd be voting for Hillary Clinton in the 2016 election, she still believes that the two parties should make it one of their top priorities to keep Trump from achieving the title of commander in chief.
"Trump is rising by taking advantage of a divided country," Allen wrote. "Trump is exploiting the fact that we cannot unite across our ideological divides. The only way to stop him, then, is to achieve just that kind of coordination across party lines and across divisions within parties. We have reached that moment of truth."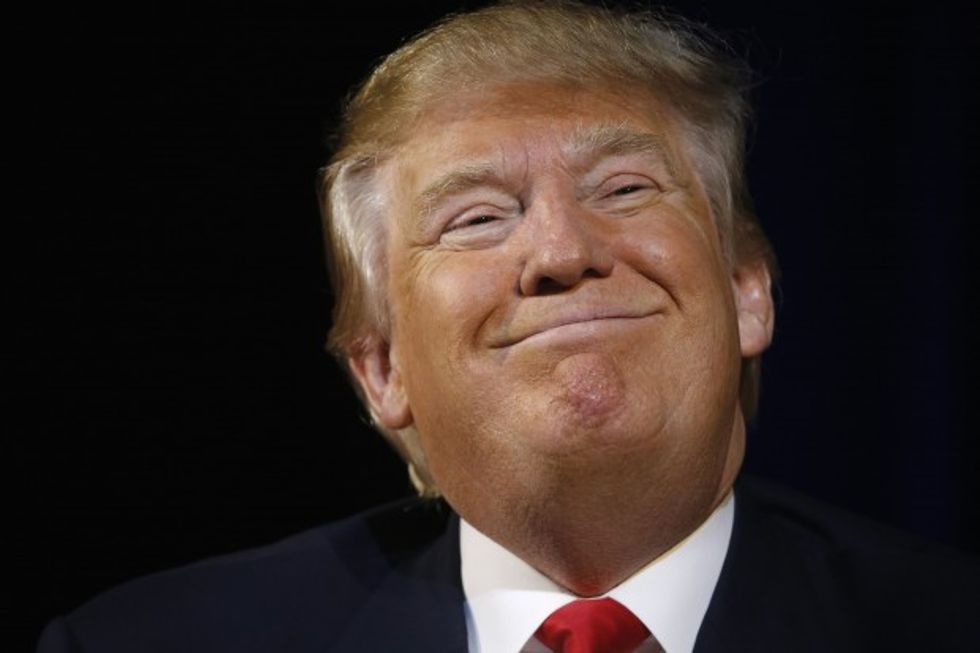 Republican presidential candidate Donald Trump smiles during a campaign stop Feb. 17 in Bluffton, South Carolina. (AP Photo/Matt Rourke)
Allen made no secret of just how much she detested Trump, saying that he "has no respect for the basic rights that are the foundation of constitutional democracy, nor for the requirements of decency necessary to sustain democratic citizenship. Nor can any democracy survive without an expectation that the people require reasonable arguments that bring the truth to light, and Trump has nothing but contempt for our intelligence."
Expressing her dismay at the media's treatment of Trump, Allen asked that journalists and broadcasters refrain from repeating Trump's "crude and cruel" comments, saying that this behavior only makes them out to be acting as "Trump's megaphone."
"Perhaps we should just shut the lights out on offensiveness; turn off the mic when someone tries to shout down others; reestablish standards for what counts as a worthwhile contribution to the public debate," Allen wrote. "That will seem counter to journalistic norms, yes, but why not let Trump pay for his own ads when he wants to broadcast foul and incendiary ideas? He'll still have plenty of access to freedom of expression. It is time to draw a bright line."
Allen proceeded to applaud former Florida Gov. Jeb Bush for dropping out of the Republican presidential race following his loss in South Carolina before asking that Ben Carson and Ohio Gov. John Kasich follow suit, thus allowing her favorite Republican candidate to rise effectively as Trump's main challenger.
"You [Carson and Kasich] both express a powerful commitment to the good of your country and to its founding ideals. If you care about the future of this republic, it is time to endorse Marco Rubio," Allen wrote, adding that Cruz is no good because he is "drawing too close to Trump's politics."
Allen then went on to voice her concerns for Clinton as a candidate:
Democrats, your leading candidate is too weak to count on as a firewall. She might be able to pull off a general election victory against Trump, but then again she might not. Too much is uncertain this year. You, too, need to help the Republicans beat Trump; this is no moment for standing by passively. If your deadline for changing your party affiliation has not yet come, re-register and vote for Rubio, even if, like me, you cannot stomach his opposition to marriage equality. I too would prefer Kasich as the Republican nominee, but pursuing that goal will only make it more likely that Trump takes the nomination. The republic cannot afford that.
Ultimately, Allen urged the Republican candidates, both present and former, to rescind their pledges to support whomever the party nominates if Trump proves to be that nominee.
"We, the people, need to find somewhere, buried in the recesses of our fading memories, the capacity to make common cause against this formidable threat to our equally shared liberties," Allen concluded. "The time is now."
—
Follow Kathryn Blackhurst (@kablackhurst) on Twitter