A 25-year-old woman lost her job just hours after complaining to Yelp CEO Jeremy Stoppelman about her salary.
Talia Jane was still working in customer service for Yelp's Eat24 delivery service when she decided to blog about her work frustrations in an open letter addressed to Stoppelman on Medium.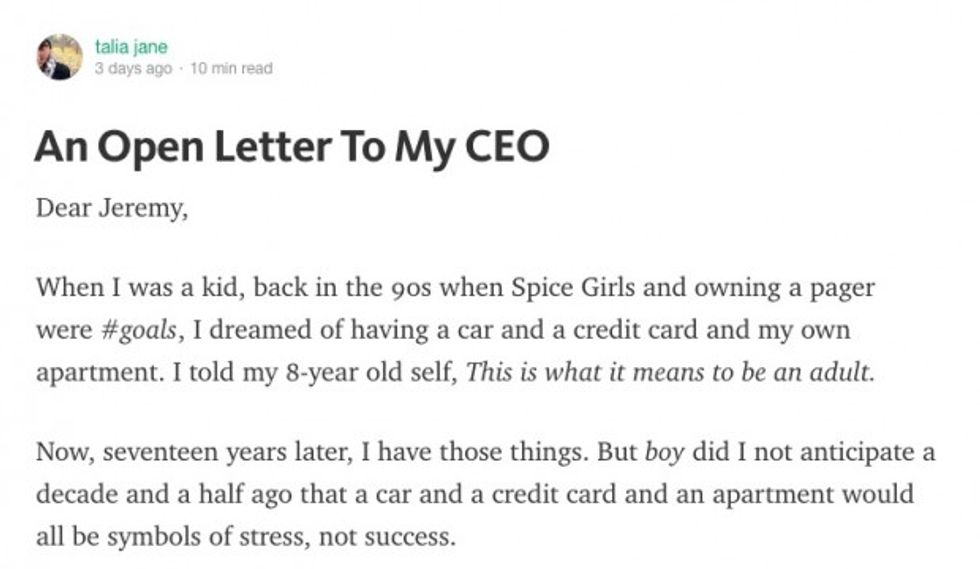 Image via Medium
The long, thorough and, some might say, Dickensian post, explained in excruciating detail Talia Jane's pitiful life in San Francisco. She described her unsatisfying salary at Yelp, the credit card debt she racked up moving to the city and the fact that she couldn't afford heat or food.
She alleged that one time a CVS employee gave her $6 so that she could afford to get to work.
Out of her biweekly pay of $733.24, Talia Jane claimed that 80 percent of it went towards rent.
"So here I am, 25-years old, balancing all sorts of debt and trying to pave a life for myself that doesn't involve crying in the bathtub every week. Every single one of my coworkers is struggling. They're taking side jobs, they're living at home. One of them started a GoFundMe because she couldn't pay her rent," the letter read.
Talia Jane also included details about her life before she took on the job at Yelp and the future she'd dreamt up for herself. In her mind, Yelp had failed to supply her with a living wage, which she felt a job like hers merited.
Speaking of that whole training thing, do you know what the average retention rate of your lowest employees (like myself) are? Because I haven't been here very long, but it seems like every week the faces change. Do you think it's because the pay your company offers is designed to attract young people with no responsibilities, sort of like the CIA?
But she indicated that she was willing to compromise:
Look, I'll make you a deal. You don't have to pay my phone bill. I'll just disconnect my phone. And I'll disconnect my home internet, too, even though it's the only way I can do work for my freelance gig that I haven't been able to do since I moved here because I'm constantly too stressed to focus on anything but going to sleep as soon as I'm not at work.
At the end of the very long letter, Talia Jane conveniently provided her PayPal, Venmo and SquareCash details.
Just a few hours after she published her grievances, Yelp notified her that she had been fired.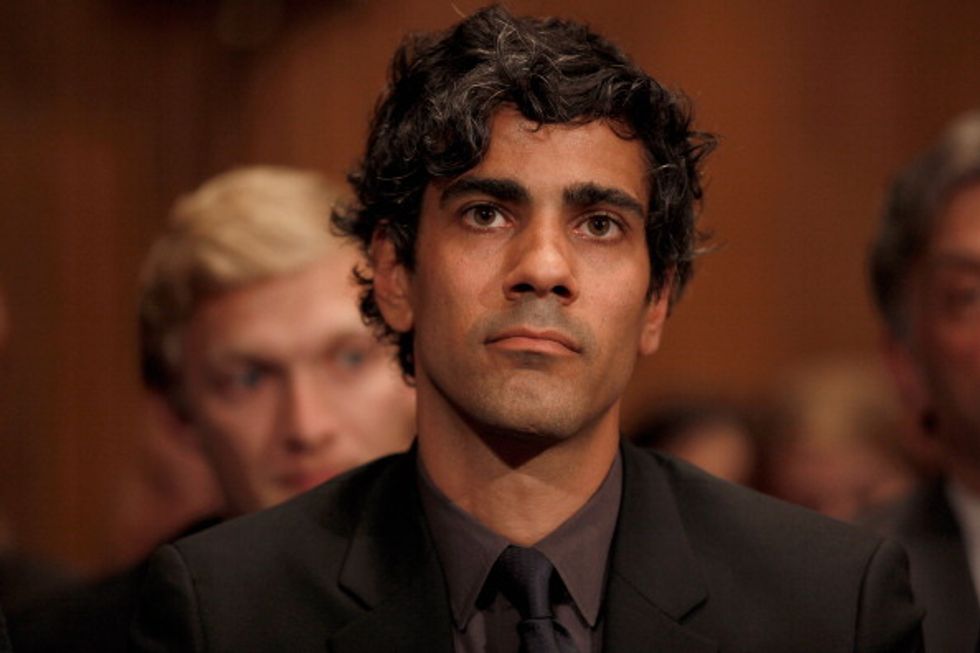 Yelp co-founder and CEO Jeremy Stoppelman. (Chip Somodevilla/Getty Images)
In a mini tweetstorm Stoppelman posted the following day, the CEO assured followers that the Medium post had nothing to do with the company's decision to fire Talia Jane.
"I've not been personally involved in Talia being let go and it was not because she posted a Medium letter directed at me," Stoppelman wrote.
3/5 I've not been personally involved in Talia being let go and it was not because she posted a Medium letter directed at me.

— Jeremy Stoppelman (@jeremys) February 20, 2016
But he at least knew about letter and the decision to fire Talia Jane, though he didn't provide further comments.
Stoppelman did acknowledge, though, that since living in the Bay Area can get quite expensive, Yelp plans to expand in Arizona.
5/5 entry level jobs migrate to where costs of living are lower. Have already announced we are growing EAT24 support in AZ for this reason.

— Jeremy Stoppelman (@jeremys) February 20, 2016
"Two sides to every HR story so Twitter army please put down the pitchforks," he added.
(H/T: Inc.)