Senior writer for ESPN Andrew Marchand discovered something unexpected when he showed up at the New York Yankees' spring training. In an effort to prepare players for press interviews, the team's media training staff pointed to the NFL for real-life examples of how to act and how not to act after a disappointing loss.
According to ESPN, one video featured NFL quarterbacks Cam Newton of the Carolina Panthers and Russell Wilson of the Seattle Seahawks. The video, shown to pitchers and catchers, compared the way Newton handled his team's Super Bowl loss this year with the way Wilson dealt with his team's defeat last year.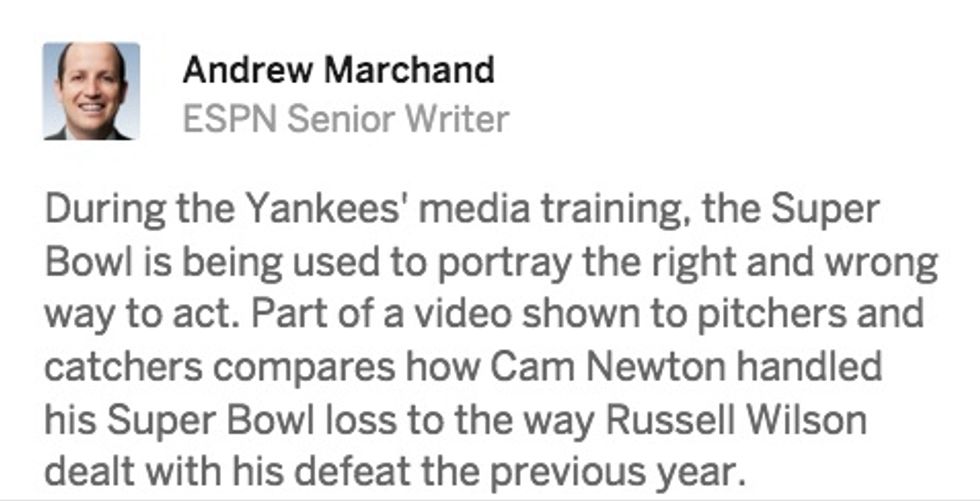 Image source: ESPN
Newton received widespread coverage after Super Bowl 50, not because his poor performance but because he abruptly stormed out of post-game a press conference, an act that garnered some critique from NFL Hall of Famer Deion Sanders and others.
Wilson, by contrast, answered every reporter's question and took the blame for his team's loss to the Patriots in February 2015.
Anticipating the field day that New York media outlets would have if Yankees all-star Alex Rodriguez and others pulled a stunt like the one Newton did, the team's public relations professionals took every measure to ensure that this doesn't happen when the new season gets underway.
Watch Wilson's and Newton's interviews:
(H/T: ESPN)