Rabbi Dovid Goldstein, a Houston Jewish chaplain who ministers to prison inmates, says that even in the "greatest darkness" of death row, he has been able to "find light," an insight that was only strengthened when he recently conducted a bar mitzvah ceremony for a Jewish death row inmate who never celebrated the coming-of-age ritual at the usual age of 13.
In an interview with Chabad.org that was picked up this week by Jewish media outlets, Goldstein described how a few months ago he met Jedidiah Murphy, who has been on death row for 15 years in Livingston, Texas, after he was convicted in the shooting death of a 79-year-old woman.
While meeting another Jewish inmate, Goldstein also had a chance to visit with Murphy who told him about being raised in Texas by his grandparents and in foster homes.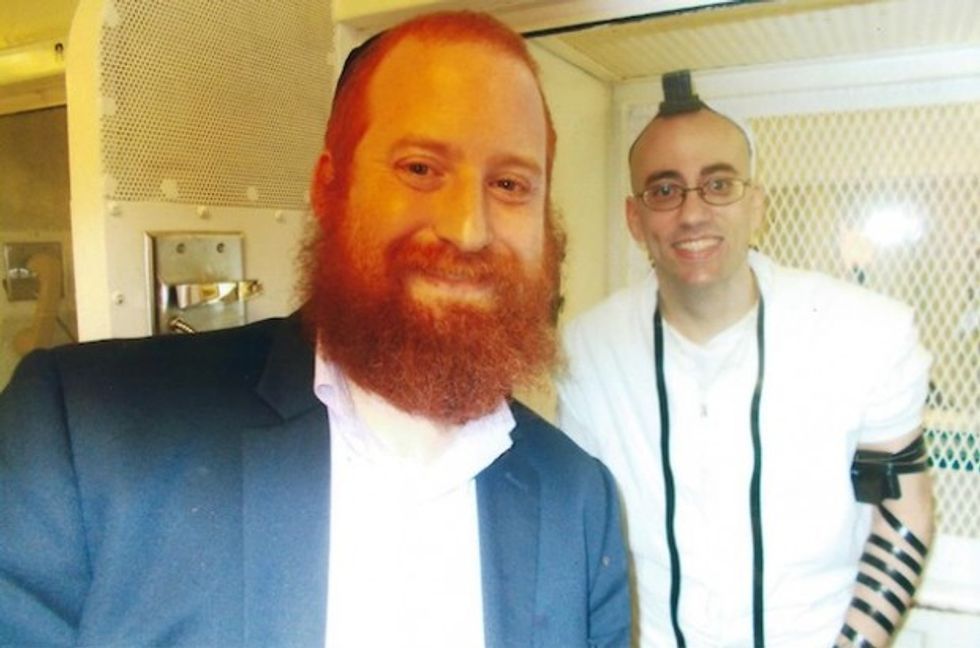 "Within the greatest darkness, you can always find light. Prisons — and especially death row — are the darkest places in the world," wrote Rabbi Dovid Goldstein. Goldstein is seen here with death row inmate Jedidiah Murphy. (Image source: Facebook/Rabbi Dovid Goldstein)
The rabbi showed the inmate his tefillin, or phylacteries, two little leather boxes containing parchment inscribed with verses from the Torah. Religious Jewish men wear them during morning prayers on their arm and on their foreheads which is widely believed to be in reverence to the instruction in Deuteronomy 11:18 to bind God's words "for a sign upon your hand, that they may be as frontlets between your eyes."
Goldstein recalled the conversation with Murphy: "He told me, 'Yeah, those are tefillin. I was in foster care by the time I was 13 and never got to have a bar mitzvah.'"
Despite previous meetings with Jewish chaplains, Murphy said prison authorities would not allow him to put on the boxes, which come with long leather straps.
It took Goldstein three months to arrange for Murphy to put on the tefillin.
"When he saw that I brought the tefillin for him, he smiled — and no one ever smiles on death row," Goldstein told Chabad.org. "I had to give the guards the tefillin and kipah [Jewish skullcap], as he was on the other side of a glass wall the whole time. He put a kipah on his head, and followed my lead as he wrapped the tefillin and said the Shema together."
Jews say the "Shema" prayer "Hear, O Israel: the Lord our God, the Lord is one" from Deuteronomy 6:4 a few times daily.
"I purchased some chips and soda from the vending machine, and we had a bar mitzvah reception," Goldstein recalled.
The rabbi paid the standard $3 for a prison guard to take a photo of the inmate wearing the tefillin on the other side of the glass wall separating them.
"I know that people will be horrified by the fact that a man who committed murder is smiling in this picture, and I respect that," Goldstein said, "but I sincerely believe that there is a spark of God in each and every soul, and that my job as a rabbi is to reach into their souls and touch that spark to the best of my God-given ability."
Goldstein emphasized the sentiment in a Facebook post: "I am not celebrating the crime. Just celebrating the fact a person can do teshuvah [repentance] and take steps to rehabilitation."
"Within the greatest darkness, you can always find light. Prisons — and especially death row — are the darkest places in the world. Can you imagine the light that came into the world when a Jewish inmate put on tefillin?" Goldstein wrote.
Besides his prison work, Goldstein also serves as director of West Houston's Chabad-Lubavitch, an organization dedicated to bringing Jews closer to their faith.
(H/T: JTA)