A Palestinian human rights activist who is highly critical of efforts to boycott Israel said he was threatened by pro-Palestinian protesters who shouted down his talk at the University of Chicago, forcing him to be escorted out by police for his own safety.
Bassem Eid, founder and director of the Jerusalem-based Palestinian Human Rights Monitoring Group, is a leading voice against the pro-Palestinian Boycott, Divestment and Sanctions movement that strives to exclude Israel and Israelis from economic, academic and cultural ties with the West. Eid contends the movement primarily hurts Palestinians.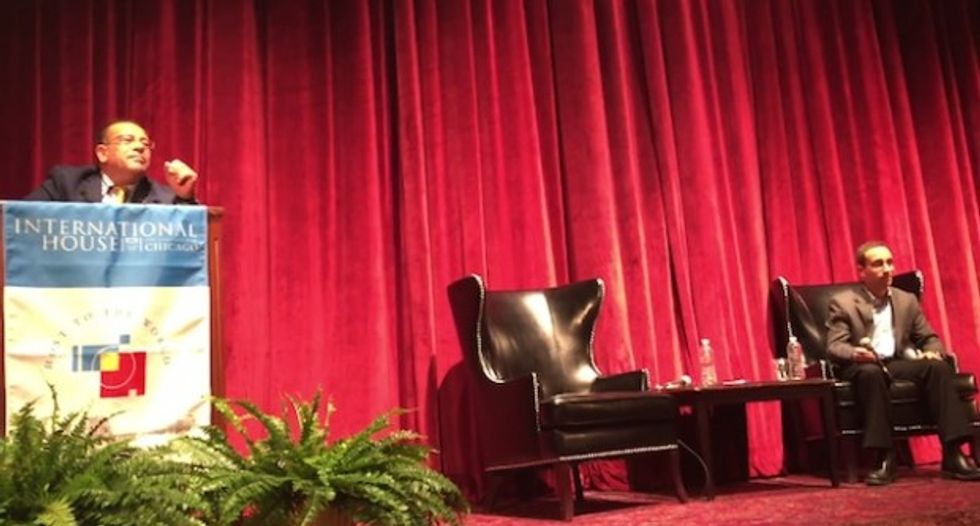 Eid said he was able to talk for about half an hour until police had to escort him from the room following threats and shouts from pro-Palestinian audience members. (Image source: YouTube/Bassem Eid)
Eid wrote in a Facebook post how he was threatened by an audience member.
"I was herrified [sic] from what's happened at Chicago University, a Palestinian who claimed that he is from Gaza threatened me, he start shouting in wonderful hall of the International House, and I was escaped from the place by the police," Eid wrote.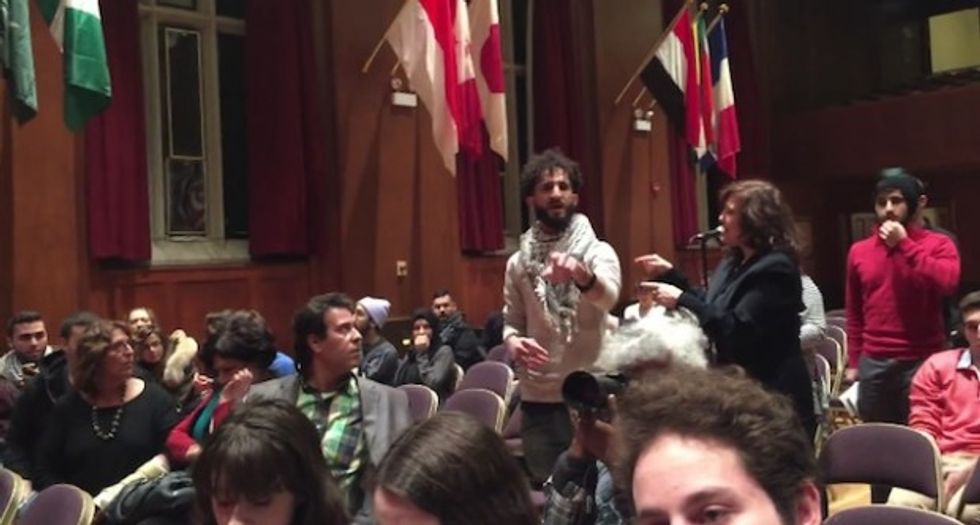 Audience members complained that Eid reserved his criticism for Palestinians, not Israel. (Image source: YouTube/Bassem Eid)
"Horrible unbelievable how the Arabs who are supporting the BDS causing damage to the Palestinian's reputation. But any how I succeeded to diliver [sic] my massage [sic] for half an hour without any interruption [sic]," he wrote, adding sarcastically, "Welcome to paradise Chicago University."
Several audience members complained that Eid had not criticized Israel during his talk and asked why he hadn't addressed "settlements" and "occupation."
Eid asked them in response, "When we the Palestinians will start taking responsibility on what's going on to ourselves? When?"
After he was repeatedly interrupted, Eid got fed up and said, "Excuse me. Excuse me. Either you will respect me or you can go out."
Eid posted part of the verbal altercation in a YouTube video he slugged in part, "Gangsters of the BDS at Chicago University." The exchange which led to the shutting down of the event began at the 11:20 mark:
As one of the interrupters was escorted out, he could be heard on the video shouting at Eid, "Do not speak on behalf of Palestinians! Never ever again! … We're going to be there, get ready for it. … He cannot say the word 'Palestine' again!"
According to an account by the Jewish news site the Algemeiner, the protester's comments in Arabic were more threatening:
The young man is heard in a video of the event yelling in Arabic, "I'm going to destroy this place!" Later, he was heard saying, "I'm going to kill this motherf*****!" and "Wait until you go to your car!" He also said, "we" are going to be at Eid's lecture at DePaul University in Chicago on Saturday evening, so he should be "ready for" us.
At that point, a woman, apparently the moderator, said they would have to end the program, and she cut off all further questions.
(H/T: Legal Insurrection)