Sen. Pat Roberts (R-Kan.), a vocal opponent of President Barack Obama's plan to close the prison facility in Guantanamo Bay, Cuba, took to Twitter Tuesday to tell him exactly what he thinks of the plan.
.@POTUS, this is what I think of the "plan" to close #GITMO and send terrorists to the United States. https://t.co/5ceyu5I2tc

— Senator Pat Roberts (@Senator Pat Roberts) 1456245062.0
"This is what I think of the president's plan to send terrorists to the United States," Roberts said prior to crumpling up the sheet of paper and tossing it in the trash.
The president announced Tuesday that he wants to close Gitmo and transfer detainees to prisons in the United States or other countries.
In remarks at the White House, Obama said that "the detention facility at Guantanamo Bay does not advance our national security — it undermines it."
Roberts called that notion "ridiculous."
"The Congress and the American people are against the President's desire to move these terrorists to the heart of any American community," Roberts said in a statement. "It is against the law. Like most of the President's attempts to skirt the law and enact his agenda, doubtlessly this action will end up in the courts."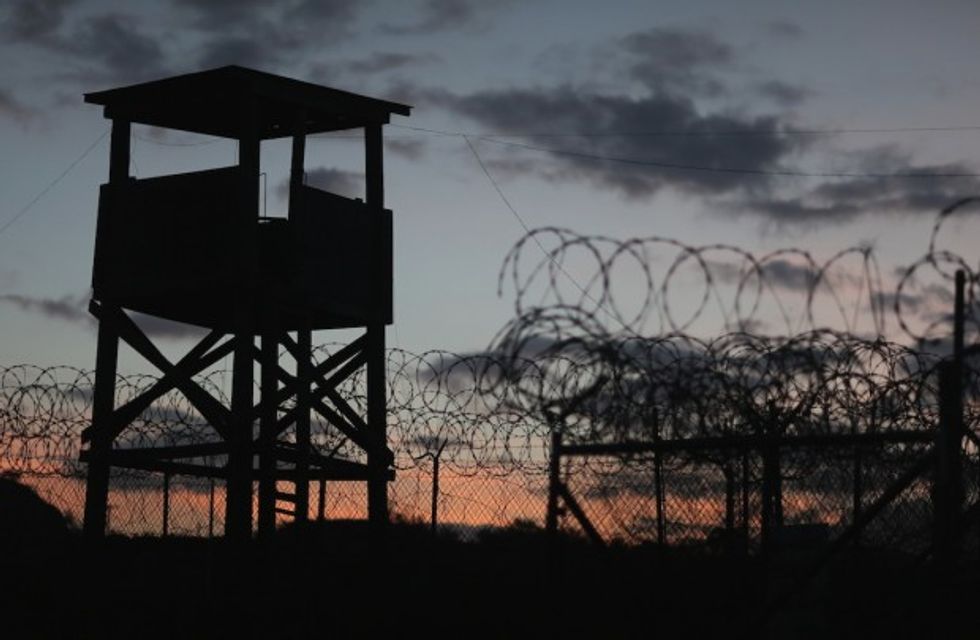 A watch tower is seen at Camp X-Ray, which was the first detention facility to hold "enemy combatants," June 27, 2013, in Guantanamo Bay, Cuba. (Joe Raedle/Getty Images)
Roberts added that the president offered no "specific recommendation for an alternative location," which he argues "proves that there is no suitable location."
"The plan leaves the details to Congress, which has overwhelmingly and time after time, opposed this action in the first place," Roberts said.
Kansas is home to Fort Leavenworth, a military prison that is under consideration as an alternative to Gitmo.
"Kansans and those in Fort Leavenworth are against this transfer and are angry at this President who risks their security in forcing this threat upon them," Roberts said. "In fact, most Kansans say this action is further grounds for impeachment. I will continue to fight the President no matter where he wants to send terrorists to our shores."
"I will continue to consider all options available to me under the Constitution," Roberts added.
I will do everything I can to block the transfer of terrorists to Kansas or anywhere else on the mainland. https://t.co/TyeLNl22Ed

— Senator Pat Roberts (@Senator Pat Roberts) 1456244057.0