Glenn Beck criticized the Huffington Post Wednesday morning for an article the site published suggesting that the radio show host's copy of George Washington's "Don Quixote" was a fake. Beck fired back, calling the story "outrageous" and "sloppy."
Beck, who has endorsed Republican presidential candidate Ted Cruz, has been out campaigning for the Texas senator and, when delivering speeches, he frequently refers to his copy of "Don Quixote," a Spanish novel that he says was purchased by Washington.
After contacting the museum at Mount Vernon, Washington's Virginia home, the Huffington Post originally reported that Beck's copy of the book did not belong to the first president because the museum has the original copy, purchased in Philadelphia on Sept. 17, 1787, and stores it in its rare books vault.
Beck, however, contends that Washington actually had three copies of "Don Quixote," one of which he owns. He also slammed the Huffington Post for not reaching out to him when the story was first published, calling the article "the sloppiest journalism I have ever seen."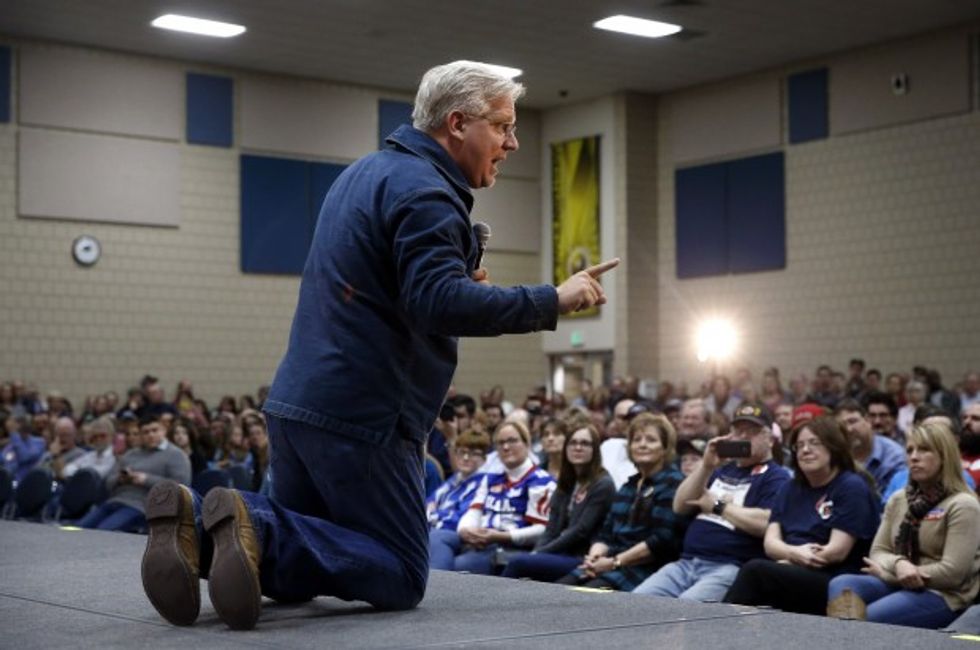 Radio and TV personality Glenn Beck speaks before introducing Republican presidential candidate Texas Sen. Ted Cruz at a campaign event at Western Iowa Tech Community College in Sioux City, Iowa, Jan. 30. (AP Photo/Patrick Semansky)
"When we called the HuffPo and said, 'Hey, what's the deal?' Guy said, 'Everybody else was going to run with it, so I just had to run with it,'" Beck recounted. "You didn't even talk to us. So that excuses you for sloppy journalism? I paid a fortune for this. I have all of the documentation. It's solid documentation. And documentation that Mount Vernon will back."
The story has since been updated to include a quote from Beck, who did acknowledge that he had been incorrectly stating that his copy of the book was the one Washington purchased the day the Constitution was signed. Beck's copy was one Washington later purchased for Tobias Lear, Washington's personal secretary.
According to Beck, his copy of "Don Quixote" has a book plate on it, verifying that it is from Washington's personal library.
"Mount Vernon will not deny that George Washington had three copies, and he gave one to ... Tobias Lear. How do I know they won't deny it?  Because there are records at Mount Vernon that show it. He was a record keeper," Beck said.
The radio show host said that after Lear died, the book was given to his son, Benjamin. Many years later, the Lear family featured the book in an auction in Maine, where the book was purchased by Bauman Books of New York. Beck says someone later purchased the book from Bauman, and, sometime after that, he bought it from that person.
"People are now saying I'm dragging out a fake Washington book all around the country," Beck said. "And, you know what, let me tell you something. I paid a fortune for these things. And these people who are printing these things are hurting the monetary value of those items."
"And they're only trying to do it because it's the same group of people that try to discredit any kind of history that is coming from a conservative. They have their own political motives for doing it," he added.
Ultimately, though, Beck says the point he has been making on the campaign trail with "Don Quixote" actually has nothing to do with the book.
"The reason I brought the book out was how was it George Washington — on the day they signed the Constitution — what he said was, in his diary, 'Signed the Constitution today. I pick up my copy of Don Quixote,'" Beck said. "[T]he point I'm trying to make with the book is: When you do the right thing, you can sleep at night."
Complimentary Clip from TheBlaze TV The full episode of The Glenn Beck Program, along with many other live-streaming shows and thousands of hours of on-demand content, is available on just about any digital device. Click here to watch every Glenn Beck episode from the past 30 days for just $1!
—
Follow the author of this story on Twitter and Facebook: