President Barack Obama asserted Wednesday that his pick to serve on the U.S. Supreme Court would be based in part of their "life experience" rather than "legal theory" or "some footnote in a dusty casebook."
In a post on SCOTUS Blog, a site that tracks the Supreme Court of the United States, Obama seemed to cast himself as a defender of the Constitution in seeking to name a replacement to the vacancy left by the late Justice Antonin Scalia. Senate Republicans have vowed to block any nominee.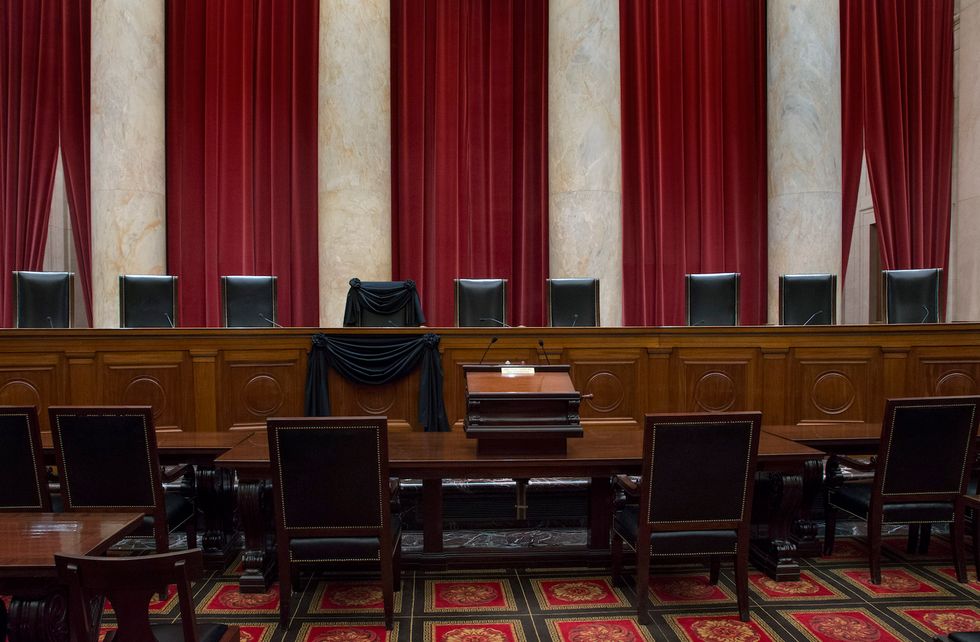 U.S. Supreme Court Associate Justice Antonin Scalia's bench chair and the bench in front of his seat draped in black after his death. (Getty Images/Handout from Supreme Court)
"The Constitution vests in the president the power to appoint judges to the Supreme Court," Obama said. "It's a duty that I take seriously, and one that I will fulfill in the weeks ahead. It's also one of the most important decisions that a president will make. Rulings handed down by the Supreme Court directly affect our economy, our security, our rights and our daily lives."
Obama explained that his choice for the high court would first be someone highly qualified and, second, someone who will interpret and not make law. However, the president said the choice wouldn't be made strictly on legal grounds.
"There will be cases in which a judge's analysis necessarily will be shaped by his or her own perspective, ethics and judgment," the president's post said. "That's why the third quality I seek in a judge is a keen understanding that justice is not about abstract legal theory, nor some footnote in a dusty casebook."
"It's the kind of life experience earned outside the classroom and the courtroom; experience that suggests he or she views the law not only as an intellectual exercise, but also grasps the way it affects the daily reality of people's lives in a big, complicated democracy, and in rapidly changing times," Obama continued. "That, I believe, is an essential element for arriving at just decisions and fair outcomes."