The two teenagers who were arrested after allegedly attacking a decorated Marine veteran in Washington, D.C., won't face hate crime charges, despite reportedly asking him if "black lives matter" and calling him a "racist."
Former Sgt. Christopher Marquez was knocked unconscious outside a D.C. McDonald's after he was approached by a group of teenagers demanding he respond to the question "Do black lives matter?" After Marquez didn't answer, three of the teens, two males and one female, reportedly called him a "racist," knocked him unconscious and robbed him. The female suspect and one of the male suspects were arrested.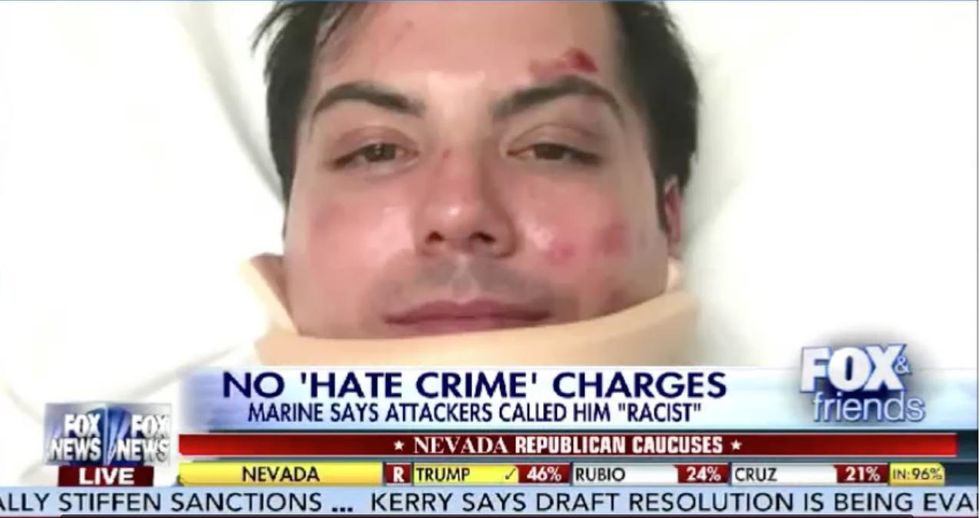 Christopher Marquez (Image source: Fox News)
Marquez woke up to find his pants ripped and his wallet missing. The wallet contained $400, three credit cards, a VA medical card, school identification, metro card and driver's license, as TheBlaze previously reported.
"I'm telling this to everybody because it's been happening a lot around here and across our country. It was a hate crime. They targeted me because of my skin color," Marquez told Fox News Thursday.
The male suspect has been charged with aggravated assault, while the female suspect was charged with pickpocketing. But Marquez suggested to Fox News in a follow-up interview Tuesday that the suspects should have been charged with a hate crime, given their alleged racial motivation.
"I believe that I should get the same type of protection as other people in this country," Marquez said. "We all know that if this were the other way around, it would be considered a hate crime automatically."
UPDATE: Teens arrested for beating of Marine vet will not be charged with hate crimehttps://t.co/t3LEvrWr5c

— FOX & Friends (@foxandfriends) February 24, 2016