Police say they have arrested two suspects in connection to the brutal beating of a Marine veteran outside of a McDonald's in Washington, D.C., last week. However, there is still a third suspect on the loose.
All three suspects — two males and one female — are juveniles, according to police. While the two males assaulted Chris Marquez, the female suspect allegedly stole his wallet.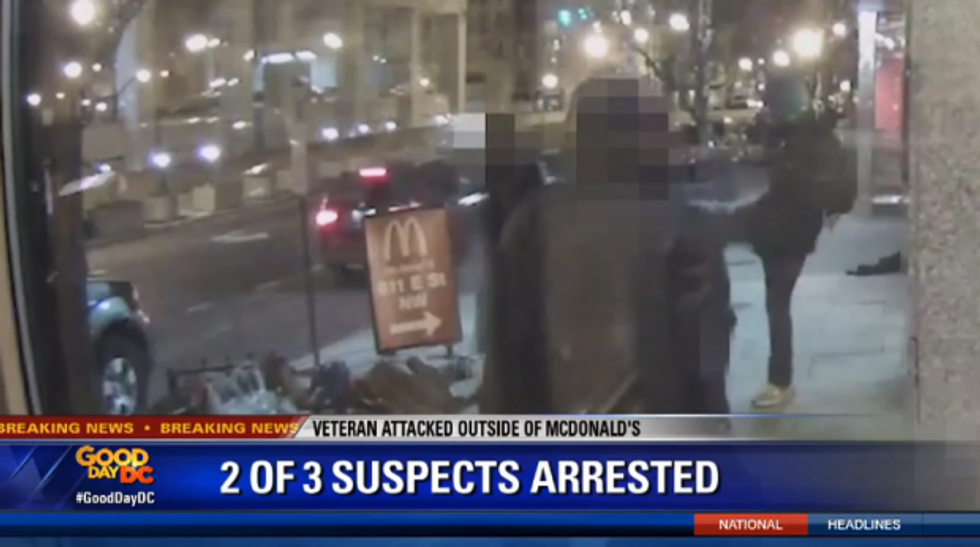 Image source: WTTG-TV
According to a press release from the D.C. Metropolitan Police Department, one of the males and the female is in custody. The male has been charged with aggravated assault, while the female has been charged with robbery.
However, the suspects are not being charged with a hate crime, which leaves Marquez perplexed because he believes the crime was motivated by race.
"I am glad two suspects have been arrested, but I am deeply disappointed they have not been charged with a hate crime yet," he told the Daily Caller. "Not prosecuting this as a hate crime will only encourage more hate crimes against white people and create further division in this great country."
Prior to the attack, the group of teens harassed Marquez, asking him if he supports the Black Lives Matter movement. When Marquez ignored them, they accused him of being racist. Once he left the restaurant, that's when the teens attacked him and stole his wallet.
Marquez is a decorated Marine, who spent eight years in the armed services. He earned a Bronze Star for his heroic actions during the second battle of Fallujah in Iraq.
A GoFundMe page in support of Marquez has raised more than $34,000 for the Marine since his assault.
(H/T: WTTG-TV)
—
Follow the author of this story on Twitter and Facebook:
[facebook //www.facebook.com/plugins/like.php?href=